By Rupert Hargreaves
Bank stocks are the market's worst-performing sector since the outcome of the Brexit vote became known last week.
Indeed, since the start of trading on Friday to the time of writing, shares in Citigroup (NYSE:C) are down by 11.3%, shares in Bank of America (NYSE:BAC) are down by 11.6%, Morgan Stanley (NYSE:MS) is off by 12.2% while Goldman Sachs (NYSE:GS) and Wells Fargo (NYSE:WFC) have lost 8% and 5% respectively. JPMorgan (NYSE:JPM) has lost 8.5%. In comparison, the S&P 500 (NYSEARCA:SPY) is down by only 4.3% over the same period.
After these declines, Morgan Stanley's equity analysts believe that large-cap bank stocks are already baking in a rate cut from the Fed this year. While this was unimaginable only a few days ago, Brexit concerns have ignited chatter on Wall Street that the Federal Reserve will backtrack on its plans to raise interest rates again this year.
Interest Rate Cut?
As the Financial Times reports, the dollar has been the primary driver of Fed policy for the past two years. A strong currency has weighed on US exports, inflation and corporate earnings. As a result, market movements since the end of last week may cause Fed Chair Yellen to push back previously proposed rate hikes. The dollar has strengthened against a basket of international currencies while volatility has prevailed in markets around the world.
On Friday morning, Fed funds futures were implying a 15% chance of a rate cut at any of the upcoming meetings from July to November. As MarketWatch reports, this probability has now fallen below 10%, but less than a week ago, only the most bearish analysts were calling for such a move.
According to Morgan Stanley's estimates, if the Fed cuts overnight rates by 25 basis points, large-cap banks could suffer a 2% to 8% decline in earnings per share - that's assuming banks offset lower interest rates with expense cuts. If lower interest rates go straight to the bottom line, without being offset, earnings per share could take a hit of 2% to 20%. It seems that the market is already pricing in these earnings declines.
Interest Rate Cut - Recent declines have bank stocks pricing one in
At the time of publication of Morgan Stanley's report, yields were down 5/25/28 bps at the overnight/5yr/10yr portions of the curve. Plugging this curve into the analysts' forecasts indicated large-cap bank earnings per share would be down 1% to 6% this year if rates remain at these levels. But with many large-cap banks seeing double-digit declines in their stock prices, it seems that the market is pricing in an even more downbeat interest rate picture.
Based on the current forward curve, Morgan Stanley is estimating a 3.5% decline in current forecast earnings per share for Bank of America this year, and a similar decline in 2017 - that's assuming expenses are cut in an attempt to control costs. Citigroup could see a 4.5% hit to earnings forecasts this year and a 5% reduction for 2017.
PNC Financial (NYSE:PNC) has the most to lose if the forward curve remains where it is today. Assuming expenses are cut to manage costs, Morgan Stanley's analysts expect the bank's earnings per share to suffer a hit of around 3% this year and more than 6% for 2016. If expenses remain where they are, and the lower rates go straight to the bottom line, earnings per share for 2017 could be 16% below current forecasts. If the Fed decides to lower rates and costs aren't cut, PNC could be on track to suffer a 20% hit to current 2017 earnings forecasts.
Interest Rate Cut? Bank of America, Citigroup, JPMorgan and Wells Fargo could suffer a hit of 13%, 13%, 10%, and 8% to 2017 earnings forecasts in the same scenario according to Morgan Stanley.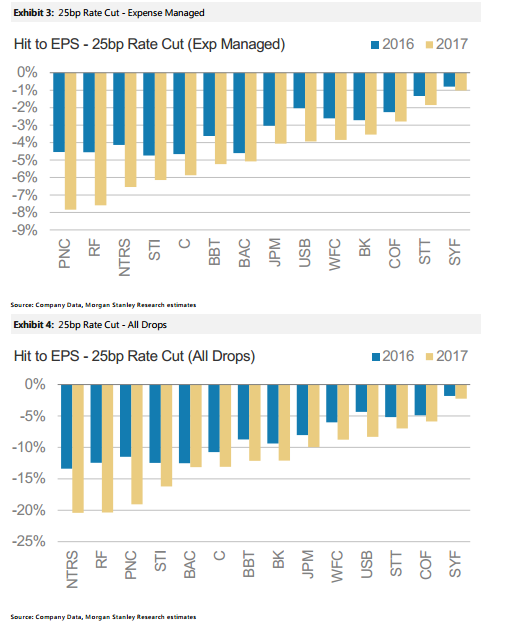 Bank Stocks Are Pricing An Interest Rate Cut
Disclosure: Rupert may hold positions in one or more of the companies mentioned in this article. You can find a full list of Rupert's positions on his blog.
Disclaimer: This should not be interpreted as investment advice, or a recommendation to buy or sell securities. You should make your own decisions and seek independent professional advice before doing so. Past performance is not a guide to future performance.