"Stay calm and aggressive" - Gabrielle Reece

The market and the biotech sector continued to be roiled by the aftermath of the unexpected "Brexit" vote late last week in the United Kingdom. The start of trading Monday brought a continued downdraft to equities that saw the major averages drop another two percent after four percent losses on Friday. Tuesday saw a major snapback rally for both the market and the biotech sector which was up more than three percent on the day after touching 52-week lows Monday.
These dips and rips are likely to continue for at least another month as the ramifications and implications of the vote are worked through. High beta sectors will likely be even more volatile than the overall market. Prepared investors should have a list of biotech positions they would like to add to as there should be plenty of both rips and dips to buy and sell over next few weeks.
Note: To get these Biotech Forum Daily Digests as soon as they are published, just click on my profile and hit the big orange "Follow" button and choose the real-time alerts option.

Xencor (NASDAQ:XNCR) was one of the big winners in trading on Tuesday. The small-cap concern entered into a collaboration deal with giant Novartis (NYSE:NVS) around two early stage blood cancer candidates. The agreement calls for a $150 million upfront and clinical, regulatory and sales milestones that could add potentially $2.4 billion to the deal plus royalties. Xencor was the subject of a positive Spotlight feature here on the Biotech Forum Daily Digest late in April as readers may recall. The stock was up over 30% in trading Friday as the result of this announcement.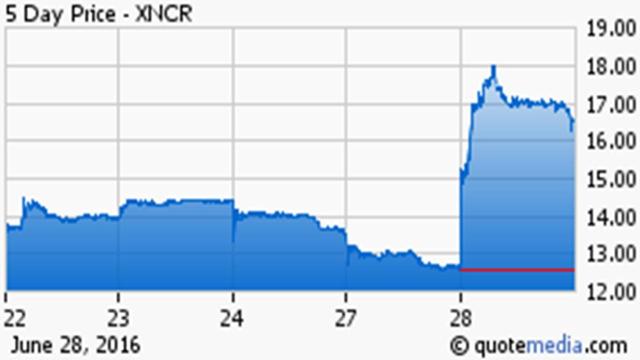 Click to enlarge
Gilead Sciences (NASDAQ:GILD) also had a nice if more subdued day of trading rising some four percent Tuesday. The FDA approved the company's next generation hepatitis C regimen "Epclusa" as expected. This compound treats all types of hepatitis C removing the need to genotype prior to treatment. This is a solid improvement and a welcome differentiator in an increasingly competitive space.
Speaking of hepatitis C, the stock of Regulus Therapeutics (NASDAQ:RGLS) lost nearly 50% of its value on Tuesday after the FDA informed the company that its approved Investigational New Drug (IND) application for lead product candidate RG-101 for the treatment of hepatitis C virus (HCV) infection has been placed on clinical hold after the company reported a second serious adverse event of jaundice. The timelines for Regulus' three ongoing studies of RG-101 will not be impacted since all are fully enrolled and all participants have completed dosing.
In Europe Sanofi (NYSE:SNY) has agreed to swap its animal health business which it had previously tagged for divestiture for the consumer health business of Boehringer Ingelheim. Sanofi also will receive slightly over $5 billion in the deal as well. Boehringer Ingelheim comes out of this as one of the top players in animal health and Sanofi increases its consumer health footprint. A win-win for both the French and German drug giants.
Speaking at the Aspen Institute's annual confab, six former FDA agency commissioners say the FDA needs to have the autonomy and lower levels of bureaucracy that would occur if the agency was freed from being part of the Health & Human Services Department. The commissioners state the agency is being "hamstrung by layers of bureaucracy and interference from higher-ups." More efficient government and less bureaucracy, certainly sounds like a novel concept that is destined to die on the vine within the current and probably next administration.

Small vaccine maker Novavax (NASDAQ:NVAX) was reiterated as a Buy at Piper Jaffray with a $14 price target on Tuesday. The analyst cited upcoming top line data from a Phase III RSV vaccine trial in the third quarter that he believes will lead to approval and also notes that Novavax could become a buyout target of larger players in the industry.
Novavax was in the "Spotlight" in mid-April on the Biotech Forum Daily Digest and got a favorable review. $14 would represent a doubling from the current price, but would still be lower than Novavax's 52-week high. FBR Capital reissued their own Buy rating and $17 price target on NVAX on May 5th.
Tobira Therapeutics (NASDAQ:TBRA) was one of the few small cap biotech stocks in my portfolio down in yesterday's huge surge in the market. The company disclosed after the bell on Monday trial data from multiple animal models showed that cenicriviroc, a potent inhibitor of two chemokine receptors, displayed potent anti-inflammatory and anti-fibrotic activity in multiple organs including liver and kidney. The stock was down some seven percent in trading yesterday.
H.C Wainwright reiterated their Buy rating and $22 price target on Tuesday as its analyst noted that the data "demonstrates anti-inflammatory and anti-fibrotic effects across several pre-clinical models." This small Nash play will probably be the subject of an upcoming Spotlight feature.
Relypsa (NASDAQ:RLYP), a small biopharma stock that had the first new drug approved for the hyperkalemia market in several decades late in 2015, was the subject of a "bear" and "bull" piece earlier this week on Seeking Alpha.
Tuesday saw a couple of analysts line up behind the positive view on the stock. BTIG reissued their Buy rating and $35 price target on RLYP. Stifel Nicolaus reiterated their Buy rating and $36 price target after new data showed Veltassa showed concomitant reductions in blood pressure, aldosterone and urinary albumin-to-creatine ratios. The analyst went on to say, "We continue to believe these benefits are a source of significant competitive differentiation and likely complementary to recently-announced P1 data highlighting patiromer-mediated decreases in serum sodium (sNa+) levels - a feature that is in stark contrast to the transient increases in sNa+ and blood pressure observed with ZS9."
Note: New analyst ratings are a great place to start due diligence, but nothing substitutes for deeper individual research in this very volatile sector of the market. Many of the small-cap names highlighted in the "Analyst Insight" will eventually appear in the "Spotlight" section, where we do deeper dives on this type of promising but speculative small-cap concern.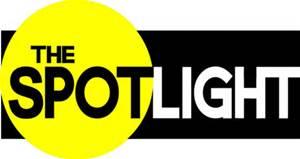 Our spotlight feature today is on an Ireland-based biotech called Prothena Corp Plc (NASDAQ:PRTA) which had a nice bounce in trading on Tuesday after deep losses, following the unexpected "Brexit" results on Friday.
Company Overview:
Prothena Corporation is a mid to late-stage clinical biotechnology company that focuses on the discovery, development and commercialization of novel protein immunotherapies for the treatment of diseases that involve protein misfolding or cell adhesion. Specifically the company focuses on therapeutic monoclonal antibodies directed specifically against disease-causing proteins, and its antibody-based product candidates may be useful for treating a number of potential indications. The stock currently has a market capitalization of approximately $1.25 billion and its stock trades just above the $36 level.
Pipeline:
The most advanced of the company's three core drug candidates is NEOD001 which is targeting AL Amyloidosis. Phase 1/2 trial data for NEOD001 for the potential treatment of AL amyloidosis will be presented at the 15th International Symposium on Amyloidosis to be held July 3-7 in Uppsala, Sweden. This event could be a catalyst for the stock next week depending on how results are received.
Amyloidosis is a term used for a variety of conditions that result when a normally soluble protein misfolds and aggregates (accumulates), which can become toxic to organ tissue. Amyloidoses can affect any organ in the body, including the brain and peripheral organs. There are approximately 10,000 to 15,000 new cases of AL amyloidosis diagnosed annually in the United States and EU. Today, there are no approved treatments for AL amyloidosis that directly target the potentially toxic forms of AL protein. Prothena owns all commercial rights to NEODOO1. It is currently recruiting enrollees for a key Phase III trial.
Next up is PRX002 which is being targeted as a disease-modifying treatment for Parkinson's disease and potentially other related synucleinopathies. It is being developed with partner Roche (OTCQX:RHHBY). In the United States alone, at least one million people suffer from Parkinson's, and about 60,000 new cases are reported annually. Early results were encouraging and the compound is in several further Phase I trials. Finally, we have PRX003 for Psoriasis and Other Inflammatory Diseases, which is a broad category. The company initiated a Phase 1 single ascending dose clinical trial of PRX003 in June 2015.
Balance Sheet & Analyst Commentary:
The company raised approximately $260 million in aggregate net proceeds from two public equity offerings executed in April 2015 and January 2016 and has over $400 million on the balance sheet, more than enough to get it through key milestones for all of its primary drug candidates.
The company has strong support from the analyst community. In June, the stock was reiterated a Buy at UBS, Credit Suisse and RBC Capital with price targets ranging from $73 at UBS to $95 at RBC. Overall, the eight analysts that cover the stock have a $75 median price target on PRTA.
Outlook:
Prothena has multiple "shots on goal," a well-funded balance sheet and strong analyst support. Although "tax inversions" are currently out of favor and Brexit has caused volatility throughout Europe, its headquarters location might still be viewed as having some value as an acquisition target by a firm in a more heavily taxed region of the globe.
That being said, the company is quite a bit off to any possible commercial launch. Given that biotech has sold nearly 40% from its peaks last summer, I think there are better bets in small development concerns that either have recently approved products or are closer to commercialization. However, I do think Prothena will go on my "watch list" and may go into my portfolio when sentiment improves on the sector and/or the company is further along its development path.

Thank You & Happy Hunting
Bret Jensen
Founder, Biotech Forum
Disclosure: I am/we are long NVAX, RLYP, RGLS, GILD, XNCR.
I wrote this article myself, and it expresses my own opinions. I am not receiving compensation for it (other than from Seeking Alpha). I have no business relationship with any company whose stock is mentioned in this article.