Back in late April, Abbott Labs (NYSE:ABT), a large cap medical device and consumer company, announced that it would acquire device maker St. Jude Medical (NYSE:STJ) for a total of $25 billion. That's pretty huge considering that Abbott only has a $52 billion market cap. This acquisition is massively transformative if for anything just the size of it. Once complete, this acquisition will definitely change the composition of the company and the investment dynamic going forward. This article takes a look at the important parts of the St. Jude acquisition, and what it means for Abbott's investors.
A Marquee Acquisition
You might recognize the St. Jude name by its charity. However, St Jude Medical, the company, is a medical device maker. Prior to this acquisition, 27% of Abbott's sales were medical devices, 16% generic pharmaceuticals, 23% diagnostics and 34% nutritional sales. Going forward Abbott will be much more of a diagnostic company.
Abbott will pay $46.75 per St. Jude share in cash,plus 0.87 shares of Abbott for each share of St. Jude. Altogether, the total consideration is for $85.00 per St. Jude share. At the eve that this deal was mentioned, that would be a 41% premium. That's quite a lot.
Abbott does expect this acquisition to be more accretive, despite the big premium. In the year 2017, this acquisition should add 21 cents per share of earnings. That means a 23% EPS boost based on 2015 earnings, and then a 29 cent boost in 2018. That's an even bigger boost. So, this will add a lot to the bottom line if it works out.
The following chart shows why Abbott acquired St. Jude. St. Jude has a wide variety of devices in many areas, but particularly heart-related medical devices.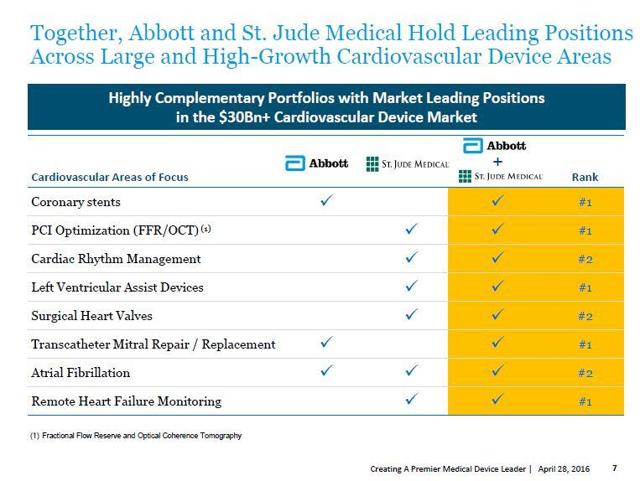 Click to enlarge
Courtesy of Abbott Labs Investor Relations.
But this acquisition is going to change a lot for Abbott. The cash portion of this deal is being paid for in new debt. Currently Abbott's debt sits at 2.2 times EBITDA, but that will change to 4.5 times with this acquisition. To make it back to 3.5 to 4.5 times EBITDA, management estimates it will take until 2018, and in the meantime the company will have to "cut back" on buybacks and "decelerate" the growth of its dividend, probably until 2018.
Management is committed to maintaining an investment grade credit rating. Right now Abbott has an A2 rating, well into investment grade. However, Abbott is on watch for a possible downgrade due largely to this big acquisition. The new rating is expected to be Baa3; right at investment grade with no room for another downgrade.
For me, that's all a bit of a bummer, particularly regarding slower dividend growth. I got into Abbott Labs back in 2011 for dividend growth, and I'm happy with results so far, but slower dividend growth is disappointing. I have a lot of confidence in Abbott to digest St. Jude, because Abbott has successfully acquired four other targets since 2006.
Valuation and Conclusion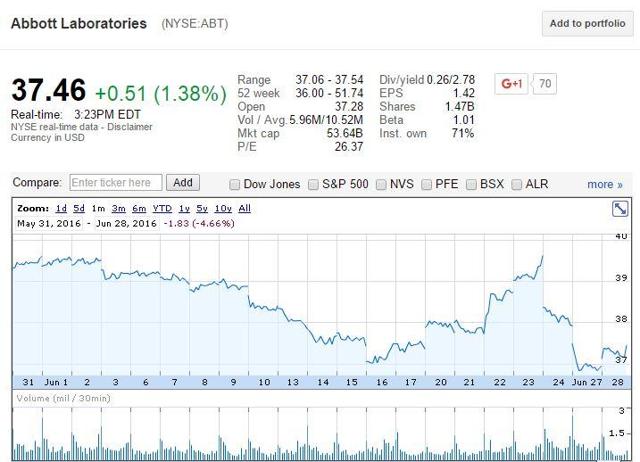 Click to enlarge
Courtesy of Google Finance.
Abbott Labs isn't down by much, despite the Brexit fallout. Investors probably see this medical conglomerate as a decently safe place to be. According to data from FAST Graphs, the average ten-year price-to-adjusted-earnings is 16.7 times, and right now Abbott trades at 17.4 times, that's about a 5% premium. That's not too bad, but given slower dividend growth and a need to delever for a couple years, as an income investors I am a lot less interested in buying more of this stock. Abbott is really transitioning itself into something of a growth stock. That's interesting, but I'm more of a dividend investor.
In this panicked environment, there are many good companies trading at much cheaper valuations than Abbott is. Abbott isn't a sell here, and I certainly won't sell my shares, but I do not recommend buying here, either.
Disclosure: I am/we are long ABT.
I wrote this article myself, and it expresses my own opinions. I am not receiving compensation for it (other than from Seeking Alpha). I have no business relationship with any company whose stock is mentioned in this article.