Chipotle Mexican Grill (NYSE:CMG) announced a new limited time rewards program for the first time in company history. This rewards program will bring customers back to struggling stores that have posted disappointing comparable numbers since a major multi-state food illness struggle. The limited time rewards program could also lead to an official rewards program down the road to better align Chipotle with the industry and compete against rivals.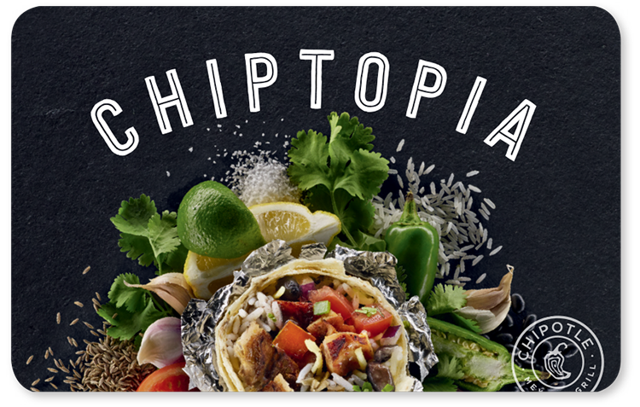 (Source: Chipotle)
Hailed as Chiptopia, Chipotle will officially begin its first ever rewards program on Friday July 1st. Guests can start earnings rewards by picking up a free card in stores. On their first purchase, customers will receive free chips and guac. The limited time rewards program will award customers based on visits and not total dollars spent.
The rewards program breaks down as (on a monthly basis, resets each month):
· Buy 4 entrees, receive fifth one free and reach "Mid" status
· Buy 8 entrees, receive ninth one free and reach "Medium" status
· Buy 11 entrees, receive twelfth one free and reach "Hot" status
· Each free entrée also counts towards a purchase to the next level
· Maximum of one entrée purchased counts per day
· Entrée must be $6 minimum to count
· Bonus rewards offered for those who hit levels each of the three months: achieve "Mild" all three months and get additional free entrée, achieve "Medium" all three months and get $20 in merchandise, achieve "Hot" in all three months and get catering for 20 people (a $240 value).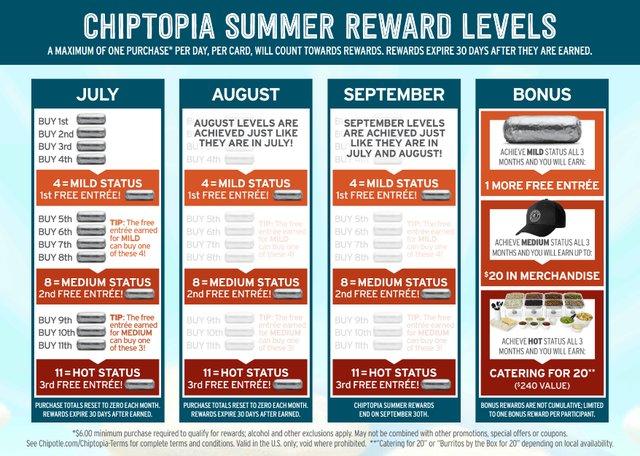 (Source: Thrillist)
Rewards programs are all about bringing visitors to stores more frequently and also obtaining email and phone numbers to store in a database. With this program, Chipotle will see an increase in traffic to its stores which could power a turnaround. After months of high marketing spending, Chipotle will be able to get back to more traditional advertising via an email database of rewards members. This is incredibly important since the company spend 6.6% of sales on marketing expenses in the first quarter. Chipotle is not often a big marketing spender with a nice cult following and good strong word of mouth. However, with the food safety issues, it has been forced to spend money to win back customers, hurting margins along the way.
This new program from the company also continues the path of bringing customers back to stores. Chipotle has done several free burrito giveaways that have seen strong success. On the last earnings call, Chipotle said it saw a 67% redemption rate on its "rain check burrito" offer that was sent out to 5 million customers. That is a pretty impressive redemption rate and a nice number of customers coming back into Chipotle stores.
Chipotle breaks its customers into five groups by visit frequency:
· Top loyal: 25+ visits a year
· Heavy: 13 to 24 visits a year
· Medium: 6 to 12 visits a year
· Light: 2 to 5 visits a year
· New/Lapsed: 1 visit a year
To hit the highest level on the new rewards program, a customer would have to come in 27 times over the next three months. That would place that customer among the highest level on Chipotle's chart in a short period of time. The chain is also receiving plenty of free word of mouth on the rewards program via articles and being a trending story on Facebook earlier this week. Again, a big positive for a company spending millions of dollars in advertising for the first time in company history.
Chiptole's biggest rival Qdoba has its own rewards program. This program has been around for more than five years and gone through several changes. Upon registration, customers get a free order of chips and salsa or a free drink loaded onto their card. Customers also get a free birthday offer. The main program is a free entrée with every 1000 points. Based on normal prices and visits, this translates to one free entrée for every 10 entrees purchased. This new program from Chipotle is highly competitive to Qdoba's current program.
Chipotle reported a pretty awful first quarter that continued the downfall of shares. The company saw revenue decline 23% to $834.5 million. Same store sales continued to collapse falling 29.7%. Comparable transactions were also down 21.1%.
Same store sales were up and down in the quarter. The worst level was January with a decline of 34%. The best period was the third week of February, which saw a decline of only 9%. March was rough with a 26.4% decline. The first three weeks of April had a reported decline of 22%, perhaps hinting at a turnaround coming into the second quarter.
There were some positives presented on the earnings call from Chipotle:
· Company said it is beginning to see a sales recovery
· Launched aggressive marketing campaign to bring customers back, from February to June, and is largest media spend in company history
· Plan to return to using non-traditional marketing soon, using short films, promotional games
· Delivery with Postmates tests going well, plan on rolling out to additional markets in coming months
· Bought back $645 million worth of shares at an average price of $463.
Another item investors may be overlooking with Chipotle is its emerging brands aside from the namesake Chipotle brand. Chipotle owns the ShopHouse brand that is expanding its fast casual Asian concepts to new markets. Chipotle is also an investor in Pizzeria Locale, a fast casual pizza chain in a highly competitive but growing market segment. Chipotle has the rights to become a majority owner in Pizzeria Locale down the road. I wrote about ShopHouse and Pizzeria Locale in previous articles and think it is worth providing an update in this Chipotle piece.
There are now 15 ShopHouse locations opened across the U.S. with 5 in California, 4 in Washington D.C., 4 in Maryland, and 2 in Illinois. Pizzeria Locale has four locations with 2 in Colorado, 1 in Missouri, and 1 in Ohio. Pizzeria Locale's website also lists 3 locations coming soon to Ohio and Kansas. In May a ShopHouse location in Los Angeles opened next to a Chipotle. This was a first for the company and the two restaurants even share a patio.
Obviously the 2000 stores with the Chipotle name are the bread and butter for revenue and earnings. The company is still opening hundreds of stores each year, but at some point will reach a saturation level and will need to focus on these additional brands.
Chipotle will report second quarter earnings on July 21st. This should give the company plenty of time to see how the rewards program is going and I believe it will be a frequent topic on the call and during the question and answer segment. The third quarter could really be the one to cause shares to rebound as it would see the results of the rewards program.
I have watched Chipotle's fall from the sidelines due to the food safety issues. As someone who works in restaurants for a living, I know how important food safety is and also how important customers are. Chipotle hurt its brand and image with this issue, but has done everything it can to correct it. The time is now to win back customers and improve sales. I also believe the time is now to invest in Chipotle shares, which I am strongly considering for the first time ever.
Back in 2012, I suggested investors should invest in Yum! Brands (NYSE:YUM) or Jack in the Box (NASDAQ:JACK) instead. That proved to be somewhat right. Jack in the Box shares increased 265% since then compared to 30% for Chipotle shares. Yum! Brands shares have increased around 26% since that article, slightly trailing Chipotle. Jack in the Box, thanks to its Chipotle competitor Qdoba brand, remains a favorite stock of mine and was one of my top ten stock picks for 2016. This has nothing to do with Jack in the Box being a bad pick, but everything to do with valuation and picking up a falling star at the right time.
Shares of Chipotle fell to $430.51 after first quarter earnings were announced. Don't get me wrong, earnings were bad, but I find it hard to believe that shares have fallen an additional $40 to the $390 level at the time of writing. Shares hit a 52 week low of $384.77 recently, making shares the cheapest they have been since August of 2013.
Analysts on Yahoo Finance lists some rough estimates for the current fiscal year. Earnings per share are expected to drop to $4.68, from $15.10 a year ago. Revenue is expected to decline only 6.7% to $4.2 billion. The company has not issued guidance for the year. A better picture is seen for fiscal 2017 with estimates of $4.9 billion in sales and $11.71 in earnings per share.
The recovery Chipotle is attempting takes time. The sales rebound started to be seen at the end of the first quarter. The second quarter earnings report on July 21st will be very telling in what the future holds and will once again put shares of Chipotle in the spotlight for good or bad. I have to believe that shares don't have that much further to fall, if at all, barring any surprises or SSS declines of more than 25% in the second quarter. Just like the new Chiptopia rewards card holders, Chipotle investors will be rewarded in the future.
Disclosure: I/we have no positions in any stocks mentioned, but may initiate a long position in CMG, JACK over the next 72 hours.
I wrote this article myself, and it expresses my own opinions. I am not receiving compensation for it (other than from Seeking Alpha). I have no business relationship with any company whose stock is mentioned in this article.