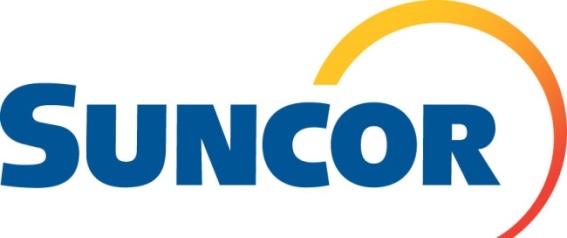 Suncor Energy company logo.
Suncor reports in CAD and all prices quoted are in that currency, except where noted.
Recently, Suncor (NYSE:SU) has been nothing if not active. It seems clear that the company is using the current economic situation to become opportunistic, hoping to fuel future growth. In 2016 to date, it completed the acquisition of another 10% of the Fort Hills project to give it a majority stake there; it has also built up a majority interest in Syncrude. While management has suggested perhaps a $900 million loss from the Alberta wildfires, Suncor has recently benefited from a $2.9 billion bought-deal share issue. It has just completed also a buyback of about $688 face in USD debt issued by the former Canadian Oil Sands. Moreover, it plans to divest some $1 to $1.5 billion in non-core assets. The net result will give it considerable ammunition for further acquisitions. Will these create a strategic shift from Suncor's current oil sands focus? Some speculation suggests this.
Bought Deal Share Issue Completed
To the general surprise of the market, on June 7, Suncor, which had not raised equity in this way for more than nine years, announced a bought deal common share issue. Apparently the issue was widely over-subscribed and the over-allotment provision was exercised. In all, about 82.25 million new shares were issued at $35.00 (US$27.41), for a gross of about $2.9 billion. The issue price was at a $1.50 discount to the previous day's market price of $36.50 (US$28.29). According to the prospectus filed with Sedar.ca, Suncor expects to net, after 3.25% underwriting fees and other expenses, proceeds of some $2.78 billion.
One of the interesting features of this issue was that the underwriters were not confined to Canadian and U.S. financial institutions, but included such international firms as BNP Paribas (OTCQX:BNPQY), Mitsubishi (NYSE:MTU), and Mizuho (NYSE:MFG). Apparently about 10% of the issue was taken up by international financial institutions, which indicates the broad interest in Suncor as a "safer" energy stock and which should give the company further international exposure.
In terms of the use of the proceeds, the Suncor release commented:
The net proceeds of the Offering will be used for the previously announced acquisition of an additional five percent interest in the Syncrude joint venture and to reduce certain outstanding indebtedness in order to provide ongoing balance sheet flexibility, including for opportunistic growth transactions that Suncor may identify in the future.
With the Murphy Oil 5% interest in Syncrude having cost Suncor about $937 million, this might leave about $1.85 billion for debt repayment and "opportunistic growth transactions." The big question is what might these be? The company, of course, has not tipped its hand, but speculation has been extensive.
Potential Acquisitions
One approach seems to be that Suncor's priority would be to increase its working interest where it is already involved. With this, there would be virtually no integration problems. It would almost certainly be to Suncor's advantage to increase its present ownership of Syncrude or Fort Hills, rather than making some entirely diverse acquisition elsewhere. Syncrude might first come to mind, since Suncor has already made two acquisitions there, and the company obviously feels that the operation's perennial problems can be remedied.
Apart from Imperial Oil's 25%, there are three smaller current stakes, all with Asian ownership: Mocal Energy (5%), Nexen (CNOOC; 7.23%), and Sinopec (9.03%). Using the metrics of the Murphy Oil deal, the Mocal stake would also cost $937 million, Nexen's interest about $1.35 billion, and Sinopec's some $1.7 billion. However, there is no indication that these stakes are up for sale, and given the Murphy Oil deal, the oil price rise, and Suncor's obvious interest in Syncrude, the companies concerned may want considerably more than these prices.
On the other hand, Arthur Grayfer, a respected senior oil analyst with CIBC, has suggested that Suncor's priority may now be instead to increase its stake in the Fort Hills project, presently under construction and due to produce its first oil in late 2017. Suncor now holds a 50.8% working interest in Fort Hills. Teck Resources (NYSE:TCK) holds a 20% working interest in the project and Total S.A. (NYSE:TOT), having sold a 10% interest to Suncor late last year, still retains a 29.2% stake.
Teck had previously said that it has no intention of selling, and since it wants to diversify away from minerals and has recently advantageously restructured its debt, it may not be open to a sale. Total's stance is less clear, but it has obviously reduced its position already so it may be open to a further divestiture. Suncor eventually paid $360 million for that 10% working interest. Another 10% stake would cost that amount, plus construction dollars spent by Total since then, which could come to perhaps another $300 million. The acquisition of Total's full working interest would cost approximately three times these amounts, but the free cash flow generated by Fort Hills production could quickly pay down acquisition costs.
At the same time, the present time may be marking an entirely new strategy on Suncor's part. With a very large current exposure to the Alberta oil sands, and having suffered perhaps a $1 billion loss there as a result of the past month's wildfires, recent reports by Reuters have suggested that Suncor is now reassessing its overall strategy, and will use its hefty liquidity to shift its focus away from its current heavy oil sands focus towards offshore Eastern Canada and North Sea projects, and possibly also, to further downstream investment. The reports suggest that SU may even be planning "a single transformational acquisition."
Suncor, of course, is already currently involved in both East Coast and North Sea production, which in 2016 might come to about 67,000 and 46,000 boe/d respectively. Its East Coast Hebron project is presently under construction, and will produce its first oil in late 2017. Suncor also holds working interests in various other offshore parcels there, especially in the Flemish Pass area, as it does also in the Norwegian North Sea.
The Reuters article intimated that the North Sea is presently on the market. It summarized:
Stung by the oil price crash, Royal Dutch Shell, BP, France's Total and others have put dozens of assets up for sale in the North Sea, which has been on the wane since the late 1990s. With many companies keen to sell assets in the region, Suncor could find compelling deals, the sources said, adding it could buy in both the U.K. North Sea and Norwegian North Sea.
Reuters suggested also that in East Coast Canada could acquire licenses from Husky Energy (OTCPK:HUSKF), Norway's Statoil (NYSE:STO) and Shell Canada, an offshoot of Royal Dutch Shell (NYSE:RDS.A).
While an offshore acquisition in either the East Coast or North Sea plays would tie into Suncor's current involvement, a "transformational" acquisition would need to be a very significant one. Suncor has made no comment on these reports.
If such a transaction were to occur, it will be interesting to see major shareholder reaction. There has been a constant attraction to SU's long-life oil sands assets, and shorter-term assets with greater project risks may not have a similar appeal. For some, on the other hand, a move away from the oil sands, with its sometimes negative environmental associations, could represent a plus.
Further reports suggest that the company may wish to strengthen its downstream operations. The acquisition of Shell Canada's 75,000 bbl/d Sarnia Ontario refinery has been prominently mentioned. The Shell operation is almost adjacent to Suncor's own refinery in Sarnia and presumably would be a natural fit. It has been speculated that Shell is open to the sale of assets as a result of its merger with BP.
Possibly also, Suncor may be interested in increasing its downstream business in the United States in its interest to become a more integrated operator. Reuters noted that Suncor had unsuccessfully bid on Total's interest in its Port Arthur TX refinery, and that several other U.S. refineries could be on the market.
To finance new acquisitions, there is a real likelihood of divestitures. Earlier this year, management noted that the company was actively considering the sale of some of its non-core assets. The last company conference call re-affirmed this intention and more specifically indicated that Suncor wanted to sell between $1 billion and $1.5 billion in non-core assets (perhaps wind farms, pipelines and terminals) over the next 12 to 15 months. In fact, these divestitures may be intended to fund the buyback of the COS debt (see below).
Buying Back the Canadian Oil Sands Debt
On June 16, "Suncor Energy Ventures Holding Corporation", the new name for the former Canadian Oil Sands, announced an offer to re-purchase any and all of its senior USD-denominated notes, which total US$1.5 billion. Suncor has kept the company as a separate corporation, presumably because the "junk bond" status of the COS debt would contaminate Suncor's own investment grade rating.
On June 23, Suncor announced the results of tenders to this offer. On notes ranging in maturities from 2019 to 2042. a total of US$687,703,000 in face value was tendered (C$878,196,731). Since the debentures commanded a premium on the market, Suncor had to pay for their redemption US$742,123,550 (C$947,691,773), exclusive of accrued interest.
The net result should be that the Canadian Oil Sands senior debt for which Suncor remains responsible is now approximately US$812.3 million (C$1.04 billion). Although the notes were repurchased at a premium, since the various issues carried interest rates ranging from 4.5% (2022) to 8.2% (2027), the buyback should considerably reduce future COS debt service costs. Some 55% of the 2019 debentures were tendered to the offer, which will also reduce Suncor's near term repayment needs.
Analyst Ratings
The following table presents recent ratings for Suncor since April 1. Target prices are in CAD figures for the TSE listing. As of the June 28 close, SU was trading on the TSE at $34.94 (NYSE: US $26.82). The current dividend yield is about 3.3%.
| | | | |
| --- | --- | --- | --- |
| Date | Company | Rating | Target Price |
| | | | |
| June 23 | TD Securities | Buy | $40.00 |
| June 23 | Scotiabank | Outperform | $37.00 |
| June 23 | RBC Capital | Outperform | $51.00 |
| June 22 | CIBC | Sector Outperformer | $45.00 |
| June 13 | Morgan Stanley | | $44.00 |
| June 8 | Raymond James | Outperform | $42.00 |
| June 6 | CIBC | Sector Outperformer | $45.00 |
| April 29 | National Bank Financial | Market Perform | $37.00 |
| April 28 | BMO Capital Markets | Outperform | $42.00 |
| April 27 | Goldman Sachs | Buy | $34.00 |
| April 22 | Desjardins | | $37.00 |
| April 20 | Citigroup | Neutral | $40.00 |
| April 8 | Barclays | | $43.00 |
| | | | |
Risks
Obviously, the greatest risk to Suncor would come from a further major decline in oil prices or sustained low prices at current levels.
Since investors value Suncor for its steady dividends, there would be a shock to the share price in the unlikely event that the dividend is reduced.
There are particular risks to a company like Suncor from some major incident in its physical operations at its various oil sands projects or at its east coast or North Sea platforms that could cause a major shutdown in production or environmental damage. This includes the risk of continued wildfires.
For U.S. investors there is a risk in terms of share price and dividend from any further decline in the Canadian dollar. At the same time, the current slide in the CAD is a double-edged sword. A high U.S. dollar is actually beneficial to SU in terms of oil pricing, but detrimental in terms of its US$ denominated interest payments. At the same time, an increase in crude pricing would likely strengthen the Canadian currency and could benefit USD shareholders.
Investment Thesis
Suncor has committed to the Canadian oil sands, and the vast majority of its production comes from there. Production costs, when capital is included, are clearly higher there than conventional production or shale. The bitumen produced is valued at a considerable discount to WTI, but can be upgraded to a relatively equivalent product by a conversion process. For real profitability, oil sands projects are justified by higher crude pricing over a 40-50 year time span, which is often their reserve life. Investors in Suncor should have a long-term outlook: for sustained oil demand, for higher oil pricing, and for the lack of major environmental concerns that will negatively affect oil sands production.
Any new "transitional acquisition", if it should occur, will need to be studied carefully to see how it affects the company's overall future strategy.
At present, Suncor estimates that it needs about $40 Brent pricing as a breakeven price to cover both a modest amount of sustaining capital ($2.7 billion) and its dividend. To pay down its debt, for greater profitability and for still further growth, it clearly needs a higher figure, given the oil sands' higher costs. As costs are reduced, that figure becomes less. But Roger Jenkins, Murphy Oil's CEO, suggested, for example, that Syncrude "returned free cash flow when oil was $100, but not so much when it's below $80."
While a long-term outlook is clearly involved, Suncor is the largest Canadian energy company and a favorite among Canadian energy stocks on the part of conservative institutional investors. Within the energy sector, it is often regarded as a "comfort" stock, the kind of investment especially attractive to pension and endowment funds and those seeking retirement income. The institutional reaction to the bought deal supports this image of a "safe" investment.
At the same time, given that Suncor has been considered a "safe haven", its share price may not increase as quickly as other companies that are basically sound, but whose share price has been detrimentally affected to a greater extent. To some extent, in an improved pricing environment there could be outflows from Suncor to other producers whose share price might be seen to generate faster short-term returns.
The recent bought deal issue was greatly oversubscribed at a share price of C$35.00. With the Brexit having brought down the share price below that level, the present pricing could represent a buying opportunity.
DISCLAIMER: The information provided above is not a recommendation to buy or sell a stock. It intends to increase investor awareness and to assist investors in making smarter decisions. Prospective investors should always do their own further research, and take into account their own current financial holdings, their risk levels and their shorter or longer-term outlooks.
Disclosure: I/we have no positions in any stocks mentioned, and no plans to initiate any positions within the next 72 hours.
I wrote this article myself, and it expresses my own opinions. I am not receiving compensation for it (other than from Seeking Alpha). I have no business relationship with any company whose stock is mentioned in this article.
Editor's Note: This article discusses one or more securities that do not trade on a major U.S. exchange. Please be aware of the risks associated with these stocks.