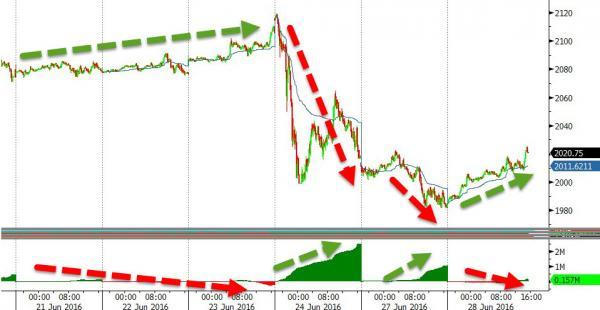 Go kitty cat, go!
On the right is the S&P chart and you can see the huge volume levels as we sold off with 553M shares traded on the S&P ETF (NYSEARCA:SPY) in two down days as the S&P fell from 2,113 on Thursday to 1,991 on Monday (122 points, 5.7%). Yesterday, we popped back to 2,036, which is 45 points off the low but the volume on SPY was only 158M.
Let's say, for example, that you are re-building a 122-point wall that was knocked down and there were 550 bricks in the wall and you begin to re-build the wall and, as you are 45-points back up (37%), you realize you only used 158 bricks (29%). Is that wall going to be weaker or stronger than the one that got knocked down? Would you trust your family to be safe behind that wall? Would you trust your investments to be safe?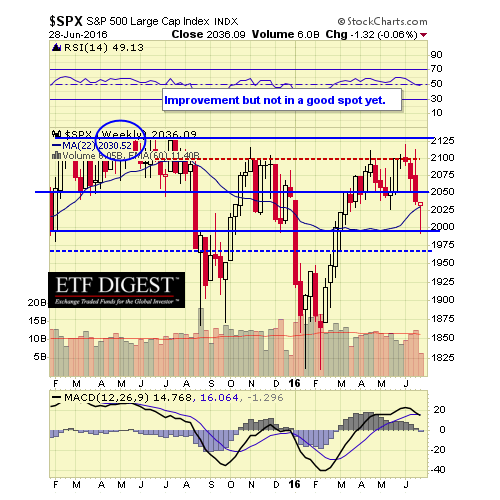 Yes, an 8% difference doesn't seem like a big deal but it's actually 158 out of 203 (37% of 550) that should have been used so we're 45 bricks short, so far, and that's 22.4% short. So, going back to the market, we are getting to the same overbought levels but now with 22.4% less cash supporting the run than we had before. That's really not good!
The market was already a house of cards (as evidenced by our rapid collapse over the UK's vote to leave the EU within the next 2 years - ridiculous!) and now we've removed 22% of the cards yet there are still strong winds blowing in from China, Japan, Brazil, Venezuela (still rioting) and don't even get me started on how we're up again today, rallying over the bodies of 36 dead and 147 injured at the Istanbul Airport. Is terrorism now a rally signal?
Disclosure: I am/we are long XON, SDS, TZA, SQQQ, UGA, USO, UNG.
I wrote this article myself, and it expresses my own opinions. I am not receiving compensation for it. I have no business relationship with any company whose stock is mentioned in this article.
Additional disclosure: Positions as indicated but subject to RAPIDLY change (currently mainly cash and an otherwise bearish mix of long and short positions - see previous posts for other trade ideas). Positions mentioned here have been previously discussed at www.Philstockworld.com - a Membership site teaching winning stock, options & futures trading, portfolio management skills and income-producing strategies to investors like you.