I'm sure that there are many Seeking Alpha readers who believe that all regional malls are dying, and bricks and mortar retail is simply going to fade away.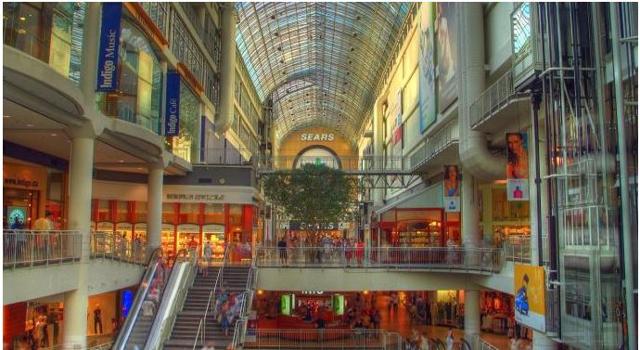 Click to enlarge
Source: Benzinga
However, my vote continues to be that the foundation for omnichannel retail success is owning the very best retail locations.
One of the gifts from the 52% of the British electorate who voted to leave the EU has been a dramatic decline in the US 10-Year Treasury interest rate, which as of this writing is trading at 1.46%.
I postulated over the weekend that US equity REITs would be an asset class with a longer runway in a low interest rate environment.
I wrote up my rationale in an SA article published prior to the market open on Monday: "Brexit Vote Creates Opportunities For REIT Investors To Exploit."
Brexit-related concerns have investors recalibrating their financial models and rebalancing their portfolios to include more exposure to US REITs. Popular picks pretty much lined up into two camps, sectors viewed as defensive or "bulletproof" and REIT blue-chips.
Did You See This One Coming?
Many readers may be shocked to learn that Mr. Market is seeing value in bricks and mortar retail REIT blue-chips like Simon Property Group (NYSE:SPG), Federal Realty Investment Trust (NYSE:FRT) and Tanger Factory Outlet (NYSE:SKT).
I chose those three names in January as my Tools4Investing top shopping center REIT picks for 2016. I view these REITs as blue-chip franchises because of strong balance sheets and management teams to go along with the best locations in many markets.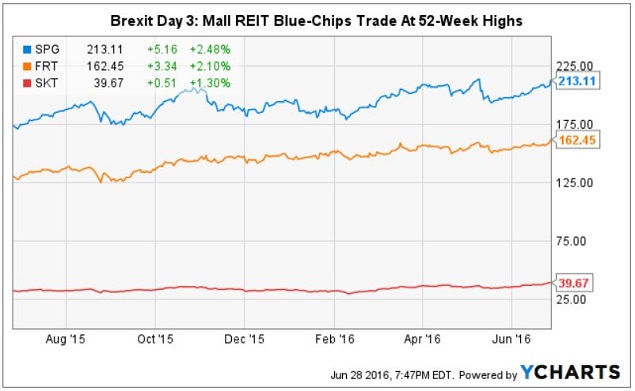 My bonus pick at the beginning of the year was Sears Holdings' (NASDAQ:SHLD) REIT Seritage Growth Properties (NYSE:SRG). Seritage is far from a blue-chip, in fact, it is a fairly volatile special situation.
My recent focus articles updated my views on Seritage, along with Seritage, a special situation, as my bonus pick. I subsequently updated the Seritage situation with my recommendations in late April and again in May.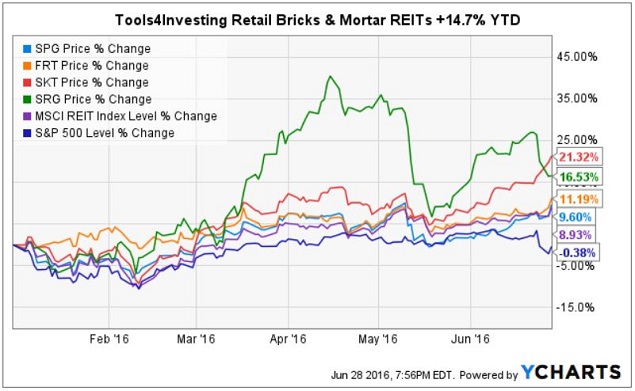 Thesis Overview
The rationale for my picking three REIT blue-chips and one diamond in the rough can be found here: "Top REIT Ideas For 2016 - Shining The Spotlight On Brick And Mortar Blue Chips."
In a nutshell, these best-in-class retail REITs own properties which are surrounded by densely populated high-income households, with excellent access by mass transit and major highways. There are only a few hundred of these "pins in the map," and they are becoming more valuable over time, not less valuable.
Seritage is a value play, based on a huge redevelopment upside, which gained investor attention when Warren Buffett revealed the purchase of 2 million shares last year for his personal account. I wrote up my thoughts on Buffett's Seritage purchase in an SA Pro article published at the end of last year.
Simon Property Group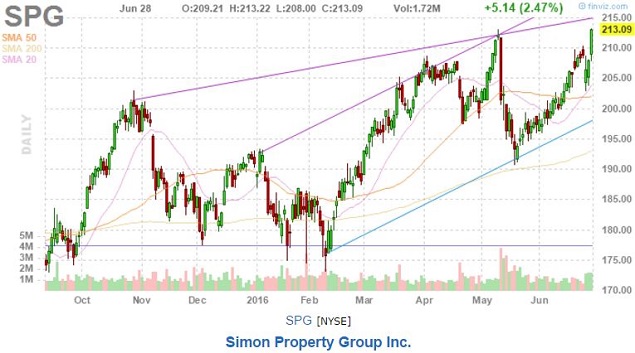 During the past 52 weeks, Simon has traded in a range of $165.40-$213.12 per share, hitting a new intraday high on Tuesday, June 28th.
Federal Realty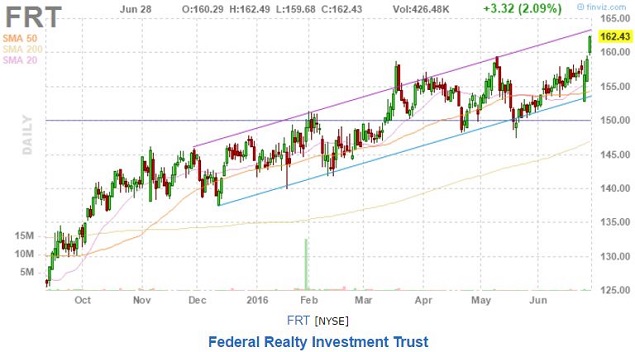 During the past 52 weeks, Federal shares have traded in a range of $121.74-$159.60, prior to busting through that high to close at $162.43, reflecting an investor flight to quality.
Tanger Outlet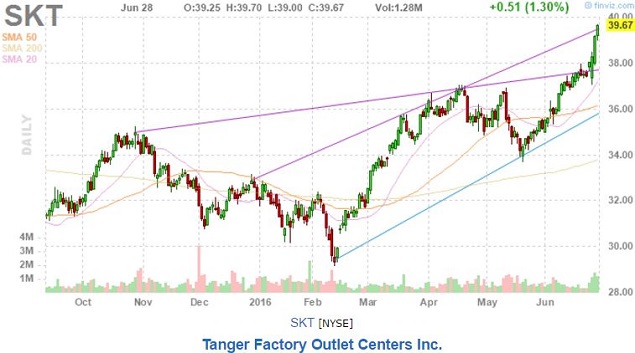 During the past 52 weeks, Tanger shares have traded in a range of $29.19-$39.21 per share, until closing at a new high of $39.67 on Tuesday.
Tanger is the only REIT solely focused on developing, owning and operating upscale discount centers. On April 7, Tanger announced a 14% increase in its annual distribution for the quarter ended March 31, 2015.
I have previously noted that it would be difficult to write a Tanger article without including CEO Steve Tanger's signature quote:
"In good times people love a bargain, and in tough times, people need a bargain."
It encapsulates why investing in outlet mall real estate can be a smart choice for investors.
On March 2, Brad Thomas wrote up an SA focus piece on Tanger, which does an excellent job of covering recent developments. Again, there is no need for me to reinvent the wheel.
Investor Takeaway
The Brexit fear driving investors to bid these REITs up should subside in the coming days or weeks. I suspect we will be hearing far less regarding Brexit after the fourth of July, when we celebrate our own decision to break away from England.
The pundits will no doubt return to the familiar "death of the mall" drumbeat. It is inevitable that there will be more headlines regarding a retailer closing stores, because that is part of the circle of life in retailing.
In the meantime, investors interested in betting on the US consumer can keep these now frothy names on a watchlist. This is obviously not the time to jump in with both feet. I intend to keep a close eye on these REITs, and will make recommendations regarding entry points in future articles.
I believe that all three of these names are best-in-class REITs that can be part of a long-term portfolio, because owning, redeveloping and densification of top retail locations never goes out of fashion.
I relentlessly hunt for diamonds in the rough and rising stars, in addition to closely following data centers, covering REIT blue-chips and breaking news. Please consider following me as a Seeking Alpha author if you would like to be notified when my future articles are published.
Disclosure: I/we have no positions in any stocks mentioned, but may initiate a long position in SRG over the next 72 hours.
I wrote this article myself, and it expresses my own opinions. I am not receiving compensation for it (other than from Seeking Alpha). I have no business relationship with any company whose stock is mentioned in this article.