Introduction & Background
Refiners have taken a bad beating lately - even traditionally strong names like Tesoro (NYSE:TSO), Phillips 66 (NYSE:PSX) and Valero (NYSE:VLO) fell significantly this year. In particular, Western Refining (NYSE:WNR) seems interesting given its recent acquisition of Northern Tier (NYSE:NTI), depressed valuation relative to peers, and strong cash flows in the past few years.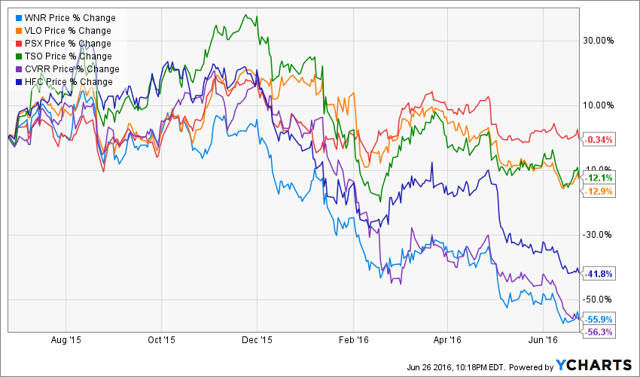 Click to enlarge
(Source: YCharts)
Whilst initial research revealed reasons for optimism, the picture became much bleaker after examining the U.S industry and the effects of new legislation allowing crude oil to be exported directly from the U.S. These changes have caused deep structural change to the industry, and we think the full extent of these effects have yet to be seen. Hence, despite its low valuation relative to trailing 12-month numbers, we think there is too much risk embedded in WNR with a high probability of further declines.

Click to enlarge
Changing Dynamics And Its Adverse Impact On Western
Western Refining is a vertically integrated refiner operating three refineries. The company owns substantial stakes in WNRL, which is an MLP providing logistical and transport services for its processed fuels. Roughly half of its product being sold through its retail segment (owned and franchised fuel stations) and the other half going to wholesale customers. Unlike most other refiners, WNR derives most of its sales domestically, with only 6% to 8% of annual volume sold to a foreign customer (Petroleos Mexicanos).
However, this doesn't mean it isn't affected by fluctuations in the global oil industry. Whilst historical numbers look strong and management seems competent, there is a huge amount of misunderstanding regarding industry factors affecting this company. In the next few years, all refiners will enter a new normal, and independent refiners like WNR will probably be the most heavily hit.
Since the bull case for WNR has been laid out many times on Seeking Alpha (see here and here), this article will skip the obvious and focus on dismantling the bull case and expanding the bear case.
The bull case is largely backward-looking one, citing high trailing FCF, dividend yield and the strong fundamentals of the company. What they've neglected to mention is that all these will change as the industry dynamics become very unfavorable for WNR.
Like all refiners, WNR's margins fluctuate according to regional crack spreads. For the uninitiated, the crack spread refers to the profit margin refiners can expect to make by "cracking" crude oil into products with shorter carbon-chains such as gasoline and jet fuel. It's measured by expressing the price of processed fuels as a ratio to crude and other main inputs. Given that the price of processed fuels and crude differs regionally, crack spreads also vary according to region, with the most commonly cited being the Gulf Coast 3:2:1 and Chicago 3:2:1 Spread. In the U.S., regional crack spreads generally move in tandem because of the strong infrastructure for oil/gas transportation. The wider the spreads are, the more margin the refiners stand to make under current conditions.
For years, U.S.-based refiners enjoyed higher margins relative to international refiners because legislation prevented crude oil from being exported directly. This meant the price of domestically-produced oil (WTI Brent) was lower than the international price of Brent Oil as surpluses would accumulate. This effect became increasingly pronounced at the height of the shale boom.
To serve international markets, companies had to refine crude to a middle-distillate before exporting out. This meant integrated U.S. oil companies could buy domestic crude at cheaper WTI prices, then refine them and sell processed products to external customers at a higher margin. This effect was amplified with the shale boom as the U.S. produced more than enough gas and oil to meet its domestic needs, causing the WTI-Brent spread to widen significantly. This allowed domestic refiners to purchase crude at even lower prices relative to global benchmarks. As seen below, the spread increased significantly from 2010 to 2012, but normalized slowly thereafter.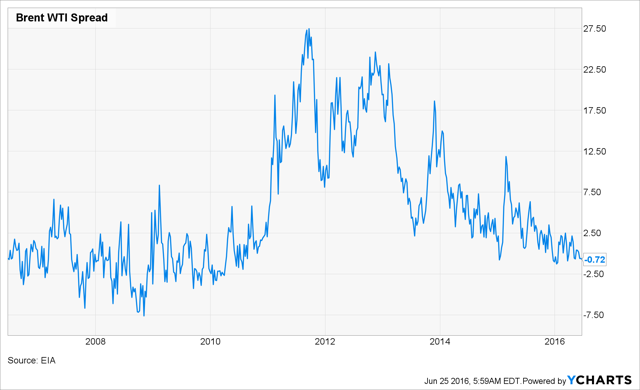 Click to enlarge
(Source: Author's Work)
Besides the WTI-Brent spread, refiners also had a tremendous windfall during the oil down-cycle. This was particularly pronounced for a vertically integrated refiner like WNR, because retail fuel prices are slower to adjust, which meant their retail segment could continue charging higher prices whereas the refining arm bought crude much cheaper once periodic price-adjustments in their supply contracts kicked in. These two factors explain the trajectory of WNR's gross margin as seen below. Note the leap from 2009 to 2010 due to large shale discoveries and the jump in 2014 due to a decline in oil prices.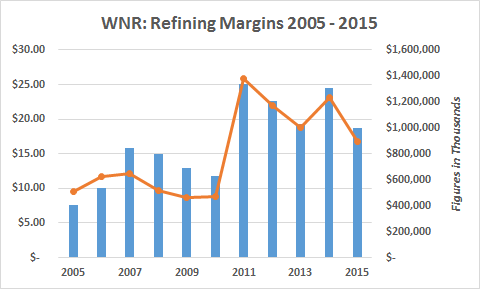 (Source: Author's Work)
As a result of these favorable conditions, there was high capital expenditure on expanding/building refineries in the past decade, capitalizing on the arbitrage.
Structural Advantages Eliminated With Legislation
However, these structural advantages have now been eliminated with the lifting of the crude export ban. Since crude can now be exported directly, refineries that were once focused on selling to external customers are declining because the WTI-Brent spread is effectively wiped out by the free movement of crude in and out of the U.S. This means more global customers will prefer to buy crude directly and refine them in other regions, reducing demand for the U.S.-refined products. This immediately caused the largest build-up of gasoline and other fuels in over a decade, leading crack spreads to drop significantly in 2016Q1.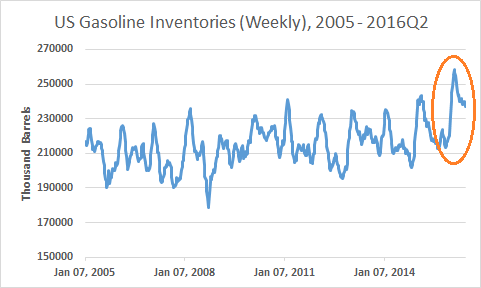 (Source: Author's Work)
Given that 41% of WNR's product mix consists of gasoline, this is extremely troubling. Now that U.S. refiners are on the same footing as their international counterparts, margins should be squeezed as the huge amount of refining overcapacity in China results in an increasing glut of cheap processed products in Asia and Europe.
Another telling sign that the industry is headed for trouble is the decision taken by Exxon (NYSE:XOM) and Chevron (NYSE:CVX) to put their refineries on the auction block, looking to unload refining assets possibly at less than what it cost to develop them. This indicates that there may be an increase in refining overcapacity in the U.S., which would result in narrow crack spreads.
Although WNR mainly serves the domestic market, it will be adversely affected by the knock-on effects from refining overcapacity in the U.S. As external demand for U.S.-refined products decreases, refineries will seek to sell more product to domestic clients and/or a decrease utilization rates at refineries. Both factors disproportionately hurt pure-play independent refiners like WNR - unlike integrated O&G companies with upstream activities, they are unable to benefit from relatively higher WTI prices. Furthermore, WNR should take a greater hit compared to more diversified peers such as Phillips 66, as it has no alternative segments to compensate for the downturn.
We can model the extent of this impact on WNR by deriving the company's profitability at different price points. In the past decade, WNR recorded its lowest gross margin per barrel of $8.74 in 2010.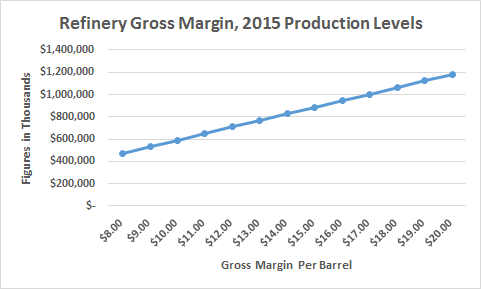 (Source: Author's Work)
Assuming operating expenses stay constant at $423M, WNR needs at least $8+/barrel to break-even on its refining operations. This shows the company is still fairly resilient - even though gross margin per barrel was only $10/barrel, WNR's refining arm remained profitable. This is due to WNR's easy access to cheap feedstock from the Permian Basin for its main El Paso refinery (feedstock is delivered via pipelines controlled by Kinder Morgan (NYSE:KMI) under a 30-year contract). Hence, WNR has a stronger feedstock position compared to other independent refiners such as Valero Energy (VLO) as all of its feedstock is delivered economically via pipelines from regions with low crude prices.
Despite these advantages over some peers, WNR will definitely take a massive valuation haircut if this is the new normal for crack spreads. With every $1 drop in gross margin per barrel, we estimate a $180M+ decrease in WNR's consolidated bottom line. This takes into account the decrease in refining profits, as well as the operating leverage in its retail segment, as seen below:

Click to enlarge
(Source: Author's Work)
Given that WNR had taken profits on all its gasoline crack hedges in Q1 (amounting to over $60M in profits), the company's vertical chain is now entirely exposed to price movements, which increases the volatility in its earnings. Whilst this may signal that management is becoming bullish on crack spreads, the assessment depends on whether one thinks the compression in spreads is temporary or a transition into a new normal. Given the recent structural changes that have driven inventories up and spreads down, we think it is more likely to be the latter.
Although contribution from WNRL and its retail segment is steady, margins are fairly low due to the fixed-price agreements for logistics and low margins for retail. Hence, the offset from these segments to a fall in crack spreads will be minor.
NTI Acquisition Accretive Under Normal Circumstances, But Risky This Context
In the context of unprecedented change, the acquisition of NTI increases WNR's risks due to the additional debt, dilution and exposure to macro price changes. To be fair, this acquisition would be accretive to shareholders under normal circumstances (given the low premium WNR paid), but in this period of uncertainty, it has added more risk as to the medium-term outlook for the combined company. In the long term, there is little doubt that the company will survive - the question is whether valuations will continue shrinking.
Although management has been purchasing shares very aggressively at ~$22, we've all seen numerous instances where insider buys can be mistimed. The low valuation currently could indicate some value, but a new normal for crack spreads has yet to be discerned especially since the effects of legislation are just beginning to emerge in recent months.
The general understanding in the O&G industry is to buy refiners when crude is falling and to buy E&P companies when crude is rising. Whilst no one can claim to be an oracle at predicting the prices of global commodities, futures are pricing in a high possibility of crude rising significantly by 2017/2018. Given that most E&P companies are producing at a loss or just around break-even, we think the long-term price outlook for crude is definitely more bullish than bearish. If that assumption holds, refiners might be in for a rough ride over the next few years, which means shareholders in WNR are unlikely to see good returns for a while.
Conclusion
The risks highlighted above clearly show that an investment in WNR's shares (and that of other refineries) carries more risk than most investors realize. When observing price fluctuations in WNR's share price relative to the crack spreads that determine its margins, one needs to realize there are significant disconnects during certain periods. 2016Q1 was one of those times when crack spreads dropped significantly and WNR barely reported a profit - yet the company's share price was higher compared to when crack spreads were higher in Q2. This could indicate a sense of misplaced optimism among the bulls, most of whom do not realize the gravity of structural change that is occurring in the industry. We think shares in WNR should at best be avoided, and at worst be a short target in the medium term. The risks embedded in this stock given the enormous headwinds for independent refiners is simply too high.
Although there may be an uptick in margins once the inventory build-up is alleviated by higher summer gasoline demand (as projected by the EIA), excess inventory is only decreasing because utilization rates are below industry norms. This means higher spreads would encourage refineries to increase their processing capacity in a short span of time.
Moreover, whilst the NTI acquisition may provide some upside in the form of synergies, it also doubles down on the risks for the combined company. Given that this structural change favors diversified refiners and integrated E&P companies more than independent refiners, investors could also consider a pair trade in this regard. Ultimately, the facts indicate that even if one believes the bull case (which is a weak one), buying WNR's shares now may turn out to be very bad timing. There is a time to make money and a time not to lose money, and we believe it is the latter with regard to WNR's shares at the moment.
Disclosure: I/we have no positions in any stocks mentioned, and no plans to initiate any positions within the next 72 hours.
I wrote this article myself, and it expresses my own opinions. I am not receiving compensation for it (other than from Seeking Alpha). I have no business relationship with any company whose stock is mentioned in this article.