Asset managers have been a decidedly unsexy place to invest recently. These unsexy areas of the market are where I like to dabble, and I believe Legg Mason (NYSE:LM) provides a solid opportunity for investors to get exposure to a sector that has taken quite a few punches lately. Asset managers have been hammered by a variety of concerns, from regulatory concerns to complaints on performance in the actively managed space to shifts in investor demand when it comes to products. I believe a solid case can be made that the company is taking substantial steps to mitigate these potential headwinds.
On forward earnings estimates, Legg Mason trades cheaper today than it has at any point over the past five years. The company generates significant amounts of cash, has a manageable balance sheet and products with solid reputations. I believe the company has 50% upside to what it trades at today, with the 10% drop driven by the Brexit (despite hardly any exposure to UK-domiciled funds) giving investors an even better opportunity to buy than what they could have earlier last week.
Active Versus Passive Investments
Legg Mason is still primarily an actively managed shop. They don't really do passive investments, the closest being the smart beta strategies that the company has rolled out recently. As a result, the secular shift towards passive investments has long-term investors in the company concerned. Potential Legg Mason customers are far more educated today than they were in years past. Customers have become acutely aware of the performance of the managers they are hiring and the results that these managers have provided - and they will quickly cut those who aren't performing. When you speak to those in the industry, they don't view this as a long-term trend, but merely a shift in interest between the two styles. As the saying goes, a rising tide lifts all boats, and active managers generally outperform on the downside (see average hedge fund performance in 2008-2010 versus indexes) while underperforming on the upside. Markets won't go up steadily forever and a prolonged downturn could shift more dollars back towards active management.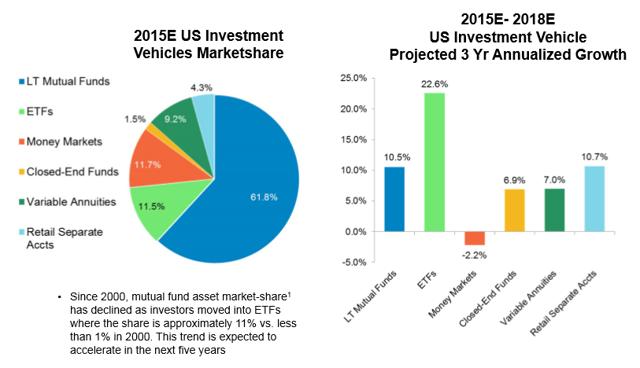 With that said, through 2020 there is expected to be more than $2.4T (yes, trillion) in outflows from traditional equity management styles. That said, Legg Mason isn't just a traditional active manager. Several strategies that the company provides (real asset, trading-based strategies, hedge funds, etc.) are projected to see significant inflows to balance the moves out of equity strategies. Further, only 27% of the company's total assets under management are directed towards equity - the vast majority of assets under management are in fixed income/liquidity products. Both of these classes are expected to see inflows, not outflows, through 2020. These trends (along with acquisition-related activity) have helped keep assets under management fluctuating around the $700B range for the past several years, despite rapid shifts towards passive products. This is largely in line with larger peers - industry juggernaut BlackRock (NYSE:BLK) saw 3.6% annual growth in assets over the 2013-2015 period, while smaller competitor Lazard (NYSE:LAZ) posted similar flat growth. The difference between Legg Mason and most of its peers, however, is its focus on fixed income products.
The entire industry as a whole has gotten crushed in the past several trading days post-Brexit - 7% for BlackRock, 18% for Lazard. Legg Mason generally falls in the middle of the peer group, down about 12%. The gut reaction makes sense: falling capital markets = falling assets under management = falling fees. However, the flight to safety that is being seen (government bond yields, quality corporate debt) shows that fixed income hasn't fallen out of favor, and may in fact see inflows, not outflows as a result of this event. Predominately fixed income advisors shouldn't be taking the drubbing that they are in, in my opinion.
Valuation
Earnings estimates in this space are notoriously difficult, and that difficulty is a large part of why the industry has always appeared to trend towards cheaper valuations. Estimating earnings per share necessitates taking an educated guess on overall market performance of key markets (a large contributor to assets under management) and on the outperformance of various managers (performance fees for beating benchmarks). Given the relatively muted performance of markets lately, it is reasonable to assume relatively similar performance y/y, backing out the unusual expenses from fiscal 2016 (primarily $371M in impairment charges related to Permal, a hedge fund group, that was combined with EnTrust Capital).
With that said, free cash flow has tracked around $400M the past three fiscal years, and given relatively flat expectations on my end on assets under management for fiscal 2017/2018, that trend is likely to continue. Analysts expect some improvement in earnings per share in fiscal 2017 ($2.40/share at the midpoint, or roughly $550M in operating income). Boosting year-over-year results, Legg Mason expects its two most recent buys (Entrust, Clarion Partners, $52B in assets) to yield $0.10-$0.20/share in EPS accretion in fiscal 2017. This should help offset some likely carryover weakness from weak performances from key affiliates (Western Asset, ClearBridge) in the prior year. However, there will likely be some pressure there due to Brexit concerns as the analyst community rushes to update projections. Calling earnings at around fiscal 2016 levels (excluding impairments) is erring on the safe side.
With the company expected to throw off $400M in free cash flow in fiscal 2017/2018, free cash flow yield on the equity is in the low teens (13%). Is this a somewhat risky business? Sure. It is highly sensitive to global market trends; anything that threatens global markets (recession, stock market falls) is going to cause earnings to crater. In fiscal 2009, Legg Mason lost $2B, fed by a $1.3B goodwill write-down and $2.3B in fund support driven by losses in structured investment vehicles (asset-backed securities). It should be noted that the fund support the company provided was not a legal obligation; Legg Mason did so to cement confidence of its clients and to maintain its reputation in the marketplace.
Overall, you can't knock the value on what you're buying at these prices, and the especially clean balance sheet (net debt of $400M) and low leverage (net debt/EBITDA less than 1x, well below covenant restrictions) provide some downside protection. Additionally, deferred tax assets will provide some boost to earnings and cash flow in future years:

* Legg Mason, Fiscal 2016 Form 10-K
Shareholder Returns

Everyone's favorite topic and one that Legg Mason does well. As noted, this business generates substantial free cash flow (and has for some time), so any cash flows above and beyond what is needed for acquisitions get funneled back to shareholders via buybacks and dividends. Legg Mason outperforms every asset manager peer that I could find when it comes to annual shareholder returns controlled for business size.
There are risks - namely the typical black swan risks that impact asset managers like recessions, or reputational or performance risks that could drive outflows. Could 2008 repeat itself and Legg Mason lose 80% of its equity value? It's a possibility. Such an event is unlikely however and the company has structured itself much differently than it was back in those days. Overall, I think the dirt cheap valuation here, especially from a free cash flow perspective, more than compensates investors for taking on that risk.
The market should be selling off asset managers with outsized equity exposure, along with those firms with substantial customer bases in Europe. The sell-offs in Invesco (NYSE:IVZ) (heavy U.K. exposure) and Janus Capital (NYSE:JNS) (large percentage of non-fixed income assets) make sense. In this case, per Legg Mason's press release on the issue, just 13% of revenue was driven by the U.K. and much of it fixed income. This is, once again, a case of the market throwing the baby out with the bathwater.
Fair value in my opinion is closer to $50/share, still below levels the company saw throughout the first half of 2015. Overall, the company is an incredibly strong buy at today's prices.
For more research like this on small/mid cap companies perpetually under-followed by Wall Street and under-owned by retail investors, consider following me (by clicking the "Follow" button at the top of this article next to my name) to receive notification when I publish research. Feel free to ask any questions in the Comments section below.
Disclosure: I am/we are long LM.
I wrote this article myself, and it expresses my own opinions. I am not receiving compensation for it (other than from Seeking Alpha). I have no business relationship with any company whose stock is mentioned in this article.