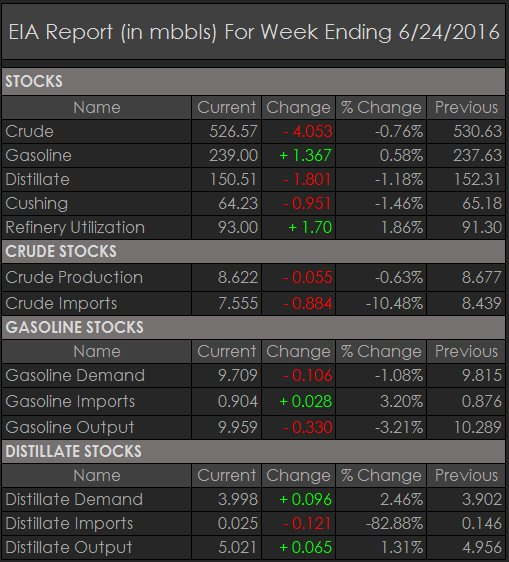 Source: EnergyBasis
Highlight
We wrote an oil markets daily last night highlighting the API estimate, and as we somewhat expected, the draw was much less than what API estimated.
Few important figures we want to highlight in this report.
First, US production continues to decline. The decline rate has picked up despite crude rebounding near $50. The myth about how DUCs will save US production from declining is turning out to be the myth it is, and producers that emphasized short-term production gains will eat the long-term accelerated production declines.
Crude imports were down materially last week contributing to the bulk of the crude stock decline. As we said before, imports to the US are high as supply outpaces demand. But with the market tightening, we should start to see imports drop for the next several months.
Gasoline demand saw a big drop last week by nearly 106k b/d, and gasoline inventory saw a build of 1.367 million bbls. Even if demand had kept pace with the previous week, storage would've still seen a build of 600k bbls. We continue to believe that the gasoline glut won't go away anytime soon, and could serve as a potential headwind for crude prices. Refinery margins are getting compressed and this could discourage high throughput. However, that doesn't seem to be the case so far as refinery utilization is at 93%.
Overall, this was an inventory report we expected from a balancing oil market. Prices are moving higher on this report, and we think they are justifiably so. Fundamentals continue to point in the right direction, and all we need to do now is wait for inventory to normalize over the next 12 months. As we said in our write-ups before, imports normalizing will help accelerate the rebalancing process. A drop of 1 million b/d in imports would equate to 7 million bbls of draw per week. Once the storage overhang disappears, the next topic of focus will be on where future supplies will come from. Frankly, we don't think shale producers will be up for that task.
We hope you enjoy our weekly oil (NYSEARCA: USO) inventory reports. Be sure to check out some of our old ones, and click on the follow button above if you would like to receive our "Oil Markets Daily" articles. In addition, we also have a premium subscription platform that's tailored to long-term value-oriented investors. We provide recommendations of stock ideas and portfolio composition. We look forward to you joining the HFI platform.
Disclosure: I/we have no positions in any stocks mentioned, and no plans to initiate any positions within the next 72 hours.
I wrote this article myself, and it expresses my own opinions. I am not receiving compensation for it (other than from Seeking Alpha). I have no business relationship with any company whose stock is mentioned in this article.