As of the time of this writing, my fourth largest holding is Memorial Production Partners (NASDAQ:MEMP). Prior to share prices dropping recently, when I began adding to the preferred units of Legacy Reserves (NASDAQ:LGCY), it had been my third largest. In addition to having phenomenal hedging to get it through this rough patch, the business has a management team that has recently begun focusing on reducing leverage by selling certain non-core assets, which is also encouraging, but over the past week or so Mr. Market hasn't cared, sending the business's stock down considerably. In what follows, I will go over why I think this is and also give my own thoughts on how management might be able to improve operations moving forward.
Cash flow and Memorial's big problem
In the table below, you can see that, with oil prices at $47.57 per barrel and natural gas prices at $2.668 per Mcf, Memorial is a cash cow, especially when you consider the fact that the entire enterprise is being valued at $149.38 million. Even after paying annual distributions to shareholders totaling $16.60 million, the firm should generate $146.83 million this year, $98.62 million next year, and $87.56 million in 2018. After more hedges have rolled off, the firm's cash flow in 2019 should still be $14.01 million. This may seem positive (and it is) but the downside is that this cash flow is only positive in a world where the business is heavily hedged. If, for instance, the entity had no hedges in place whatsoever, it would see a net cash outflow each year of about $127.66 million.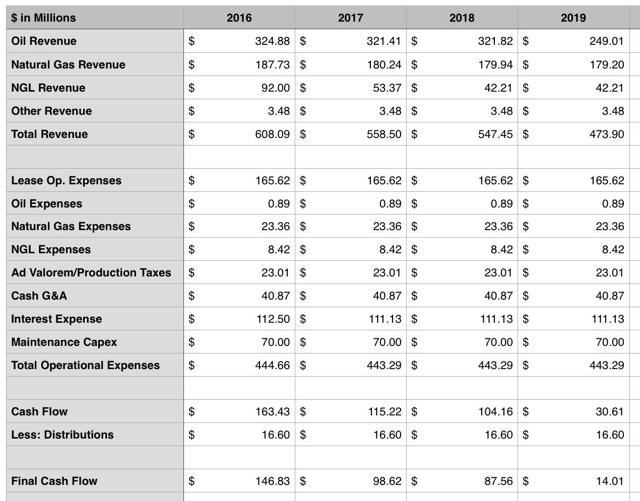 This has generated a great deal of fear among investors that credit facility lenders may not give the company a long enough period of time for oil prices to recover before they cut the firm's borrowing capacity materially and, even if they do grant them time, will prices be high enough as hedges roll off for the firm to survive and be an attractive opportunity for investors? After all, without hedges in place and with capex and distributions staying the same, Memorial would need to see oil prices of about $76 per barrel (keeping natural gas prices unchanged) in order to break even.
Thankfully, I believe that, unless oil prices fall meaningfully moving forward, we don't have a great deal to worry about near-term. This is because, after announcing two asset sales that will allow the company to reduce borrowings under its credit facility to $735.5 million, it will have excess capacity of $187.5 million. Assuming that management has been allocating all cash flow toward paying the credit facility down, it should be able to, by the time of its next redetermination in the fall, reduce borrowings by as much as $73.42 million more, giving it a great deal of flexibility.
But this is a problem that needs to be worked on
Near-term, I don't see a great chance of anything terrible happening and I would actually be in favor of management stopping its distributions and allocating that toward debt reduction as well. Having said that, it is clear that the firm does have some areas it needs to work on if it wants to survive. In the table below, for instance, you can see how Memorial's cost structure lines up against Legacy, a very low cost operator in this space compared to many other rivals.

Based on the data provided, Memorial is certainly more costly to run than its rival is but the disparities in, say, cash-based general and administrative costs aren't material. The main disparity exists in interest expense, which is something management appears to be addressing and a major item that needs to be reduced. If, for instance, the firm's interest expense could be cut by half, the unhedged entity would need for oil prices (maintaining the same natural gas prices) to average just under $64 per barrel. This is also fairly high compared to current levels but is certainly in a reasonable price range, perhaps even as soon as the middle or end of next year.
Just by focusing on changing the debt structure by playing with the balance sheet or by using excess cash flow or asset sales to reduce debt outstanding, management can make improvements in this area. However, one other key area that I think needs attention comes down to the lease operating expenses. After adding back in oil and natural gas-specific costs, lease operating expenses for Memorial should average about $13.83 per boe (barrels of oil equivalent. This is about 28.7% higher than Legacy's at the moment.
Getting costs down when it comes to extracting oil and natural gas is an extraordinarily hard feat but improved operating efficiencies should be a major goal implemented by management. However, one easier way to get these numbers down would be to sell off additional high-cost assets. The firm's Permian Divestiture, which accounted for 1,200 boe per day, generated $23.46 million in sales during the first quarter but cost the firm $24.18 million that same quarter just to operate (excluding non-cash expenses). By unloading this asset and receiving $37.4 million that it could use toward paying down its credit facility, memorial not only reduced annual interest expenses modestly but also guaranteed itself stronger cash flow moving forward, ceteris paribus.
Takeaway
Right now, it's difficult to tell what the future holds for Memorial but I am continuing to hold my shares. I like the firm's strong hedge book and I love the decision by management to sell some assets, but what I like most is that I believe the easiest way for it to reduce costs is to continue paying down debt with the cash flow it has today and, perhaps more importantly, to try and sell off even more assets that will reduce operational costs. This will be, of course, a long and bumpy road but if management can continue to focus on lower operational costs by cutting down on lease operating expenses and interest expenses simultaneously, I believe there could be attractive upside as the oil market recovers.
Disclosure: I am/we are long MEMP, LGCY.
I wrote this article myself, and it expresses my own opinions. I am not receiving compensation for it (other than from Seeking Alpha). I have no business relationship with any company whose stock is mentioned in this article.
Additional disclosure: I hold LGCYO, not LGCY.