Metalink (OTCQB:MTLK) ceased it's last business operations in March 2015. After ceasing the last operations, the company announced that they were looking for strategic alternatives including a voluntary liquidation of the company.
A couple of days ago, more than a year later, the company finally announced that the liquidation of the company is approved by the board. Net cash to be distributed to shareholders is anticipated to be between 1.30 and 1.50 USD.
I believe that this voluntary liquidation provides an unique arbitrage opportunity as it is likely that:
the liquidation will be approved by shareholders
the cash distribution will be at the high end of the provided range
the liquidation process will progress smoothly
It is likely that the liquidation will be approved by shareholders
The voluntary liquidation has to be approved by 75% of the shareholders.
There are three important shareholders together holding 68.33% of shares outstanding:
Uzi Rozenberg holding 17.75% of shares
Tzvi Shukhman holding 25.68% of shares
Daniel Magen holding 24.90% of shares
Uzi Rozenberg and Tzvi Shukman are both on the board of directors. This gives us a minimum of 43.43% of votes for, as the board of directors approved the liquidation.
Daniel Magen launched a tender offer in January of this year, via his wholly owned company Top Alpha, to increase his stake in the company from 24.90% to 49.90%. In the tender offer documents there is a section in which Top Alpha states the plans for after the tender offer which include a voluntary liquidation of the company as a first option. In addition, it is extremely likely that Uzi Rozenberg and Tzvi Shukhman discussed the liquidation with Daniel Magen. It would be near impossible to get 75% of the votes without him.
So the risk that the tender offer is not accepted by shareholders is negligible.
It is likely that the cash distribution will be at the high end of the provided range
I expect a smooth liquidation process as the company has no assets to be sold, only 1 employee who is CEO/CFO and no major liabilities. This should keep liquidation costs at a minimum and enable a quick liquidation.
The anticipated cash distribution range of 1.30 to 1.50 USD is too low for a couple of reasons.
First a correction should be made for the share count. The company bases this range on a share count of 2,690,857 shares. This share count includes options exercisable into 100,000 shares at 1.50 per share. With an anticipated range of 1.30 to 1.50 is does not make sense to exercise these options. These options should either be excluded from the share count, or 150,000 USD should be added to the net cash position. Excluding the options from the share count results in a range of 1.35 to 1.56 USD.
The company has a net cash position of 1.77 USD per share. This implies liquidation costs of 550,000 USD to 1,100,000 USD.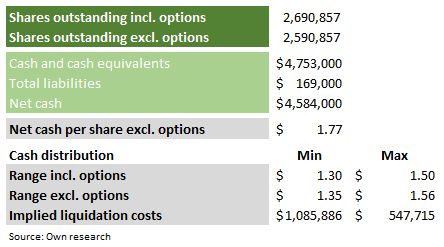 The liquidation expenses can be divided over the following cost items:
Salary/compensation for CEO/CFO and board of directors
Accounting fees
Costs to distribute cash to shareholders
Other costs (e.g. professional services)
Members of the board of directors, who are not executives, do not receive any compensation for their services. The CFO/CEO, who works on a part-time basis, earned 41,000 USD during 2015. So salary and other compensation costs are expected to be minimal.
Accounting fees were also minimal at 23,000 USD during both 2014 & 2015. I don't expect a large deviation from these numbers as there aren't a lot of financials to check.
I don't expect costs to be high to distribute cash to shareholders. Multi-million dollar tender offers are often executed for a couple of thousand dollars in costs.
So all these costs are insignificant. This makes me believe that the top end of the range is very good achievable (~550,000 USD liquidation costs).
Company's also tend to be very conservative when communicating cash distribution numbers to shareholders. This often results in pay-outs closer to the high end of the range (based on own experience). Or even in pay-outs above the top end, which was the case with the liquidation of Ambassadors group last year.
Daniel Magen, intended to buy ~25% of the shares at 1.30 per share via a tender offer in January. This tender offer was cancelled as the minimum number of shares to be tendered was not reached. However, it indicates that Daniel Magen sees upside above 1.30.
All these points combined make it very likely that the pay-out will be at the high end of the 1.35 - 1.56 USD range.
Risks
Apart from the risk that the liquidation won't go through, which is minimal as explained above, there is a small risk related to legal proceedings. Based on the excerpt below, from the annual report, it seems unlikely that the company has to pay-out these royalties. The company hasn't received an update since February 2012. However, in a worst case scenario it would lower the pay-out by ~0.09 USD.
In August 2011, we received a demand from the Chief Scientist to pay it royalties in the amount of approximately NIS 940,000 (approximately $242,000), excluding interest and linkage to CPI, due to the consideration we received from the Lantiq Transaction. We objected to the demand and asked the Chief Scientist to withdraw it. In February 2012, the Chief Scientist rejected our request and informed us that it intends to pursue full payment of such royalties. Since that time, to our knowledge, the Chief Scientist has not instituted legal proceedings against us in regards to such amount. While we believe the claim has no merits, there is no assurance that we will necessarily prevail.
An annualized return of 20-30% is likely
The company estimates that the total process will take 6 to 12 months after the shareholder meeting in August. As the liquidation process should be simple, I believe that the company will be able to finish the liquidation in 6 months after the meeting (8 months from now). This combined with a pay-out at the high end of the range results in an annualized return of ~20-30%.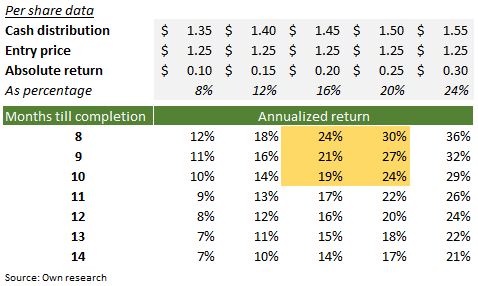 Withholding tax
If you aren't a Israeli resident and your position is less than 5% of the shares outstanding, your are exempt from Israeli withholding taxation.
Disclosure: I am/we are long MTLK.
I wrote this article myself, and it expresses my own opinions. I am not receiving compensation for it (other than from Seeking Alpha). I have no business relationship with any company whose stock is mentioned in this article.
Editor's Note: This article covers one or more stocks trading at less than $1 per share and/or with less than a $100 million market cap. Please be aware of the risks associated with these stocks.