Citigroup Inc. (NYSE: C) has announced today that the U.S. Fed has no objections to its capital return program. The banking giant's planned capital actions include increasing quarterly stock dividend by more than 200 percent to $0.16 per share, in addition to a common stock repurchase program of up to $8.6 billion during the four quarters starting in the third quarter of 2016. The decision to hike dividends is subject to approval from the management on a quarterly basis.
This development has reaffirmed my bullishness on the stock. I have spoken about my optimistic, long-term view of the stock in this analysis titled "Citigroup: The Buy Of The Decade?"
Michael Corbat, CEO of Citigroup Inc., had said during the 2016 Bernstein Strategic Decisions Conference that the bank needs to prove that it is a safe and sound institution, and that it is not a $45 stock. With the aggressive capital return plan, Citi has surely boosted the chances that it may take a leg-up sooner than earlier thought.
At the current level of $42.12, Citi has an unimpressive dividend yield of 0.50%. But this looks all set to change in the near future.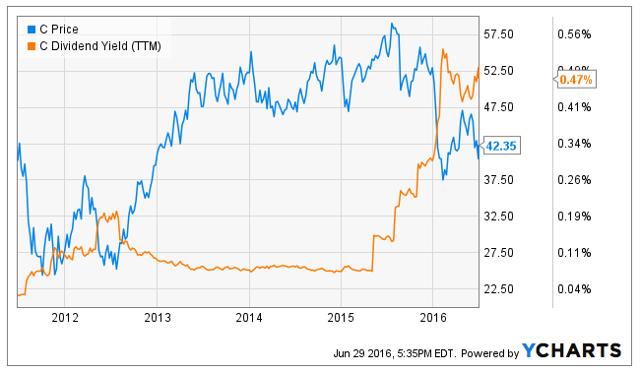 The graph above clearly shows that Citi had comfortably traded near $50-55 at extremely low dividend yields. But the latest capital return program is astoundingly aggressive, and easily dwarfs that of Bank of America (NYSE: BAC), which plans quarterly dividend increase to $0.075 per share and buybacks of up to $5 billion. Investors will not be too happy with this, and some may even switch to cheaper, yet solid, businesses such as Citi. I have voiced my bearish opinions on Bank of America in an analysis titled "Terrible Pain Is Coming For Bank Of America Investors".
The market generally tends to value dividend-paying stock more than the non-paying ones. If the Board of Directors approve the $0.16 quarterly dividend payout, then the stock will yield 1.28% at a price of $50. At $60 per share, the dividend yield would approximate to 1 percent. This would give serious competition to Bank of America, which has disappointed with its planned capital actions.
The capital return plan by the management will be seen as a sign of confidence in the ability of the CEO to successfully steer this global financial leader into a brighter era. Consistency in increasing the dividend payout for the next couple of years (at least!) will catapult the stock to great heights.
Conclusion
I am firmly of the opinion that Citigroup will outperform Bank of America in the near future. Backed by strong fundamentals and highly conservative valuations, Citi is a screaming buy.
Brexit fears had toppled the bank, which made the stock even more attractive.
I see the stock trading closer to $60 per share in the next 12 months. If management accelerates its capital return program in the coming years, then barring a recession or a broader market downturn, the stock could well double your money!
If you are risk-averse, then please remember to put in stop losses.
Disclosure: I am/we are long C.
I wrote this article myself, and it expresses my own opinions. I am not receiving compensation for it (other than from Seeking Alpha). I have no business relationship with any company whose stock is mentioned in this article.