It has been a week since my last update for the general market, and well, not much has changed! Last week, I posted an article on my Instablog foreshadowing the two paths the Brexit vote could have gone. That article can be read here.
The blog was published on June 21, 2016. And it looks like I was correct in calling the Brexit "Leave" result. The market dipped, pushed past its major 200-day MA support line, and then quickly gained in a rapid and furious pace. Like I stated, all of those "buy the dip" investors came into play. In a sea of all this chaos, what is an investor to do?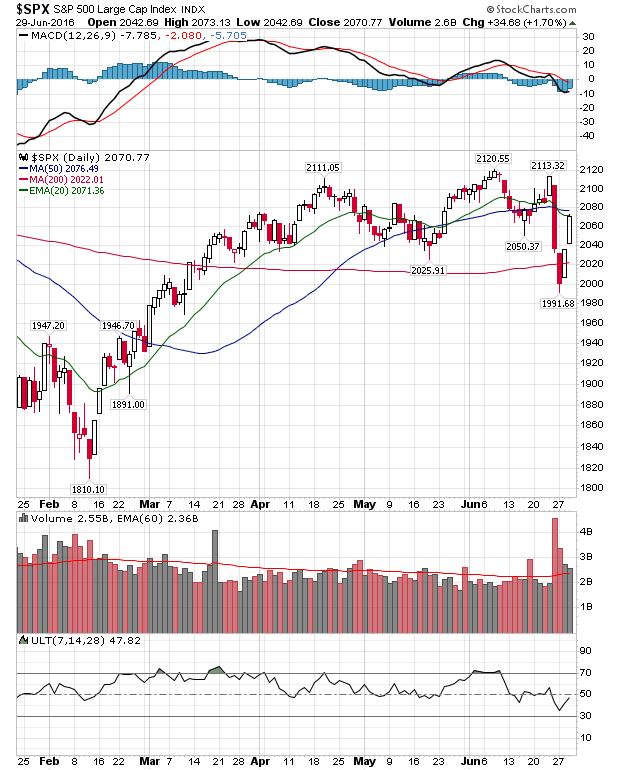 This is a daily chart for the S&P 500 (NYSEARCA:SPY). Fundamentally, the market has not changed too much. Earnings forecasts are lowering, transports are showing weakness, inflation is picking up, and GDP is just grinding along tepidly. The housing market has shown some solid strength the past few months, but that is not something I hold with a lot of conviction. Rising home prices fast to me means an overheated market, which is a huge red flag.
Technically Speaking
This chart is showing some signs of weakness. The MACD is still pointing towards lower prices, and the fact that the market broke through its 200-day MA means something to the traders out there. To strengthen that argument, there was a huge spike in volume on Friday and Monday, and weak volume on the last two positive days. That does not sound like a very strong rally to me. The next test for the S&P 500 is a breakthrough of 2080. Be aware of this key level. If the S&P breaks and can hold a close above this number this week, things will go back to status quo and grind along the 2100 mark. If not, expect a price movement to 1900 by the time of the election.
Drop The Cat
The past two days were nothing more than a dead cat bounce. Not a single thing about this large 3% jump makes me feel like a buyer. The fundamentals will win out this war, and people have thought that the Brexit drop would lead to a better buy in price. I have to agree that yes, some stocks were cheaper on Monday than this past Thursday, but that does not mean you should buy an overpriced item. That is like a clothing store marking up a pair of $20 jeans to $50, then giving you that 15% off 1-item coupon in the mail so you believe you are getting a good deal. I'm not buying it.
What now?
I feel people stepping into this rally may be making a mistake in the long run. Yes, a short-term gain could have been made, but this article is speaking in a completely intermediate- to long-term basis. I would not sell dividend stocks at these prices, and I just would not add to any positions besides some select utilities. My view for the next few months of the market has a target of 1900. Do not expect the market to make new highs this year. Once the election dust settles and the market adjusts to a new president, we may be in the clear to make new highs on the S&P 500. If you have some stocks you may be interested in selling, consider writing some covered calls to boost your premium while going into these unknown times.
Conclusion
To buy or sell? Well, given the information just stated, I would NOT be a buyer at these prices. If you missed this small bounce, do not fret - the market is coming back down. I still hold my lower price target of 1900 for the S&P 500. I myself will continue selling bear call spreads until there is more strength in the market. This is not a doom and gloom event - just nothing too good, or too bad, lasts too long. Remember that.
Happy investing!
Please follow for weekly market updates, options trading and dividend stock analysis
Disclosure: I am/we are long T, V, PSEC, DHT, AND SHORT SPY THROUGH BEAR CALL SPREADS.
I wrote this article myself, and it expresses my own opinions. I am not receiving compensation for it (other than from Seeking Alpha). I have no business relationship with any company whose stock is mentioned in this article.