AK Steel (NYSE:AKS) has been on a roll in 2016, gaining over 100% in just six months as the conditions of the steel market in the U.S. seem to be improving. Driven by favorable judgments for U.S. steelmakers against cheap imports and an improving construction and real estate market, AK Steel has done considerably well on the stock market this year.
As far as I know, the strong performance of AK Steel does not come across as a surprise, especially considering that the price of various steel products such as hot-rolled band have increased this year. In fact, the spot price of hot-rolled band in the U.S. is up around 64% year-to-date. Also, scrap pricing has improved 55% since hitting lows of $166 per ton in November last year, as shown in the chart below.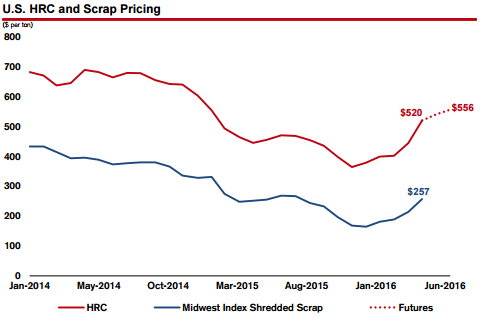 Source: AK Steel
Hence, it is evident that steel pricing is picking up momentum in the U.S. This has played to AK Steel's strength this year and the good part is that investors could expect the good times to continue. Let's see why.
What's driving steel prices higher?
The steel market in the U.S. has benefited from stringent anti-dumping laws. Earlier this year, the U.S. Department of Commerce enforced preliminary duties on imports of cold-rolled steel that is used in the auto parts, appliances, and shipping industries from seven countries, including China. These imposed duties have boosted U.S. steelmakers as the Chinese companies are not able to sell their steel at prices lower than the cost.
For instance, last week, it was reported that duties of more than 500% are being imposed on selected steel imports from China. This is just one of the duties that have been slapped on Chinese steel in recent months, with imports of corrosion-resistant steel being slapped with duties of 450% late in May. As a result of these duties, the likes of AK Steel have become more competitive on a pricing front as compared to Chinese players.
This has allowed AK Steel to capitalize on the growing steel demand in the U.S. as they can now benefit from the restocking activity. According to Market Realist, United States service center steel inventories dropped by 6.3% in April this year, after declining by 9.2% and 4.6% in March and February, respectively, on a year-over-year basis. In all, service center steel inventories dropped in excess of 22% from January to April on a year-over-year basis.
This will lead to a resumption in restocking activity going forward in the U.S. as demand from key sectors such as construction and automotive rises, helping AK Steel improve its performance going forward.
Construction and automobile segments will be key growth drivers
2016 has been a good year for steel companies as construction activity in the United States has picked up momentum. According to Plastic News, construction spending for the first three months of the year came in at $240 billion, representing an uptick of 9.1% as compared to the first quarter in 2015.
The most important thing is that the spending in the construction segment has continued in the second quarter as well. For instance, the total value of construction put in place in April 2016 came in at $1,134 billion, up about 5% as compared to last year.
What's more, since the growth in housing starts has remained robust, construction spending should continue to increase. According to Construction.com, construction starts will increase around 6% to $712 billion this year due to significant gains for residential and nonresidential buildings, which are expected to increase by 16% and 9%, respectively, this year, as shown below: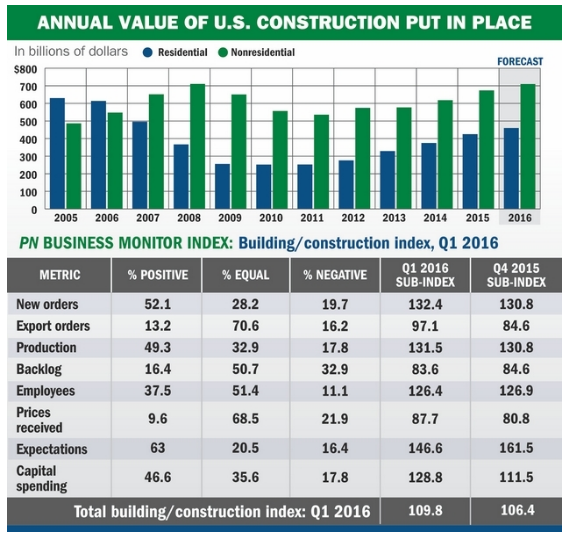 Moreover, apart from growth in the construction sector, the automotive segment is also improving at a reasonable rate this year. According to the Wall Street Journal, light-duty truck sales in the United States improved by 2.3%, while the sale of SUVs & crossovers rose by 2.4% on a year-over-year basis last month. The following chart shows that sales of light trucks and cars have been consistently strong so far this year: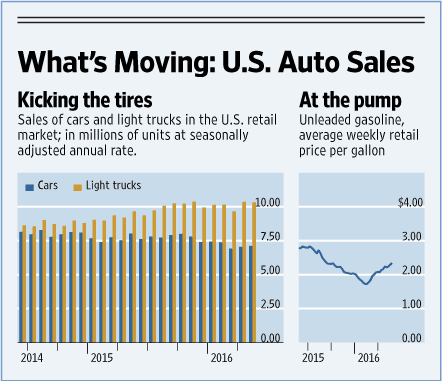 Source: WSJ
More importantly, it is anticipated that the automotive industry across the globe will grow by 3% in 2016. This is a positive sign for AK Steel as its shipments to the auto industry, including both the carbon and the stainless chrome products, accounted for nearly 63% of its total shipment in the last reported quarter.
Thus, the growth in the construction and the automotive segments should help AK Steel benefit from a bigger addressable market going forward.
Conclusion
Given the improvements in the steel market, it is not surprising to see why AK Steel has gathered strong momentum on the stock market this year. Looking ahead, AK Steel should continue to rally as the steel market in the U.S. could continue to get better on account of construction and automotive growth. So, in my opinion, investors should continue to hold the stock even after 100% gains in 2016.
Disclosure: I/we have no positions in any stocks mentioned, and no plans to initiate any positions within the next 72 hours.
I wrote this article myself, and it expresses my own opinions. I am not receiving compensation for it (other than from Seeking Alpha). I have no business relationship with any company whose stock is mentioned in this article.