The people of the UK Midlands, South Wales and South West, are probably blissfully unaware that their electricity distributor, Western Power, has its headquarters in Pennsylvania and is owned by PPL Corporation (NYSE:PPL), because Western Power's website is careful not to allude to the fact or even provide links to its parent company. Yet the recently acquired, UK-regulated electricity supply company now provides more of PPL's ongoing earnings than Pennsylvania and the newly added Kentucky operations combined. Approximately 70% of PPL's total earnings now comes from stable, regulated businesses, with a projected compound annual growth rate from major infrastructure investments of nearly 8% for the next five years (see Q4 and Y/E 2011 presentation).
PPL needed to secure these safe, higher-margin retail distribution markets because its unregulated and competitive wholesale electricity supply business in Pennsylvania and Montana has been subject to declining margins in recent years. The company's higher-value hedge contracts are expiring, and being replaced by contracts at lower prices. PPL's answer to the challenge has been to sell some of its non-renewable energy generation plants and acquire regulated distribution businesses, thus reorganizing the group into one which earns more of its profit from the regulated sector (see Y/E 2011 earnings release).
PPL's electricity-generating capacity of approximately 19,000 megawatts in the United States depends on a nuclear plant in Pennsylvania, six coal plants and thirteen hydro installations in Pennsylvania and Montana, and three Pennsylvania natural gas and oil units. There is also an oil and natural gas pipeline subsidiary, and a number of renewable energy projects with small generating capacities. Electricity and natural gas customers in the US and UK total 10 million, and the company has around 17,000 employees.
Business risk factors for PPL, in both its regulated and unregulated markets, include seasonal fluctuations in demand caused by extreme weather conditions, which can also lead to infrastructure damage and outages. The volatile nature of energy commodity markets means that the company usually hedges its fuel input costs, as well as its electricity supply pricing. The company is also exposed to downturns in economic activity, which will usually reduce the demand for electricity.
Meanwhile, the politics of climate change may increase the cost and reduce the attraction of power generated by fossil fuels. Its charge rates for electricity distribution need to be approved by regulatory authorities, based on the recovery of prudently incurred costs plus a reasonable rate of return, but approval of rates requested by PPL is not guaranteed. The regulatory framework, not only in the US but also in the UK, is also subject to change. These and other challenges are faced by PPL and its competitors, which in the US include Duke Energy (NYSE:DUK), The Southern Company (NYSE:SO), NextEra Energy (NYSE:NEE), FirstEnergy (NYSE:FE) and American Electric Power (NYSE:AEP).
Operating revenue for the twelve months ended December 31, 2011, was $12.7 billion, up 49% on the $8.5 billion reported for 2010. Net income of $1.4 billion was 54% higher than the previous year, but the company's management believes that its recalculated earnings from ongoing operations -- $1.5 billion in 2011 compared with $1.4 billion in 2010 -- is a more realistic indicator of the company's actual performance, especially since it eliminates the volatile and unpredictable effects of hedging activities. Diluted EPS was $2.61.
The forecast for 2012 projects a reduced EPS of $2.30, of which 69% is attributable to total regulated markets, 45% to UK operations alone. PPL's expectations of lower earnings in 2012 compared with 2011 are mostly the result of lower energy margins in the generation and supply segment, although the fall in forecast EPS is also caused by dilution of $0.13 following the April 2011 share issue to finance the acquisition of the Midlands sector of the UK business. Y/E 2011 earnings release However, the company revised its fourth-quarter and year-end 200 earnings up due a favorable U.S. Supreme Court ruling affecting the company's hydroelectric generating plants located in Montana. The Supreme Court unanimously overturned a previous Montana Supreme Court decision requiring the company to pay rent for the use of riverbeds located under portions of three rivers in Montana.
Downward pressures were emphasized by outgoing chairman and CEO James Miller, at the beginning of the Q4 2011 earnings call held on February 10, 2012. However, he also stressed the shift in business mix towards rate-regulated earnings, to provide both stability and security for forecast earnings and dividend, and for the company's credit rating on which financing for infrastructure development and hedging contracts heavily depend. In this context, Miller referred to PPL's "excellent" business risk profile recently awarded by Standard and Poor's.
Incoming CEO William Spence mentioned PPL's record of three consecutive years of exceeding the midpoint of its earnings guidance. He also discussed the dramatic advances in reducing power outages that had been made in the UK business, the approval of a critical environmental upgrade cost recovery case in Kentucky, and the one-off $100 million pre-tax cost of the extended outages resulting from the Susquehanna nuclear plant turbine blade replacement. During the Q&A session he highlighted the fact that the company's 2013 forecast operations were already 80% hedged, although this did not mean that it was fully protected from extremely volatile commodity prices, or indeed from the effects of economic fluctuation or the weather. Operations in 2014, however, are only 10-20% hedged at this stage.
The continuation of depressed electricity prices in the power generation and wholesale supply sector is exerting downward pressure on PPL's earnings potential in spite of its transformational acquisitions in the rate-regulated retail area. As a result, the upside potential for the company appears to be limited, but the good news is there doesn't look like there's much chance for significant downside. A graph of the company's stock price is shown below: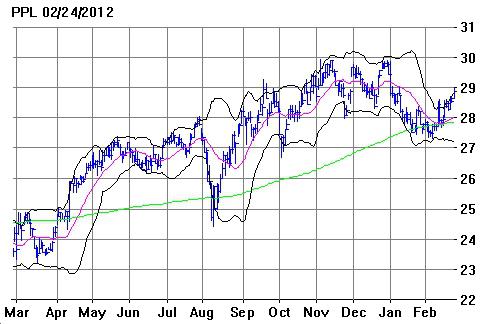 The company's stock dividend yield of 5% is very attractive, yet this can be boosted via a covered call strategy. A covered call may be entered by selling a call option against an existing or purchased stock.
Using PowerOptions tools, a covered call position was found for PPL with a potential return of 7.1% (11% annualized). The return includes payment of $1.08 of dividends during the holding time. The specific call option to sell is the 2012 October 29 at $0.90. The profit/loss graph for one contract of the position is shown below: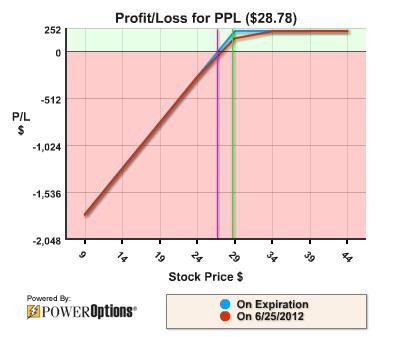 As a bonus, if the price of the stock is greater than or equal to the call options $29 strike price at options expiration in October, the position will return 8.2%.
Disclosure: I have no positions in any stocks mentioned, and no plans to initiate any positions within the next 72 hours.