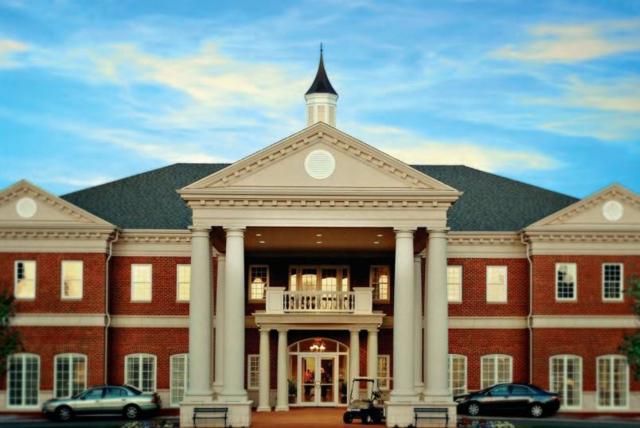 Click to enlarge
Source: National Health Investors
Over the past year Healthcare REITs such as: Welltower (NYSE:HCN), National Health Investors (NYSE:NHI), and LTC Properties (NYSE:LTC), have been on a tear.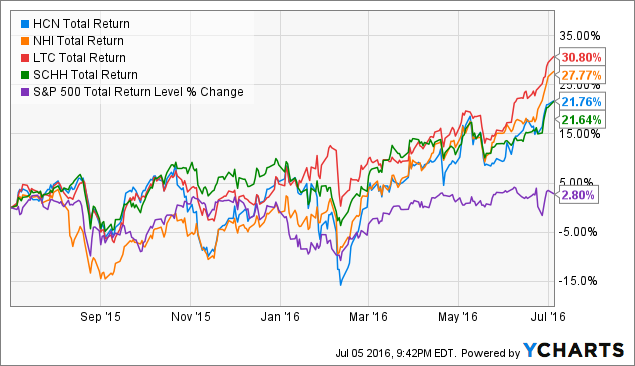 HCN Total Return Price data by YCharts
Thanks to the trifecta of ultra-low interest rates, yield starved investors seeking income anywhere they can get it, and the S&P making REITs into its own sector, all three REITs have outperformed the Schwab US REIT ETF (NYSEARCA:SCHH). With the lowest expense ratio of any REIT ETF, (0.07%), I view SCHH as the gold standard metric against which all REIT total returns should be judged. That's because this ETF offers the best default option for gaining instant diversified exposure to the REIT industry.
In addition to beating their industry in general, all three REITs have crushed the S&P 500's returns, which now creates a potential problem for dividend investors seeking a good place to put new capital to work. Let's take a look at four reasons why Welltower, America's largest medical REIT, is relatively poor place to invest new money. More importantly learn why National Health Investors is likely to prove a superior long-term dividend investment over the coming decade.
Welltower continues to fire on all cylinders BUT…
| | | |
| --- | --- | --- |
| REIT | Q1 2016 FAD/Share Growth | Q1 2016 Dividend Growth |
| Welltower | 9.8% | 4.2% |
| National Health Investors | 3.9% | 5.9% |
| LTC Properties | 11.7% | 5.9% |
Don't get me wrong, Welltower remains one of the best run medical REITs in the industry. And given its enormous size it continues to put up impressive growth figures, especially compared to far smaller rivals such as National Health Investors and LTC Properties. For example, in its last quarter it reported 9.8% growth in year over year funds available for distributions, (what pays the dividend) per share. That was a result of both rising occupancy, as well as strong same store net operating income, or NOI, growth of 3.8%.
Better yet, management raised guidance for the same store NOI growth to 3% from 2.75% and reiterated FAD/share guidance of $4.00. That would put 2016's projected FAD payout ratio at 86%, down from 90% in 2015, despite the just announced 4.2% dividend hike.
Perhaps most impressive is management's ability to continue to make profitable investments despite rising property prices. For example, in the past quarter Welltower acquired three properties for $98 million under its Mainstreet Partnership at cash yields of 7.5%. Management is also recycling capital efficiently, anticipating $1 billion in property sales in 2016. At a blended cash yield of 6.5%, this means that Welltower is making a profit on its portfolio sales and reinvesting the cash at more attractive prices; boosting FAD/share.
Finally, Welltower continues to prove an excellent property developer, partnering with real estate investment firm Hines to construct a 15 story senior housing facility in midtown Manhattan. In total Welltower expects to spend $363 million in the final three quarters of 2016, at an average cash yield of 7.9%.
This impressive ability to continue to generate strong investor returns during a real estate bubble is courtesy of Welltower's management team; one of the most seasoned in the business. In fact, the top five executives at the company have a combined 122 years of industry experience.
However, while being a true Sleep Well at Night, or SWAN stock, Welltower has one major flaw that keeps me from recommending its shares at this time.
...Valuation has gotten out of hand…
| | | | | | | | |
| --- | --- | --- | --- | --- | --- | --- | --- |
| REIT | Yield | 5 Year Average Yield | Price/AFFO | Historic P/AFFO | Price/NAV | Historic P/NAV | Average Historic Premium |
| Welltower | 4.5% | 4.9% | 19.4 | 18.1 | 2.02 | 1.75 | 10.3% |
| National Health Investors | 4.7% | 5.0% | 17.9 | 16.4 | 2.58 | 2.44 | 6.9% |
| LTC Properties | 4.2% | 5.0% | 19.5 | 15.7 | 2.93 | 2.24 | 23.7% |
Welltower, while not currently as historically overvalued as LTC Properties, is trading at a higher historic premium than National Health Investors. Now overvaluation alone isn't necessarily a reason not to own a quality REIT such as Welltower. Given enough time, its increasing cash flows and growing net asset value mean that investors are likely to still come out ahead.
| | | | | | |
| --- | --- | --- | --- | --- | --- |
| REIT | TTM FAD/Share | 10 Year Projected FAD Growth Rate | DCF Fair Value Estimate | Reverse DCF Implied Growth Rate | Margin of Safety |
| Welltower | $3.94 | 4.3% | $100.28 | -2.5% | 24% |
| National Health Investors | $4.28 | 4.5% | $98.42 | -1.0% | 23% |
| LTC Properties | $2.71 | 4.5% | $61.42 | 1.2% | 15% |
However, keep in mind two things about discounted cash flow analyses. First, they are just one data point among many and should never be used as the primary reason to buy or sell a stock. That's because they are at the mercy of long-term projections that are often educated analyst guesstimates. They are also heavily influenced by the discount rate used. In this case I used 9.1%, the S&P 500's historic CAGR since 1871.
What this DCF analysis represents is the current value of these REIT's future cash flow and net asset value over the next 30 years. In other words, despite the historic overvaluation of Welltower, National Health Investors, and LTC Properties, over the VERY long-term even today's high prices can result in market beating returns.
BUT over the next 10 years or less? That's where investing in Welltower can pose a problem, and why I believe National Health Investors is likely to offer dividend investors a better alternative.
...Resulting in a lower total returns going forward
| | | | | |
| --- | --- | --- | --- | --- |
| REIT | Yield | Q1 2016 FAD Payout Ratio | 10 Year Projected Dividend Growth Rate | 10 Year Projected Total Return |
| Welltower | 4.5% | 85.1% | 4.0% | 8.5% |
| National Health Investors | 4.7% | 86.5% | 4.3% | 9.0% |
| LTC Properties | 4.2% | 80.6% | 4.4% | 8.6% |
| S&P 500 | 2.1% | 37.9% | 5.8% | 9.1% |
Over the long-term total returns for stable businesses such as REITs generally follow the rule that return = yield + dividend growth.
Due to its massive size, Welltower is expected to have the slowest long-term dividend growth of these three high-quality medical REITs. Combined with its overvaluation this could result in the lowest total returns going forward. Now I'll be the first to admit that accurate long-term forecasting is hardly something Wall Street is famous for. So again, the projected total returns aren't something to base your final buy, sell, or hold decision on.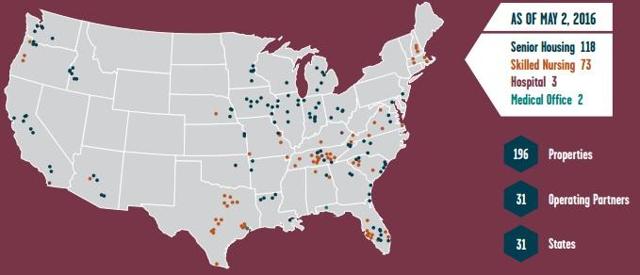 Click to enlarge
Source: National Health Investors investor presentation.
However, the fact is that National Health Investors does offer a slightly higher yield, which is a tangible benefit to income investors in today's ultra-low interest rate environment. In addition, NHI and LTC with only 196, and 212 properties, respectively, are likely to be able to grow quicker for longer than Welltower; which owns 1,490.
This is why I view those 10 year dividend growth projections as reasonable, and believe it's worth noting that only National Health Investors is projected to achieve total returns similar to the market's historic norm at today's valuation.
Of course relative valuations and speculative long-term total return projections are hardly the things to base an investment recommendation on. Which is why I'd like to point out two key advantages that National Health Investors has over Welltower that make it a great lower priced alternative.
Welltower has a solid balance sheet...but National Health's is a vault
| | | | |
| --- | --- | --- | --- |
| REIT | Debt/EBITDA | EBITDA/Interest | Debt/Equity |
| Welltower | 6.49 | 4.0 | 0.97 |
| National Health Investors | 3.76 | 6.76 | 0.90 |
| LTC Properties | 4.83 | 6.3 | 0.90 |
| Industry Average | 7.23 | NA | 1.11 |
Part of being a SWAN stock is having a highly secure balance sheet; one that can protect a REIT from the next inevitable economic downturn or financial crisis. National Health Investors and LTC Properties have just such balance sheets. However, NHI's is the strongest of the three and when combined with one of the best profitability profiles in the industry, makes it an easy REIT to recommend at today's share price.
National Health Investors and LTC Properties: superb profitability
| | | | | | |
| --- | --- | --- | --- | --- | --- |
| REIT | Operating Margin | Net Margin | Return on Assets | Return on Equity | Return on Invested Capital |
| Welltower | 17.9% | 19.4% | 2.8% | 5.7% | 2.7% |
| National Health Investors | 55.2% | 65.4% | 7.3% | 14.0% | 6.44% |
| LTC Properties | 50.8% | 51.1% | 6.3% | 11.3% | 6.33% |
| Industry Average | 26.9% | 13.7% | 2.0% | 2.0% | NA |
Welltower's profitability is, overall, better than average. However, LTC Properties and National Health Investors are far more impressive. The key to these fantastic margins is the fact that both NHI and LTC have relatively larger, high-margin, property financing businesses.
For example, both LTC and National Health Investors doesn't just rent out senior living and medical properties, they also finance mortgages and Mezzanine loans for such facilities. Both REITs also take equity stakes in joint ventures with other real estate developers, which provides for potentially higher returns on investor capital.
While Welltower also has a loan and equity division, it's a far smaller portion (2% of revenue in Q1 2016) of the company's net investment portfolio than its rivals.
The final piece of the profitability puzzle is that both NHI and LTC, due to their smaller sizes, can be more selective in what properties they loan, invest, or lease. This allows cash yields in the range of 8% to 10%, which greatly boosts both REITs overall profitability.
Risks to consider
National Health Investors' and LTC Properties' smaller sizes can be a big asset when it comes to faster growth. However, it can also lead to a more concentrated client base. For example, LTC properties gets 49.6% of its revenues from its four largest property operators, while for National Health Investors that figure is even higher at 67%. Should one of these operating companies experience financial difficulty then both REIT's cash flows and dividends could be greatly harmed.
In addition, while medical property loans and mortgages can boost profitability during good economic times, they can also be a double edged sword. During an economic downturn, financial panic, or massive government overhaul to Medicare/Medicaid spending, that concentrated client base can potentially high bankruptcy risk.
This is precisely what happened in 2002 when the SNF subsector of the medical REIT industry was decimated by Medicare funding changes resulting in many investors experiencing catastrophic losses.
Bottom line: Welltower remains a great long-term investment but National Health Investors is the superior choice at today's share price
By no means am I saying that Welltower is a bad REIT, nor that investors already owning shares should sell at today's price. Welltower's highly diversified, high-quality property portfolio, when combined with its strong long-term margin of safety mean that over the coming decades Welltower investors should do well owning this SWAN stock.
That being said, thanks to its: higher yield, better growth prospects, stronger balance sheet, and smaller historical overvaluation, National Health Investors is the superior choice when it comes to investing new money today.
Disclosure: I/we have no positions in any stocks mentioned, and no plans to initiate any positions within the next 72 hours.
I wrote this article myself, and it expresses my own opinions. I am not receiving compensation for it (other than from Seeking Alpha). I have no business relationship with any company whose stock is mentioned in this article.