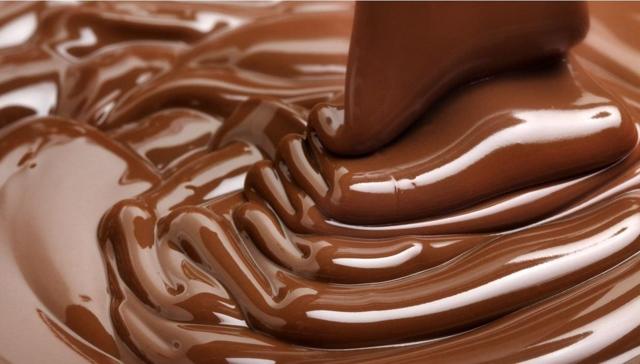 Click to enlarge
Last week, The Hershey Co. (NYSE:HSY) received a surprise takeover bid, propelling the stock price of the already optimally-priced company further through the roof. When I saw the takeover bid was from Mondelez International (NASDAQ:MDLZ), my heart dropped.
Full disclosure: I do not hold The Hershey Co. directly, only via exposure through mutual funds and ETFs. I have been looking to initiate a position in The Hershey Co. for 2 years now, but the price has always been more than I've wanted to pay. I have been waiting patiently for years for a correction and thus far, it has not materialized. With the threat of a Hershey-Mondelez deal out there, I now wouldn't touch the stock with a ten-foot pole.
While the details of the deal were not disclosed, I was immediately upset by the news. While current investors may be overcome with immediate short-term bliss as dollar signs flash before their eyes at the opportunity of a buyout, I can't help but believe the deal would be a disaster for the long-term prospect of the company and its investors. I believe it is in the best interest of The Hershey Co.'s long-term investors for the company to stay as far away from Mondelez International as possible and continue to operate independently for many reasons.
Reason #1: Irene Rosenfeld
Irene Rosenfeld is CEO of what may be one of the worst management teams of any Fortune 500 company. Rosenfeld has been dubbed a "deal-maker" with her never-ending stream of purchases and sales, but in reality, she and her team routinely fail to realize that all deals have consequences.
Since her rise to power at Kraft Foods in 2006, she has engineered a flurry of M&A.
In 2007, Kraft split from its parent company, Altria Group (NYSE:MO) [then known as Philip Morris (NYSE:PM)].
Also in 2007, Kraft sells off its Post line of cereals, which contained breakfast juggernauts such as Grape-Nuts, Honey Bunches of Oat, Raisin Bran and Pebbles.
In 2009, Kraft purchases Cadbury for a $19B price tag while simultaneously selling its at-the-time industry-leading, $2.1B-per-annum-in-revenue-producing cash cow frozen pizza business to Nestle (OTCPK:NSRGY) at a stupid valuation of $3.7B to finance the deal. This included brands such as DiGiorno, Tombstone, California Pizza Kitchen, Jack's and Delissio. This deal, when combined with Nestle's existing brands Stouffer's, Lean Cuisine, Buitoni, Hot Pockets and Lean Pockets, transformed them from a minor player to an industry leader. Famed CEO Warren Buffett of Berkshire Hathaway (NYSE:BRK.A) (NYSE:BRK.B) at the time owned 9.4% of Kraft Foods, and voted "NO" on the deal to issue 370 million shares to facilitate the acquisition of Cadbury. His outlook on the sale was, in a word, "negative."
When you look closely, you find $3.7 billion becomes $2.5 billion. And it was an enormously tax inefficient way to get rid of it. if you wanted to sell it, it was tax inefficient...

When you have a business with virtually no basis - Procter & Gamble's (NYSE:PG) gone through this, Kraft, other people - there are ways to handle spin-offs that avoid cutting the government in for almost one-third ownership of the business. And unfortunately they headlined the $3.7 billion. I don't think I've read any place about the fact that they're only getting $2.5 billion. And it was nestle that pointed out that this business does $2.1 billion in sales and makes $280 million. And giving up $280 million of earnings in a business that's been growing over the years for $2.5 billion of cash, I think, is a big mistake and I think it's a bigger mistake when you're paying -- probably counting all of the costs involved including the undervaluation of the Kraft shares given, you're probably paying in the range of maybe 17 times earnings for Cadbury I think is a big mistake.
Buffett, a man who is notorious for not publicly criticizing executives directly, broke his rule when criticizing these dealings.
"Both deals were dumb," Buffett told investors in Omaha, Nebraska, in April, 2010. "The pizza deal was particularly dumb."
On October 1, 2012, Kraft Foods Inc. completed the spin-off of its North American grocery business, Kraft Foods Group, Inc. On the distribution date, each Kraft Foods Inc. shareholder received one share of Kraft Foods Group, Inc. common stock for every three shares of Kraft Foods Inc. common stock owned on the record date. Kraft Foods Inc. then changed its name to Mondelez International, Inc., where it began trading under the ticker MDLZ beginning October 2, 2012.

For each single share of Kraft Foods Inc. an investor currently owned, they would then own 1 share of Mondelez International, Inc. and 0.33 shares of Kraft Foods Group, Inc.

Mondelez International, Inc. retained brands such as Oreo, Ritz, Trident, Triscuit, Philadelphia (cream cheese), Tang, Toblerone, Chips Ahoy!, Wheat Thins and Nilla.

Kraft Foods Group, Inc. retained brands such as Jell-O, Kool-Aid, Jet-Puffed, Cool Whip, Crystal Light, Maxwell House, Lunchables, Oscar Mayer, Planters, Polly-O, Velveeta, and of course, Kraft itself.

The deal was criticized from the very first moment. While Kraft Foods Group, Inc. got to retain its most important piece of branding - the well-known name "Kraft" itself - the (arguably) much stronger brand collection was renamed "Mondelez," a hard-to-pronounce, confusing, unrecognizable and, frankly, ugly-sounding name. So unattractive was its name that a Squidoo poll set up titled, "Should Kraft change the company name to Mondelez International?" received the results:

Yes = 0%
No = 93.6%
Maybe = 6.3%

In an industry where branding and name recognition is everything, the question, "What's in a name?" is never more important.

In 2015, Kraft Foods Group and Heinz agreed to merge into The Kraft Heinz Company (NASDAQ:KHC), with Berkshire and 3G contributing $10 billion to pay a special dividend for Kraft shareholders.
Rosenfeld's legacy will, in the end, be paying enormous, unnecessary tax bills, destroying brand recognition and selling off some of its strongest assets to competitors at bargain basement prices.
Reason #2: Relative Valuation
Rosenfeld's revolving door of deals has left a huge paper trail of data for investors to analyze, and the market has punished her poor dealings as a result.
| | | | | | | |
| --- | --- | --- | --- | --- | --- | --- |
| | Mondelez International | Procter & Gamble Co | The Kraft Heinz Co | General Mills Inc (NYSE:GIS) | Nestle | The Hershey Co |
| Price/Earnings TTM | 9.8 | 26.7 | 630.3 | 29.4 | 26.4 | 49.0 |
| Price/Book | 2.5 | 3.9 | 1.8 | 8.8 | 3.8 | 28.7 |
| Price/Sales TTM | 2.6 | 3.4 | 3.9 | 2.6 | 2.7 | 3.4 |
| Rev Growth (3 Yr Avg) | -5.4% | -2.4% | 0.1% | 1.9% | -0.4% | 3.6% |
| Net Income Growth (3 Yr Avg) | 33.3% | -13.2% | -27.2% | -8.0% | -3.9% | -8.1% |
Data from Morningstar.com
Compared to its peers, a casual investor may find Mondelez International to be quite the value pick, but the reality is with current management at the helm, the stock is more of a value trap. The comparatively low multiples investors are willing to pay is a reflection on Rosenfeld & Company's incompetence - people are willing to pay more for a quality company than a subpar company. Compare Mondelez's valuation metrics to The Hershey Co.
Between its storied history, beloved branding that sends shivers down the spines of adults and children alike, its one-of-a-kind theme park and countless generations of outstanding management and stock performance, The Hershey Co. is the epitome of quality. This is clearly reflected by the market's willingness to pay more for each dollar of its revenue and earnings. The prospect of such a legendary darling being bought by such a poorly run, faceless conglomerate should make few tried-and-true investors excited.
Below is a simple chart showing the stock performance of Mondelez and Kraft post spin-off. Despite Mondelez retaining the "superior" brands, the shares of Kraft performed similarly to Mondelez. Kraft was quickly bought out, creating a much better return for the long-term shareholder. Clearly, someone else thought Kraft's brands were a lot more valuable than Rosenfeld did.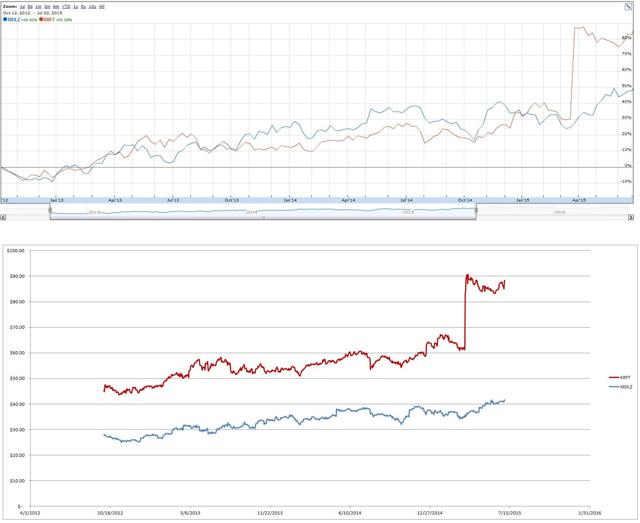 Click to enlarge
Reason #3: The Hershey Co. Doesn't Need To Be Bought
Perhaps the most compelling argument of all for The Hershey Co. to remain independent is that, simply put, The Hershey Co. doesn't need anyone's help. Since 1894, the Pennsylvania confectioner has been churning out treats every day, creating billions of smiles worldwide. And over that 122-year period, it has been routinely crushing the S&P 500 (NYSEARCA:SPY) and Dow Jones (NYSEARCA:DIA). Just look at the past 30 years alone.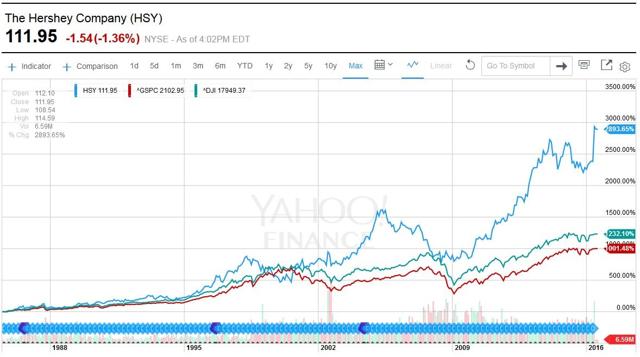 Click to enlarge
Throughout this time, The Hershey Co. has continued to improve its products. As a health nut, I read the ingredients of any pre-packaged product I purchase. There is a disturbing trend in the chocolate industry. You see, cocoa butter is a very special fat. Its unique fat molecules, when heated, cooled and massaged in a particular order, cause the development of a unique, crystalline molecular structure.
The step-by-step process that creates this unique crystalline structure is called tempering, which when properly done gives chocolate that special snap and unparalleled smoothness. Cocoa butter also has a melting point of about 93 degrees F, which is only slightly lower than the normal human body temperature of 98.6 degrees F. Combining the tempering process with the natural high melting point creates the luxurious, slow melting sensation that happens in the mouth.
As a result, cocoa butter is a very expensive commodity. But do you know what a very cheap commodity is? All-vegetable shorting created from cheap, rancid fats like soybean oil, cottonseed oil and to lesser extents, hydrogenated tropical oils, all loaded with trans fats. There is a disturbing trend in the food industry where cocoa butter is being replaced by cheap vegetable shortenings.
Cocoa powder and refined sugar is then added to the shortenings, approximating chocolate when solid at room temperature. Don't believe me? Read the ingredients in the candy aisle. Baby Ruth bars, Peanut Chews, any flavored baking chips like butterscotch or peanut butter chips, almost all the "white chocolate" you'll find in the grocery aisles... it's mostly all mixtures of cheap shortenings, cocoa and milk powders and sugar marketed as "chocolate flavored candy" in tiny print on the label.
The Hershey Co., as well as its major competitors Nestle, Mars and many others in the past switched out cocoa butter for vegetable shortenings in some of their lower-end products in an effort to reduce costs and keep prices stable. However, there has been a bit of a backlash. In 2015, The Hershey Co. committed to removing artificial ingredients from a few of its staples, a trend the company stated it hopes to continue moving forward. They have also recently launched an all-natural, 5 ingredient chocolate syrup, which is leaps and bounds superior to its standard, high fructose corn syrup-based syrup. Over a century later, the company is still listening to the public and improving their products to keep with the times. It's refreshing to see a little integrity in such a big company.
Deal Denied
While we do not know much about Mondelez's offerings, word is they offered $107/share to sell out. The board at Hershey unanimously rejected the offer. I, for one, am thrilled because the firm's impeccable history of performance would demand a much, much higher premium at the very least. That being said, I hope The Hershey Co. doesn't sell to anyone, especially to the likes of Mondelez International, at any price. They just don't need to be bought. They're too good of a company on their own.
My goal when I purchase a stock is to hold it forever. Under very few circumstances would I be willing to sell an equity I truly believe in. However, if Irene Rosenfeld got a hold of the company that would truly be a rare instance of where I would abandon ship if I owned The Hershey Co. outright. She has damaged practically everything she's touched, and I for one do not want to be subjected to her and her team's incompetence.
I would be willing to bet her departure from Mondelez alone would propel the price of Mondelez's stock skyward. It would be a catastrophic shame if my options as a loyal, long-term investor in one of America's greatest companies were to either be stuck owning shares of Mondelez International or, even worse, be forced to sell, take the cash and pay taxes on the sale, tremendously impairing my purchasing power as a result. Yet, I would have little choice. She is a destructive force of nature, and I feel she has the potential to permanently damage The Hershey Co.
Either way, it is an interesting time for The Hershey Co. and I cannot wait to see if the 122-year old giant will resist a takeover play and remain the brand we all know and love moving forward. Stay vigilant, chocoholics.
Disclosure: I am/we are long SPY.
I wrote this article myself, and it expresses my own opinions. I am not receiving compensation for it (other than from Seeking Alpha). I have no business relationship with any company whose stock is mentioned in this article.
Additional disclosure: All information found herein, including any ideas, opinions, views, predictions, commentaries, forecasts, suggestions or stock picks, expressed or implied, are for informational, entertainment or educational purposes only and should not be construed as personal investment advice. I am not a licensed investment adviser.
Editor's Note: This article discusses one or more securities that do not trade on a major U.S. exchange. Please be aware of the risks associated with these stocks.