Centerra Gold to Buy Thompson Creek
Centerra Gold (OTCPK:CAGDF) has announced that the company will acquire Thompson Creek Metals (OTCQX:TCPTF) in an all-share transaction. The deal places a value of $.79 on each Thompson Creek share, which represents a premium of 32% to its closing price on July 4. Including Thompson Creek's debt obligations, the deal values the company at $1.1 billion.
Also, part of the deal includes a gold stream restructuring with Royal Gold (NASDAQ:RGLD). Centerra and Royal Gold have agreed to amend Royal Gold's 52.25% gold stream interest in Mt. Milligan, to a 35% gold stream and a 18.75% copper stream. Payments on the gold stream will remain at $435 per ounce, while payments on the copper stream will equal 15% of the market price of copper.
As a newly combined company, 2016 pro forma annual production is estimated at 675,000 to 725,000 ounces of gold at all-in sustaining costs between $850-$925 per ounce.
This deal makes a ton of sense for every company involved, as I'll explain below.
Why It's a Great Deal for All Companies
Centerra owns 100% of the Kumtor gold mine in the Kyrgyz Republic, 100% of the Boroo mine in Mongolia, 100% of the Gatsuurt exploration property, located 35 kilometres from Boroo, as well as 100% of the Oksut project in central Turkey. These are higher-risk mining jurisdictions.
Back in August of 2015, I said Centerra was a buy based on the company's strong quarterly results and undervaluation. The company had just produced 125,088 ounces of gold that quarter with low cash costs and strong cash flow from operations of $114.6 million.
I was also very positive on Centerra's Oksut project, as a feasibility study estimates annual production of 155,000 ounces in the first four years at all-in sustaining costs of just $490 per ounce. I also pointed out Centerra's strong balance sheet as a reason to consider shares ($511.2 million in net cash).
However, I also pointed out that Centerra's main assets are located in politically risky mining jurisdictions. There's some uncertainty to the company's Jumtor mine in the Kyrgyz Republic - the government has tried to get Centerra into a 50/50 joint venture on the mine in the past.
Then on May 25 of this year, Centerra lost on an environmental claim brought by the Kyrgyz Republic, awarding damages of $98.4 million to the government, and on June 6 of this year, the company gave another update, and said it has "initiated international arbitration proceedings to challenge the Kyrgyz Republic's claims and actions."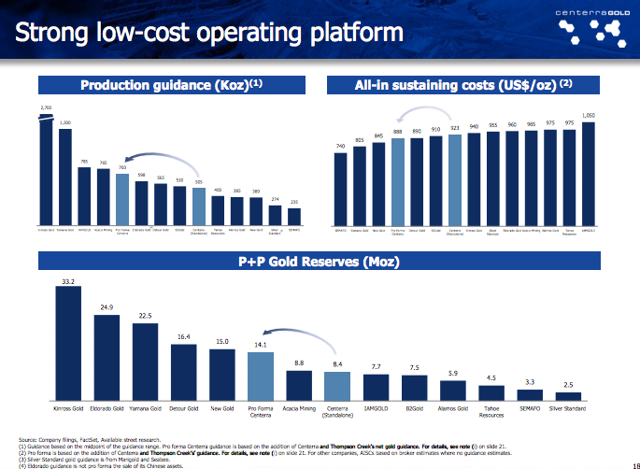 Click to enlarge
(Credit: Centerra Gold)
Diversifying out of the risky mining jurisdiction of Kyrgyz Republic and into Canada is the main benefit to this transaction for Centerra. But the company is also acquiring a pretty strong asset in Thompson Creek.
For a total transaction value of $1.1 billion ($140 million in equity and the rest in Thompson Creek's debt), the company acquires a high-quality open pit gold and copper mine in one of the best mining jurisdictions in the world. The mine is expected to produce 240,000 to 270,000 ounces of gold this year at $775-$850 AISC. Centerra's proven and probably gold reserves jumps from 8.4 million to 14.1 million.
With more than 5 million gold ounces and 2.18 billion copper pounds in reserves, Mt. Milligan has another 21 years of mine life remaining. The new company will be on track to produce a combined 700,000 ounces of gold this year at AISC below $900 per ounce ($888 per ounce to be exact). Meanwhile, the company will look to advance its quality development projects in the Oksut Deposit in Turkey, the Gatsuurt deposit in Mongolia and the Greenstone deposit in Canada.
The company will also have a solid balance sheet. Centerra will repay part of Thompson Creek's $889 million in debt with its $170 million bought deal financing, the $460 million cash on hand between the two companies, and a new $300 million drawdown on its $325 million credit facility.
The company will have a debt/2016EBITDA ratio of just .80X, which is lower than peers New Gold (NYSEMKT:NGD), El Dorado Gold (NYSE:EGO), Yamana Gold (NYSE:AUY), IAMGOLD (NYSE:IAG), Alamos Gold (NYSE:AGI), B2Gold (NYSEMKT:BTG) and others, according to its corporate presentation. It will have positive free cash flow from both of its currently producing mines, and will look to advance the low-cost Oksut project to production within a few years.
This deal is also great for Thompson Creek shareholders. Besides getting bought out at a nice premium, shareholders no longer have to worry about bankruptcy risk, as Thompson Creek's massive debt load has really been weighing on the share price.
With over $800 million in debt and a market cap that was just one-fifth of that, I felt bankruptcy was a real risk, especially with gold and copper prices falling hard in 2015. The company was simply overleveraged and needed to either issue a ton of new equity or get bought out, so this was a good option.
Finally, Royal Gold shareholders really should rejoice at this deal as they no longer have to worry about what will happen if Thompson Creek goes bankrupt. To summarize, Royal Gold has invested close to $800 million in the Mt. Milligan mine in exchange for gold streams. The mine achieved commercial production in 2014 and has contributed strong cash flow to Royal Gold, but Thompson Creek's ability to make its debt payments led to a lot of uncertainty. While the gold stream will be reduced from 52.25% to 35%, it will be slightly offset by the new 18.75% copper stream.
While Royal Gold expects less production from the stream in the first few years, the amendment is neutral on a discounted cash flow basis over the remaining life of mine, according to the company.
In conclusion, I think this deal is pretty fair for all three companies involved. Thompson Creek shareholders bought out at a premium and gets a solution to its debt woes. Centerra gets to diversify its operations and obtains a long-life, low-cost gold and copper mine. Royal Gold secures its interest in Mt. Milligan by restructuring the gold stream.
The question is, which stock is the best buy here? I'm leaning towards Centerra Gold over Royal Gold based on valuation. Centerra has significant re-rating potential following the closing of this deal as it trades well below its peers based on Price/NAV. The combined company will produce over 700,000 ounces of gold at low AISC and has the chance to grow its total production close to 1 million ounces annually with development of the Oksut and Gatsuurt deposits. I'm looking to add Centerra Gold shares as a result.
Disclosure: I/we have no positions in any stocks mentioned, but may initiate a long position in CAGDF over the next 72 hours.
I wrote this article myself, and it expresses my own opinions. I am not receiving compensation for it (other than from Seeking Alpha). I have no business relationship with any company whose stock is mentioned in this article.
Editor's Note: This article covers one or more stocks trading at less than $1 per share and/or with less than a $100 million market cap. Please be aware of the risks associated with these stocks.