There seems to a broad story at-play in the athletic apparel space. Valuations across the board in the space have compressed dramatically over the past 12 months. In October of 2015, Under Armour (NYSE:UA), Nike (NYSE:NKE), and Skecher's (NYSE:SKX) were trading around 85x, 25x, and 20x forward earnings, respectively. Those multiples have compressed to 48.7x forward earnings for UA (-43%), 19.7x for NKE (-21%), and 11.7x for SKX (-42%).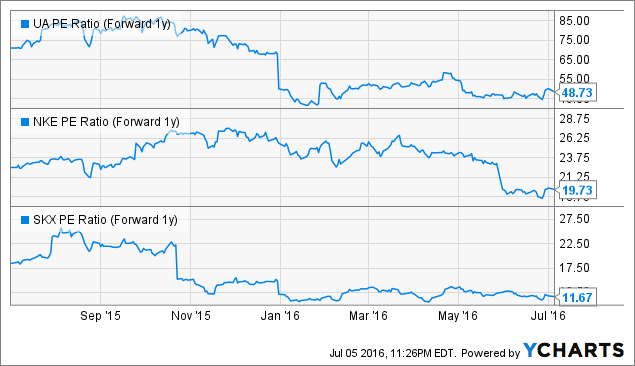 UA PE Ratio (Forward 1y) data by YCharts
More pertinently, earnings growth has been lagging this multiple compression and this is causing stock prices to fall. All three of these stocks have underperformed the broader market over the past 12 months. While NKE is only a slight underperformer and has actually eked out LTM gains, UA and SKX have seen their stock prices fall 7% and 24% over the past 12 months, respectively.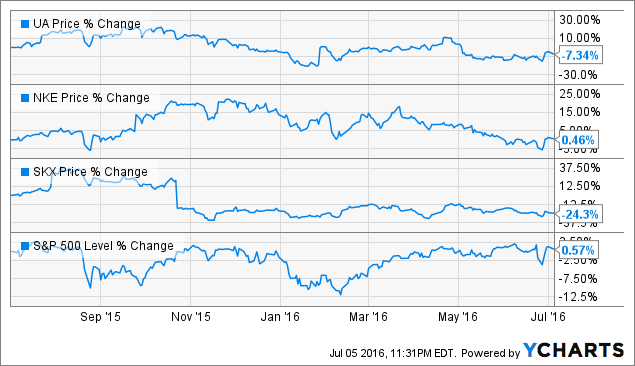 UA data by YCharts
For UA, this implies a stock that is almost 25% off its 52-week highs.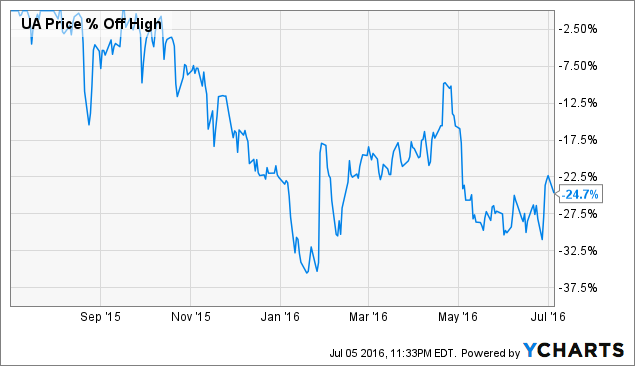 UA data by YCharts
This begs the question: is the hyper-growth for UA over? We simply think the valuation was over-extended towards the back-half of last year, and that investor excitement has cooled to represent more of a fairly valued stock (we peg that fair value at $36). That said, we think the compressed valuation means the stock could make for a strong earnings play if the company beats estimates. After all, NKE missed sales estimates but the stock has rallied almost 4% since that ER.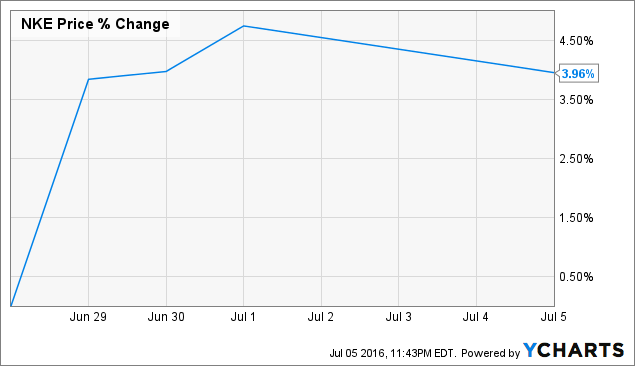 NKE data by YCharts
Our digital background checks imply UA had quite a strong quarter. To judge relative to last year, we have compared our recent background checks to our background checks from July of 2015. The results imply UA apparel is about equally as popular as it was last year.
The Curry 2 and 2.5 seem to be only slightly less successful than the Curry One despite Steph and Co. dropping the title to LeBron James and NKE. The Curry 2 is the third best-seller on Footlocker.com, while the 2.5 is the fifth best-seller. Around the same time last year, the Curry Ones were the third best selling performance basketball shoe on Footlocker.com. The Curry 2 is the second best-seller on Eastbay.com, while the Curry One held the number one best selling spot around the same time last year. The Curry 2 holds the second best-selling spot on Dicks Sporting Good (NYSE:DKS), one spot behind where the Curry One was last year.
Socks, likewise, appear to be performing in-line with last year. UA socks hold the number 4, 6, and 11 best-selling spots on Dicks, relative to the number 7 and 8 best-selling spots around the same time last year. On Sports Authority's website, UA socks hold the fourth and ninth best-selling spots, relative to the fourth and fifth around the same time last year. Granted, these items are all of the "fire-sale" fashion, so the Sports Authority data should be taken with a grain of salt.
UA shirts seem to have gained popularity since last year. In July of 2015, UA shirts were the fifth and ninth best selling Men's shirts on Dicks. Today, UA shirts own the number 2, 4, 5, 7, and 9 top-selling spots. Meanwhile, UA polos remain among several of the top sellers on Eastbay.com.
Our background checks this year further imply strength in the UA's Women's business. UA has some of the best-selling Women's T-Shirts on Eastbay, Dicks, Champs, and Footlocker. UA has also gained some traction in the heavily popular Women's Athletic Pants space. UA, however, continues to be outperformed by NKE and Adidas (OTCQX:ADDYY) in Women's Running Shoes.
Overall, it seems UA's popularity is more-or-less on-par with where it was a year ago, but the valuation has compressed significantly. While we think the valuation now is fair, we also think that this makes for an interesting earnings play. We are in no rush to get into a buy-and-hold position in UA, but are interested in buying the stock into its next ER.
Disclosure: I am/we are long NKE.
I wrote this article myself, and it expresses my own opinions. I am not receiving compensation for it (other than from Seeking Alpha). I have no business relationship with any company whose stock is mentioned in this article.