Warren Buffett loves Wells Fargo (NYSE:WFC). There is just no doubt about it.
A look at Berkshire Hathaway's (NYSE:BRK.A) (NYSE:BRK.B) March 31, 2016 portfolio filing with the SEC confirms that. Here are Berkshire's top ten holdings as of that date:
| | | | | |
| --- | --- | --- | --- | --- |
| Company | Ticker | Shares Owned | Market Value | % of Portfolio |
| Kraft Heinz | | 325,634,818 | $25,581,871,000 | 19.90% |
| Wells Fargo | WFC | 479,704,270 | $23,198,499,000 | 18.04% |
| Coca-Cola | | 400,000,000 | $18,556,000,000 | 14.43% |
| IBM | | 81,232,303 | $12,302,631,000 | 9.57% |
| American Express | | 151,610,700 | $9,308,898,000 | 7.24% |
| Phillips 66 | | 75,550,745 | $6,541,939,000 | 5.09% |
| Wal-Mart | | 55,235,863 | $3,783,104,000 | 2.94% |
| US Bancorp | | 85,063,167 | $3,452,714,000 | 2.69% |
| DaVita | | 38,565,570 | $2,829,941,000 | 2.20% |
| Moody's | | 24,669,778 | $2,382,113,000 | 1.85% |
| | | | $107,937,710,000 | 83.95% |
Source: Berkshire Hathaway 13F
Isn't it just incredible that with the size of the portfolio that Buffett is managing at Berkshire that he and to a lesser part his lieutenants Weschler and Combs are still this concentrated in just a few stocks.
The top ten holdings for Berkshire represent more than 83% of the portfolio.
The top five holdings are 70%.
The top three are 52%.
The Berkshire portfolio is no "closet index fund."
Within those top three positions is Wells Fargo, which first appeared in the Berkshire portfolio in 1989 as the country went through the savings and loan crisis.
Over the past few weeks, we have done a fair bit of writing about the fact that we are having a hard time getting excited about oil and gas producers despite being bullish on the commodity. As we have looked through the financials of thee producers (particularly the shale-focused ones) we have been reminded how tough the commodity business is. The very low-cost producers generate sufficient full cycle returns on capital, the rest of the industry is marginal at best.
Not surprisingly, there are no shale producers in the Berkshire Hathaway portfolio.
The banking business is actually very similar to the commodity production business.
Think about it. You don't choose a bank out of loyalty when you go and get a mortgage. You pick the bank that gives you the best rate. The money you get is the commodity and you are going to squeeze the bank for every last basis point of interest rate that you can by shopping around.
Here is Investopedia's definition of a commodity:
A commodity is a basic good used in commerce that is interchangeable with other commodities of the same type. Commodities are most often used as inputs in the production of other goods or services. The quality of a given commodity may differ slightly, but it is essentially uniform across producers.
The last sentence being the key. A commodity is essentially uniform across producers.
That is exactly what a mortgage is isn't it? The product itself is the same for all banks. The product is the credit being extended.
This begs the question, why does Mr. Buffett have so much love for Wells Fargo? This is a company in a business that has the same unlovable characteristics of commodity production.
The Differentiating Factor For Wells Fargo
Wells Fargo isn't the only bank that Berkshire owns, but the dollar amount invested in Wells Fargo tells you that Buffett thinks that it has a sustainable competitive advantage.
Buffett has told us what that competitive advantage is in his 1987 letter to shareholders:
The insurance industry [which is identical to the bank industry for present purposes] is cursed with a set of dismal economic characteristics that make for a poor long-term outlook: hundreds of competitors, ease of entry, and a product that cannot be differentiated in any meaningful way. In such a commodity-like business, only a very low-cost operator or someone operating in a protected, and usually small, niche can sustain high profitability levels.
Buffett wasn't speaking specifically about Wells Fargo here. He was speaking about the insurance and banking industries. Since we know that Wells Fargo is not a niche operator (it is one of those nasty big banks that we hear about), we must deduce that Buffett feels that its ability to sustain high profitability levels is in its status as a low-cost operator.
This circles back to our earlier comment about the banking business being just like the commodity business. We have decided to avoid shale producers because we don't believe that they are low-cost operators. These shale operators currently can't compete with conventional sources of oil production that are much lower cost.
Where a commodity producer can be a low-cost operator by having the best assets, Wells Fargo owes its low-cost operator status to its very inexpensive and very sticky deposit base.
In the first quarter of 2016, Wells Fargo's cost of funding was wait for it... 32 basis points! On interest bearing sources, the cost was 43 basis points.

Source: Q1 2016 Wells Fargo Earnings Release
Look in the table above at all of the deposits that Wells Fargo has accumulated in low cost savings and checking accounts.
That is the moat that Buffett loves about this company. This money is sticky and provides Wells Fargo with the ability to achieve wider margins than competitors that have more expensive funding bases.
For some perspective on how inexpensive Wells Fargo's funding is we can look at the same numbers from Bank of America's (NYSE:BAC) Q1 earnings below: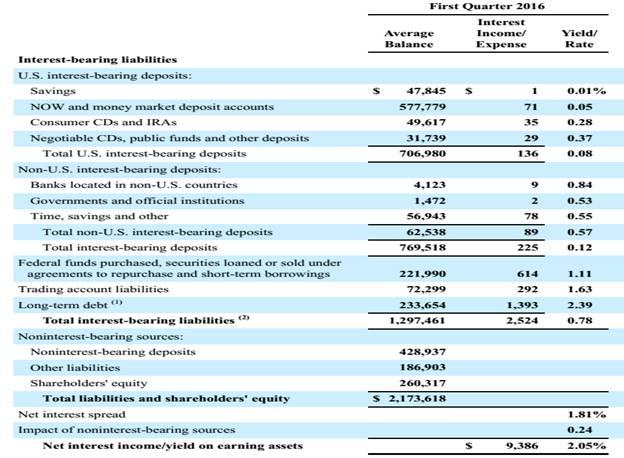 Source: Q1 Bank of America Earnings
On its interest-bearing liabilities, Bank of America is paying 78 basis points of interest. Wells Fargo was paying only 32 basis points. That is a significant difference in the amount of money that Wells Fargo can make through lending its liabilities out at higher rates.
The difference lies in the cost of Bank of America's Federal funds borrowings and its long-term debt that is nearly 80 bps more expensive than Wells Fargo's.
For the first quarter, Bank of America's net interest margin was 2.05%. Wells Fargo was 2.90%. That is a huge difference, nearly a 50% advantage for Wells Fargo. In a business where thin margins are earned on massive balance sheets, every basis point counts.
This low cost source of funding its loans is Wells Fargo's moat. Just like Geico's low-cost operation is its moat in the insurance business and why Buffett has always loved it (and purchased 100% of it for Berkshire).
It is interesting how Buffett has made both Wells Fargo and Geico such big parts of Berkshire given he believes these industries both offer dismal economic prospects. We often think that Buffett loves the power of a dominant brand but it seems that he equally loves the power of a precise low-cost operator.
Is Wells Fargo A Buy Today?
Wells Fargo's share price hasn't been where it currently is since early 2014.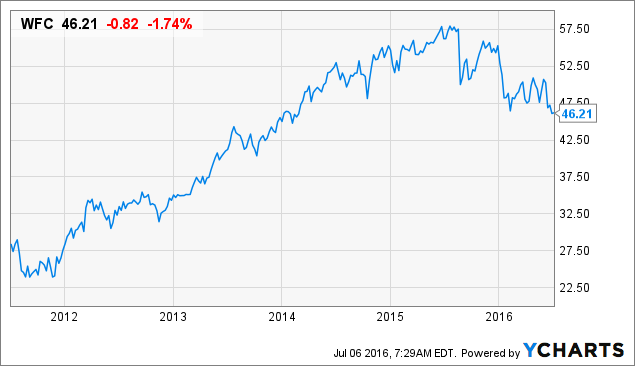 With a share price of $46.21, we are now talking about a price to book value of 1.3 times.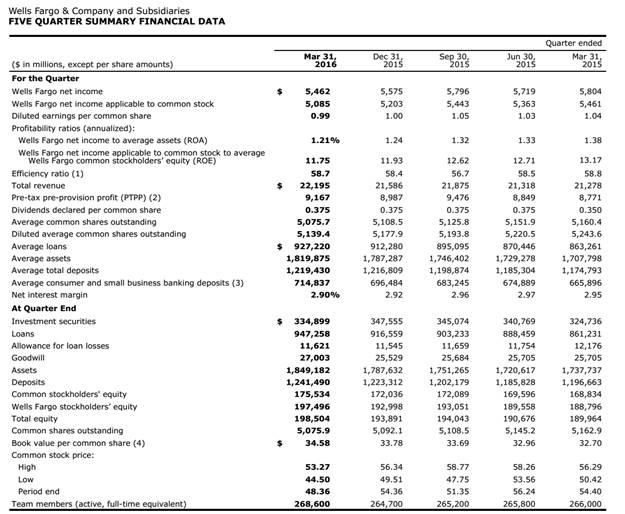 Source: Wells Fargo Q1 Earnings Release
Is that a good price for the bank that Buffett thinks has the biggest competitive advantage in the business? Over the long term, we are inclined to say yes. Our contrarian nature however tells us to wait for the next inevitable panic around the banking sector before getting overly greedy with Wells Fargo.
What we think might be the best course of action is to watch what Buffett does. Berkshire just requested permission from the Federal Reserve to increase Berkshire's ownership of Wells Fargo beyond 10%. This is required under the Change in Bank Control Act.
If Buffett starts buying Wells Fargo again aggressively then that would be a blessing on the current valuation from the man who likely knows the bank better than anyone else.
We'll be watching to see what he does. Click the follow button at the top of this article to make sure we can provide you with an update as it happens.
About The Superinvestor Bulletin
Our premium Seeking Alpha subscriber service monitors the activity of the world's greatest investors. We identify the highest conviction positions in the Superinvestor portfolios and present them to our subscribers in comprehensive reports. Our latest report details a bargain European company (US listed) that currently makes up an incredible one-third of a star investor's portfolio. Follow this link if you'd like to check out our service further.

Click to enlarge
Disclosure: I/we have no positions in any stocks mentioned, and no plans to initiate any positions within the next 72 hours.
I wrote this article myself, and it expresses my own opinions. I am not receiving compensation for it (other than from Seeking Alpha). I have no business relationship with any company whose stock is mentioned in this article.