By Scott Tzu
Piper Jaffray was out this morning with a note talking about why they thought Apple (NASDAQ:AAPL) was going to rise 14% versus the S&P in the coming weeks heading up to the iPhone 7 launch and why Apple is a buy for them with a $153 price target. We wanted to come out and issue some color of our own on the subject, as we just recently wrote that it would be time to buy Apple soon, but we want to clarify in the face of Gene Munster's note that it might not be time to pull the trigger yet and we might see Apple hit $83 before we see it hit $103.
We don't think the public has a reason to bid up Apple stock into the iPhone 7 launch and we think investors will get a chance to buy Apple lower than today's price in coming weeks.
Piper's note was released this morning and we saw a copy via Street Insider. It took a historical comparison of the weeks leading up to a major iPhone launch and tracked the stock's performance over that timeframe. This lead analyst Gene Munster to the following conclusion,
Piper Jaffray's Apple (NASDAQ: AAPL) analyst Gene Munster notes the resale value of the iPhone SE, 6S/6S Plus is comparatively in line with resale value of the 6/6 Plus during the same post-launch period last year suggesting stability in aftermarket iPhone supply and demand. Meanwhile, the bigger question is around how big of an upgrade the iPhone 7 will represent. The analyst notes history shows the stock tends to outperform the S&P 500 on average by 14% with 12 weeks left until launch - which is about where we are right now.
We like Gene Munster. We think he usually does a good job with Apple and some of the other companies that he covers, but we have to disagree with him today, and we wanted to lay out why we disagree with him. We believe that Apple may actually head lower here before it catches its second wind and moves higher, and we wanted to share why we think investors may have a chance to buy the dip even lower than Apple's current price right now.
First, and most obvious, Munster uses the reasoning that we are weeks out from a new iPhone launch as a reason to go out and buy stock.
We actually think the opposite is far more prudent with the iPhone 7, that the weeks prior to this iteration of the phone will see a dip in shares when we approach what we call "peak iPhone hatred" as we laid out in our last Apple article out last week.
We believe both media sentiment and Apple stock will both wax and wane, with the release of the iPhone 7 likely coming at a nice pullback for the markets (we predict the markets will sell off another 10% for sure at least), and it will definitely come during a lull in excitement for Apple. This sets up a period where the stock could keep falling as Apple churns ready to head into the iPhone 8 media cycle, which will probably start 6 months to a year prior to its release. We also predict the phone will be a smash hit.

We believe this is going to set up for an nadir of sorts when the iPhone 7 could drag Apple to multi-year lows at the very same time that the market is also putting pressure on the company stock. It is at this point that we believe the very beginning of sentiment change will happen moving into the iPhone 8, and we believe this will be the point to go in and buy Apple.
We think this argument deserves a little context. Munster uses the iPhone 4 and iPhone 6 as reference points for his analysis, but these were far larger upgrades than the iPhone 7 will be.
For example, the iPhone 4 introduced,
"A new hardware design to the iPhone line, which Apple's CEO Steve Jobs touted as the thinnest smartphone in the world at the time"
"Apple's new high-resolution "Retina Display," while maintaining the same physical size and aspect ratio as its precursors"
"Apple's A4 system-on-chip, along with iOS 4"
And the iPhone 6 introduced,
These are major upgrades, where the 7 is simply going to offer an extension of sorts to the iPhone 6. We think Munster's comparison is off base.
For instance, there has not been an iPhone model that has received as much criticism prior to launch then the iPhone 7.
We think it makes a difference in terms of stirring the market up and we do not expect the same excitement out of Apple for this phone. To read more on people hating the iPhone 7 already, prior to its release, you can read our last article here.
In addition to this, the iPhone 4 and the iPhone 6 were both released at far different points in the macroeconomic cycle than the one we are currently at. For instance, here is a overlay of the 4 and the 6 over a chart of the major United States indices, compared with the 7.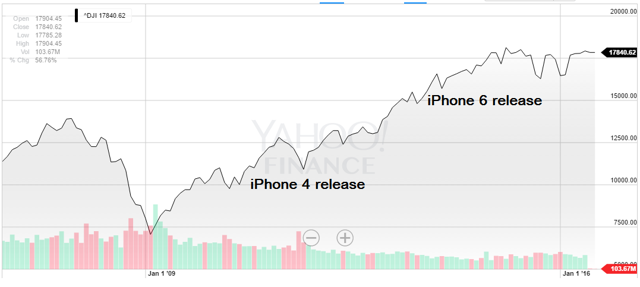 Both of these models were released during a raging bull market and the iPhone 7 is about to be released at what we would argue is the very top of the end of a euphoric bull market.
These things make a difference
Apple also is under criticism, though not by us, for spending to acquire Tidal, the music service partly owned by hip-hop artist Jay-Z. This news, combined with the iPhone 7 having what are perceived to be lackluster updates, combined with the poor earnings that Apple has posted over the last two quarters, does not give the public a reason to get excited.
We don't think the public has a reason to bid up Apple stock into the iPhone 7 launch and we think investors will get a chance to buy Apple lower than today's price in coming weeks.
Technically, Apple is stuck in some muck, whereas during the iPhone 4 and the iPhone 6 launch, the stock was in more easily discernible uptrends.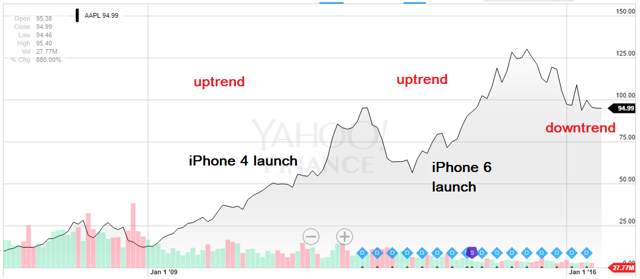 Now let's talk about what we do agree with Piper on.
We agreed at Apple is a long-term buy and hold for multiple years to come
We agree that almost any dip in the company stock should be considered a buying opportunity
We agree that multiple expansion can eventually happen whether it is through Apple's business model shifting or the company spinning off parts of itself or finding other creative ways to unlock value
But given the overall market climate right now, especially with the newest macroeconomic threats coming from the United Kingdom leaving the European Union, Italian banks falling apart, and declining macroeconomic data in the US, we are not sure the stage is set for a rally in Apple shares to the tune of beating the S&P 14% for almost no reason at all.
This also comes just days after Citi noted that Brexit could have a negative impact on Apple,
Shares of Apple Inc. fell more than 1% Tuesday after analysts at Citigroup lowered their revenue and earnings expectations for the company's next two fiscal quarters, citing the potential impact on demand caused by Brexit and the lengthening period between iPhone upgrades.

The brokerage is now anticipating third quarter revenue of $41.19 billion. While that's still within Apple's -0.46% range of $41 billion to $43 billion, it is down from $42.2 billion, both Citi's previous expectation and the consensus estimate among 37 analysts surveyed by FactSet.

Citi also lowered third quarter non-GAAP earnings per share to $1.35 from $1.40, which is at the lower end of Apple's guidance range of $1.30 to $1.42, and below the Wall Street consensus estimate of $1.40.
As investors, what we are looking to do is wait for Apple to reach a level of peak hatred that we talked about in our last article and potentially allow the broader market to sell off and bring Apple down with it. As we stated in our last article, we think there will be an opportunity to buy Apple under $90 per-share and anything into the $80 range we would consider an aggressive buy for those with a long term outlook on the company.
To sum it up, we believe Piper is right about the long term but wrong in the short term. We believe Apple shares could very well easily hit $83 before making a move higher to over $100 as predicted by Piper. If you were looking for your buying opportunity, you may want to consider holding tight and seeing what the end of summer brings you. Don't rush to buy because you forecast more euphoria which is at a premium in this market. Be a realist and wait for your pitch.
Disclosure: I/we have no positions in any stocks mentioned, and no plans to initiate any positions within the next 72 hours.
I wrote this article myself, and it expresses my own opinions. I am not receiving compensation for it (other than from Seeking Alpha). I have no business relationship with any company whose stock is mentioned in this article.