Let's get it out of the way - this article isn't about Brexit. That's been discussed ad nauseam for the past few weeks. Even your two-year-old probably has an opinion on it. A lot of experts have weighed in on the topic, and I don't think I can add anymore to that particular conversation.
I want to talk, instead, about the exciting world of telecommunications and dividends. Specifically, this is about the $100 billion telecoms giant, Vodafone (NASDAQ: VOD).
Vodafone seems to be heading in the opposite direction of its home country. While Britain leaves the EU, its seventh largest company plans to shift its headquarters to Dusseldorf and report the Euro as a functional currency. That's not surprising, considering the fact that 50% of the company's revenues are already earned in euros.
A majority of their customers and suppliers are in the Eurozone. Also, Vodafone employs more people in the EU than in the UK.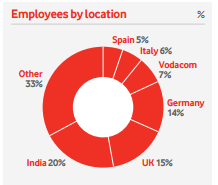 Source: Vodafone Annual Report 2016
Vodafone, at its core, is a European multinational that has been encouraged to accept its identity after a political shakeup in Britain. It's worth taking a deeper look at the business itself to see if there is any merit to the investment rather than worry about the effects of Brexit.
Which means sifting through fundamentals, and if there could be no better place to start than the dividends.
6% average yield
As I write this, Vodafone ADRs yield close to 5.37% in dividends. Over the past 5 years they've yielded 6% on average. Dividends are expected to grow in the near future at the same rate as in the past, according to management. So, if you take management at its word, you can expect dividends to grow 2% annually for the foreseeable future.
Operational cash flows have grown at half that pace. Operational cash flows have gone from £2.86 billion ($3.7 billion) in 2015 to £2.88 billion ($3.73 billion) in 2016.
Considering the company has maintained a stable dividend growth rate since 2000, expecting dividends to continue growing at this pace wouldn't be an unreasonable assumption.
This makes the stock an ideal investment for a dividend growth investor. But if you look at the stock from this perspective, two questions need to be answered before you buy the ADRs:
How sustainable are the dividends?

What is the intrinsic price based on a dividend valuation technique?
Sustainability
To figure out how sustainable dividends are, we need to analyze the lifeblood of shareholder paybacks - free cash flow.
Free Cash Flow actually turns up as a headline metric in the annual reports published by Vodafone, but the trouble is Free cash flows have been falling for the past few years. CapEx has increased substantially over this period and that has put pressure on the cash coming in.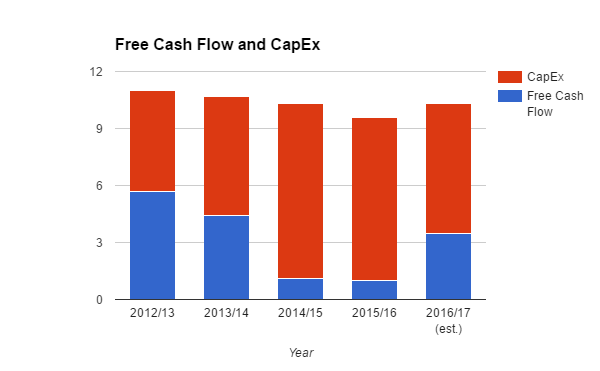 If you notice, estimated CapEx for 2016/17 is much lower, which effectively triples FCF. Turns out Vodafone's spike in CapEx over the past few years was part of a larger strategy to upgrade the services in Europe and boost organic growth. Management called this Project Spring, and it's cost the company over £20 billion ($26 billion) since 2013.
The project is now over and expected organic growth has even materialized and reported in the last annual statement.
Does that mean dividends will be boosted? Not really. Management still has to deal with licensing, spectrum and restructuring costs going forward. These costs are not discretionary and have actually grown over the years. This means an extraordinary dividend is unlikely. But the good news is Vodafone can keep its promise and deliver 2% growth in dividends for the near-term.
Valuation
Having confirmed the recent dividend and the growth rate for the near future, we can now delve into the stock's valuation to see if the current price is justified.
Considering how integral the dividend is, a Gordon Growth Model seems appropriate for this valuation. We already know the dividend and the growth rate expected for the next few years. This means the only element left to deduce is the required rate of return on equity.
CAPM seems like the best tool for this. US Treasury 30 year bonds yield 2.17%, which is used as the risk-free rate. Vodafone has a beta of 0.83 and an expected market return of 6.5%.
2.17 + 0.83*(6.5-1.65) = 6.2%
Here are the assumptions:
| | | |
| --- | --- | --- |
| | Assumption | Comment |
| Sustainable growth rate | 2% | Based on analysis above |
| Required Return on Equity | 6.2% | CAPM |
| Dividend | $1.75 | Annual dividend (2015) x growth rate |
*5 yr average dividend yield.
GGM Intrinsic Value: $41.67
Conclusion
Calculations above indicate the current price is at a 25% discount. Of course, you can adjust the model as per your assumptions to pin down a different value based on different parameters.
One thing is for certain - the dividend is sustainable and highly attractive. Buying Vodafone as a stable, high-yield investment seems like a great idea. Growth for a company this big in an industry this competitive is simply icing on the cake. Vodafone has substantial exposure to emerging markets like India and has invested in upgrading services at the right time.
Project Spring seems to be having a positive effect, as expected, and enterprise clients are increasingly pushing organic growth at the service provider.
For all these reasons and the recent plunge in stock price due to Brexit, VOD is an attractive buy at the moment.
Recommendation: BUY
Disclosure: I/we have no positions in any stocks mentioned, and no plans to initiate any positions within the next 72 hours.
I wrote this article myself, and it expresses my own opinions. I am not receiving compensation for it (other than from Seeking Alpha). I have no business relationship with any company whose stock is mentioned in this article.