At the end of this week, we will get an update about the US job market. Investors, traders and journalists are closely following this report to get new hints about the market.
I can tell you that there is way too much excitement. People are excited because other people are exited. All we get is a coincident indicator that tells us how many jobs got added/lost.
The outcome of the report has brings a lot of volatility to the market in every asset class. The key is to look at leading indicators and not being carried away by more than a billion opinions after the release.
In this article, I want to show you a few leading indicators that give you a clear view about the job market.
The first graph shows the labor market conditions indicator. This indicator is a coincident indicator. This indicator does not predict the actual number of new jobs but rather the direction of the trend.
The trend is clearly down since 2015 and has lost strength in 2014. The third quarter of 2014 showed the growth peak of the US economy according to leading indicators like the ISM's (non)-manufacturing report.

Source: Federal Reserve Bank of St. Louis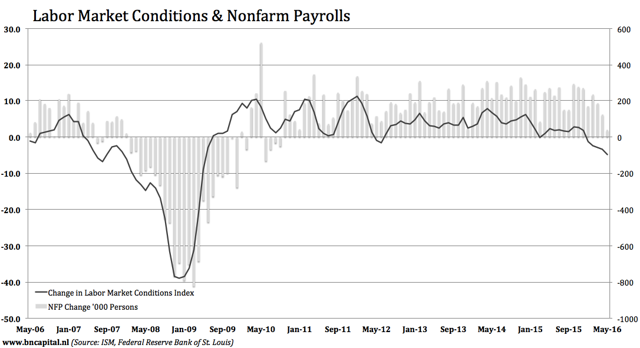 The second graph shows leading indicators. Both the ISM employment index and the NMI employment index are compared to the nonfarm payroll change. These indicators show some growth in June. Note that the last bar (dark grey) shows the average expectation.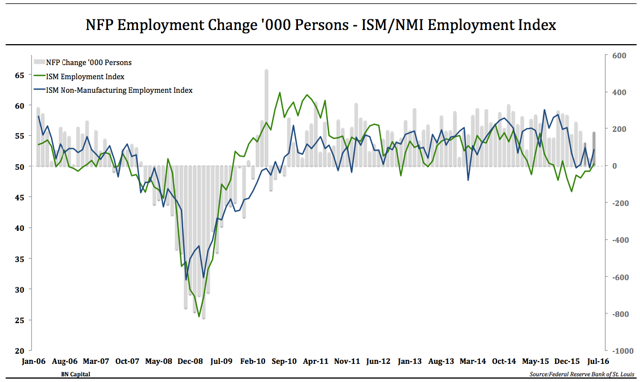 In my opinion, we will see some jobs growth in June. I do not expect much more than 100K new jobs. And even if I'm wrong, the macro picture will not change. NFP jobs are not leading.
Disclosure: I/we have no positions in any stocks mentioned, and no plans to initiate any positions within the next 72 hours.
I wrote this article myself, and it expresses my own opinions. I am not receiving compensation for it (other than from Seeking Alpha). I have no business relationship with any company whose stock is mentioned in this article.