Business Fundamentals
Pacific Coast Oil Trust (NYSE:ROYT) is a perpetual trust producing California crude oil. The trust has oil-producing properties with breakeven costs of around $34 per barrel, and it can generate significant net profits even when California crude index Buena Vista Hills was at $45.50 per barrel. This crude index is a standard for crude oil produced in California and represents most of the crude the trust produces. The index's pricing can be found here.
Earlier in this year, Pacific Coast Oil Trust has been hammered as the price of California crude has dropped to $24 during January and February of 2016, which is far below the trust's breakeven price. As a result of this price drop, the trust currently owes $1.1 million in debt, plus another $860,000 in loans with interest of 8.5% per annum. Both debts will have to be repaid before unit holders begin receiving royalty distributions. However, this $1.9 million total in debt can be repaid rather quickly, given the trust's net operating income will be around $600k to $1 million per month if oil prices stay at the current levels. The latest operating income was $643,000 as crude was averaging $44, found here.
Liquidation Odds
ROYT has a clause in its trust holder agreement that the trust will terminate if it fails to distribute at least $2 million per year in two consecutive years. In this section, we will study the odds of this scenario using Brent future contract prices for the rest of 2016.
| | | | | | | |
| --- | --- | --- | --- | --- | --- | --- |
| Operation Month | July | Aug | Sept | Oct | Nov | Dec |
| Distribution Month1 | Sept | Oct | Nov | Dec | Jan 17 | Feb 17 |
| Crude Price2 | $47 | $48 | $49 | $49 | $49 | $49 |
| Cash Flow3 | $0.9M | $1.0M | $1.1M | $1.1M | $1.1M | $1.1M |
1 - The cash flow from the month of operation is announced 25 days after the month ends and distributed on the first Monday in the month after.
2 - Price of California crude index Buena Vista Hills found here. The prices in this chart are calculated by the Brent future price minus $3, which is the current spread between the two indexes.
3 - The net cash flow is the estimated by (realized crude price - break-even cost) * 93k barrels produced per month. The current breakeven cost is $34 per barrel.
This breakeven cost is calculated using ($41.14 in average realized prices) - ($643,000 net profit/93,194 barrels produced) = ~$34.25 per barrel. All the above data are extracted from the trust's July earnings report.
In this scenario, based on current future contract prices, the total distributable earnings for ROYT total $4.1 million. Given debt levels of $1.9 million, the total distributable earnings for 2016 are therefore $4.1M projected - $1.9M debt + $0.2M distributed from 01/2016 = $2.4M in projected distribution for 2016.
Therefore, based on current future prices, the trust is not expected to trigger its termination condition in 2016 with a margin of ~$400k. Its chance of triggering the termination condition in 2017 is slim to none, with expected distributions of at least $13.2 million, which are achievable with crude averaging $49 for every month in 2017. This situation is very likely given that IEA predicts WTI will rise to $60 by the end of 2017. See the chart here.
Trust Valuation
According to the Short-Term Energy Outlook (STEO) report published by the IEA, the expected crude price for the rest of 2016 is ~$50, then WTI is expected to rise to $60 by the end of 2017. See the agency's report here.
In the table below, data in 2017 is based on current future prices. Data beyond 2018 is based on conservatively projected prices. Due to the crude bloodbath of 2014 to 2016, the US energy exploration industry has cut capital expenditures nearly 59% from $231.82 billion to $87.8 billion. At the same time, global demand has risen by approximately 1.5 MBPD for two years in a row. The trend is expected to continue, supporting Buena Vista Hills' prices into 2021. See the chart below for a detailed projected distribution:
| | | | | | | |
| --- | --- | --- | --- | --- | --- | --- |
| | 2017 | 2018 | 2019 | 2020 | 2021 | 2022 |
| Buena Vista Hills | $54 | $60 | $65 | $70 | $75 | $75 |
| Free Cash Flow | $24.0M | $31.2M | $37.2M | $43.2M | $49.2M | $49.2M |
| Projected Distributions (80% of FCF, see here) | $19.2M | $25.0M | $29.8M | $34.6M | $39.4M | $39.4M |
| Distribution Per Share | $0.50 | $0.65 | $0.77 | $0.90 | $1.02 | $1.02 |
The trust's assets have an average production life of over 16 years as of 2016, and will continue to produce distributions beyond 2022 at the rate of approximately $40 million per year. In fact, the trust owns assets with expected economic lives of ~18.2 years remaining, and it is expected to continue producing at current rates until 2033. After 2033, the production quantity is expected to decrease by 25%, but the trust will likely produce for another 10 years until the economic life of all wells end in 2043. Refer to the picture below for the reserve life details: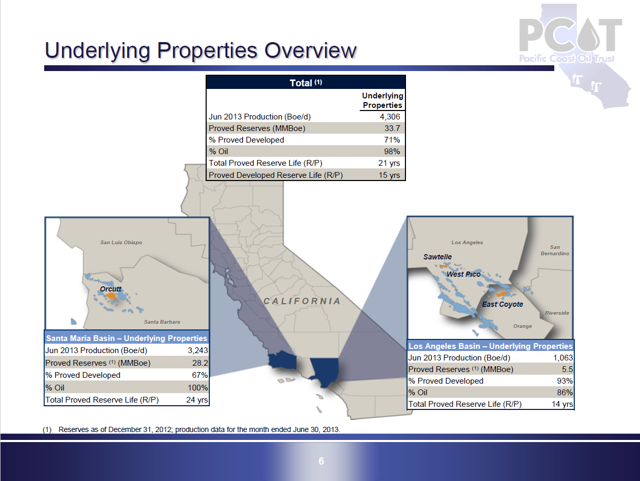 Click to enlarge
The above information and data can be found in the investor presentation here.
In the current environment, most income-oriented assets with limited capital appreciation potential have a yield of approximately 7% to 11% (See AGNC @ 12%, NLY @ 11%, ARCC @10.7%, and HCP @ 7%). Based on this yield, a fair price to pay for the trust based on projected forward distributions (conservative estimates of $0.50 in distribution per year) is around $4.30-7.00. The wide range in valuation accounts for the volatility of future oil prices.
However, the current price is only $1.95, representing a large margin of safety and chance for significant gains in terms of capital appreciation and income.
Conclusion
In summary, here are some characteristics of the trust:
Fair value based on projected income: $4.30 to $7.00
Current share price: $1.95
Total current debt: $1,964,000 as of 06/27/2016. This amount is expected to be fully repaid within two or three months.
In closing, Pacific Coast Oil Trust is out of the woods in terms of the possibility of termination. It owes $1.9 million in debt, but this amount can be comfortably repaid with three months of operation income. At the current share price of $1.95, the trust represents little downside and a very attractive oil income play for the mid and long term.
Disclosure: I am/we are long ROYT.
I wrote this article myself, and it expresses my own opinions. I am not receiving compensation for it (other than from Seeking Alpha). I have no business relationship with any company whose stock is mentioned in this article.
Additional disclosure: I would like to change my pen name to (in that order): Dividend Income, Smart Dividend Income or Dividend Investor.
Editor's Note: This article covers one or more stocks trading at less than $1 per share and/or with less than a $100 million market cap. Please be aware of the risks associated with these stocks.