Background
Japan-based mobile messaging app LINE (NYSE: LN) aims to float its share offering of approximately $1.1 billion. The company has developed the most popular mobile messaging app in Japan and is 100% owned by South Korean company Naver.
The company launched its core messaging app in 2011 in Japan, followed by launches in additional Asian countries.
The service claims to have approximately 218 million MAUs - monthly active users - and generated $1.2 billion in revenues for the calendar year 2015.
Technology
Messaging apps which are built specifically for mobile-only devices are rapidly gaining traction. The general build-out direction of these apps has been to create a platform for other companies to offer pre-installed services, to maximize user convenience via ecommerce, create user lock-in and network effects.
In addition to providing communications, the app sells games and other digital goods. Advertisements are also shown to users to further monetize the app.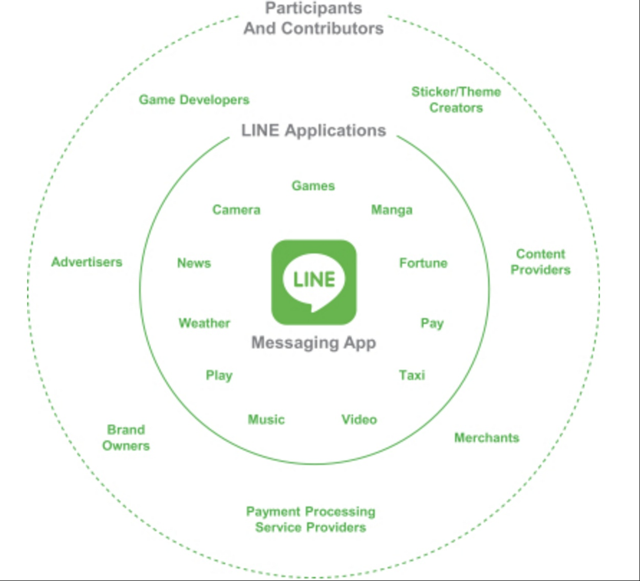 Click to enlarge
The app's biggest feature are its "Stickers", which are a "larger and more expressive version of emoticons." Users can send a single sticker instead of a plain text message, which the company says "have made communication both more convenient and more enriching."
Market Size
The company claims users in more than 230 countries. Of its 218 million stated MAUs globally, 152 million MAUs are located in Japan, Taiwan, Thailand and Indonesia.
Mobile phone Internet users are projected to reach 3 billion globally by the end of 2020, according to research firm IDC.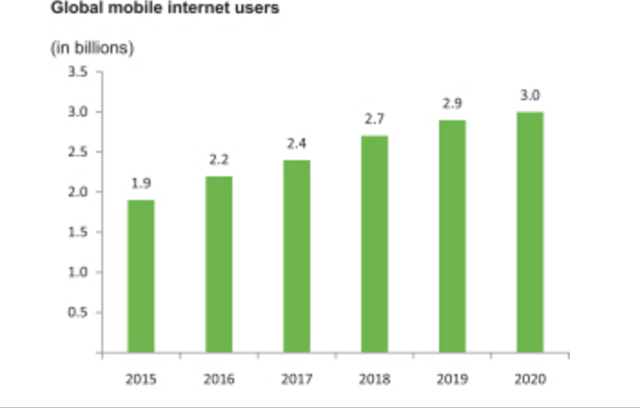 Click to enlarge
Global mobile device consumer spending is expected to grow to $256 billion by the end of 2020.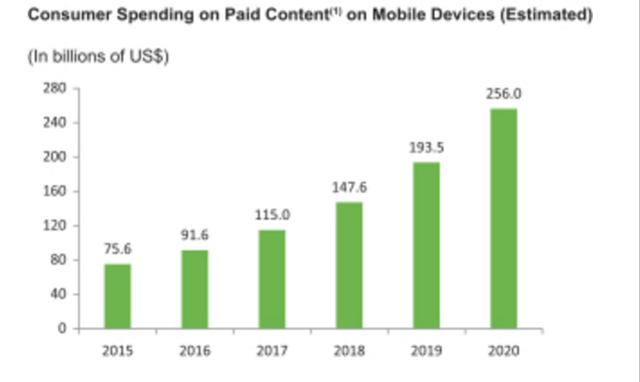 Click to enlarge
Financials
LINE has grown from $63 million revenues in 2012 to $1.2 billion revenues in 2015. The company has had spotty profit results, with a loss of $64 million in 2013, profit of $20 million in 2014 and loss of $80 million in 2015.
Revenue growth has historically been strong, but has tapered in the most recent Q1 16 quarter, to 10% vs. Q1 15.
Cash on hand at 3/31/2016 was $345 million.
IPO Discussion
LINE will offer a total of 35 million shares at between $28.50 to $32.50, an increase of 5% over its previous pricing range. The company said it raised its offering range due to strong demand for its prospective offering. At the midpoint of the range, it would raise approximately $1.12 billion in gross proceeds.
The 35 million shares is composed of 13 million shares in Japan and 22 million shares in the U.S. An additional 5.25 million shares may be available for sale to satisfy buyer demand.
LINE says it has four key elements for its growth strategy:
Grow its user base and enhance user engagement
Expand and improve its platform
Offer differentiated marketing for advertisers
Further monetize its user base
The company intends to expand further throughout Asia and eventually to the U.S., but analysts are divided on the prospect for continued overseas growth in the face of competition from larger competitors such as Tencent's (OTCPK:TCEHY) WeChat and Facebook's (NASDAQ:FB) WhatsApp.
LINE tracks downloads and said in its F-1/A filing that download growth over the two most recent 3 month periods had slowed from 9% growth to 8%.
Additionally, growth in daily average number of Stickers sent has come to a virtual standstill, with an average of 389 million sent in Q1 16 vs. 388 million in Q4 15.
LINE's expected IPO valuation, which could approach $7 billion, appears rich, given the company's slowing growth indicators across a range of metrics.
Better to hold your wallet on this IPO. Wait to confirm the company can reignite growth that is commensurate with the market opportunity and in the face of strong competition from industry giants Facebook and Tencent.
Disclosure: I/we have no positions in any stocks mentioned, and no plans to initiate any positions within the next 72 hours.
I wrote this article myself, and it expresses my own opinions. I am not receiving compensation for it (other than from Seeking Alpha). I have no business relationship with any company whose stock is mentioned in this article.