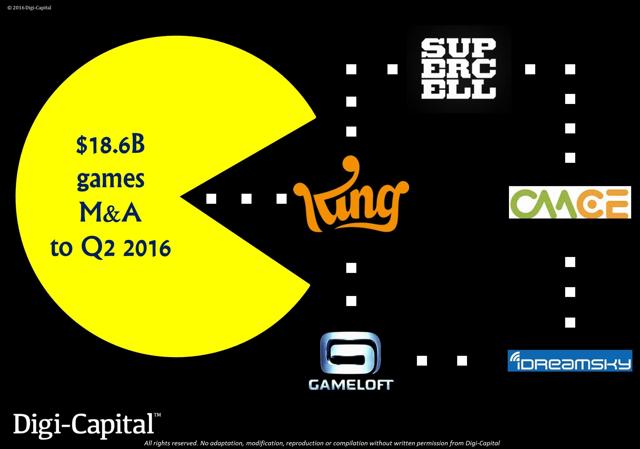 Click to enlarge
Games M&A hit a record $18.6 billion in the first half of the year in a clear sign of late stage market consolidation. The biggest deal was the massive mobile consolidation of 84.3% of Supercell by Tencent (OTCPK:TCEHY) for $8.6 billion at a $10.2 billion valuation in Q2, after King's $5.9 billion acquisition by Activision-Blizzard (NASDAQ:ATVI) closed in the first quarter. But those whoppers weren't the only mobile games companies changing hands, with CMGE being acquired in a reverse merger in China after delisting from Nasdaq last year, Vivendi (OTCPK:VIVHY) muscling its way back into games with Gameloft, as well as more take privates and share buybacks rounding out the major transactions. After last year's games ice age saw deals drop by 81%, games M&A in the first half of 2016 is up nearly 1,000% compared to the rate of deal making in 2015.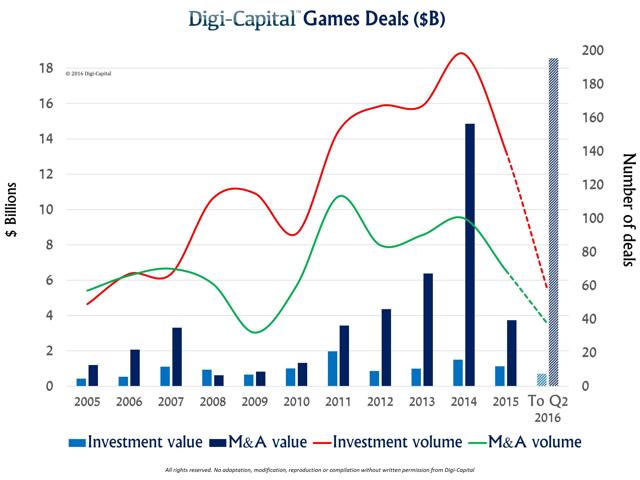 Click to enlarge
The different parts of the games industry are growing (or shrinking) at different rates driven by changing user behavior and spending. In our new Games Report Q2 2016, we forecast mobile games growth of 8.1% CAGR to reach $48 billion by 2020, MMO/MOBA games growth to $30B by 2020 at only 5.2% CAGR, with standalone console/PC games software declining to $21 billion by 2020 at -3.8% CAGR. So it makes as much sense for Tencent to buy Supercell as for Activision-Blizzard to buy King Digital. In each case the buyer is rebalancing their business with more exposure to the largest of the games growth markets. That said, the highest growth markets from a small base are VR/AR games to $10 billion by 2020, plus eSports at a smaller scale. More large scale consolidation by games market leaders could follow.
Editor's Note: This article discusses one or more securities that do not trade on a major U.S. exchange. Please be aware of the risks associated with these stocks.