One of the persistent, ongoing debates for income investors is the choice between dividend growth and dividend yield. Higher-yield stocks often include traditional bond-like investments such as utilities, telecoms and other regulated industries with limited growth potential.
In today's environment of high valuations and a general flight to safety, most traditional "high-yield" stocks are well out of reach. Of course, there are a good deal of leveraged high-yield plays that are cheap, but those can be risky.
Despite many of the traditional high-yield stocks being out of reach, many "dividend growth" names are conversely quite inexpensive. Better yet, their low prices give them a respectable yield on top of the growth. At these prices, several of these names can be counted on for reasonable income now and excellent growth later. This article is a "mini list" of high-quality dividend growers which are trading at a discount and which I believe can be bought right now. This is by no means an exhaustive list, and it should be considered just a starting point for further due diligence.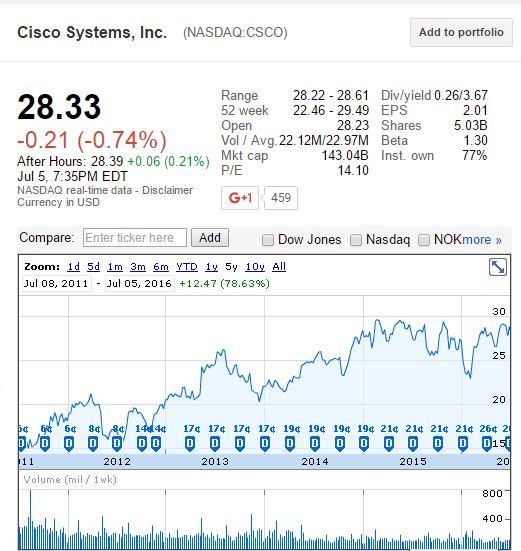 Courtesy of Google Finance
I've recommended Cisco Systems (NASDAQ:CSCO) as a dividend grower quite a few times before, and I will continue to do so until the stock at least reaches its average valuation. There's a lot to like about Cisco. If it were to pay off all its debt, the company would still have a massive $35 billion in cash. It's dividend is only about one-third of free cash flow (which includes capex).
Cisco's not as flashy as it was decades ago, but it's still got some growth ahead of it. This year management expects 0%-3% revenue growth, which is comparably low because big enterprises have "paused" their communications infrastructure upgrades. I think Cisco will have better years after this one, even though this one will be alright.
Income investors can expect good things going forward. Currently the yield is 3.7%, and this year management increased the dividend 20%, and I expect similar increases over the next couple years. According to data from FAST Graphs, Cisco's 10-year average price to earnings is 14.4 times. Right now Cisco trades at 12.4 times trailing earnings, making it a solid buy.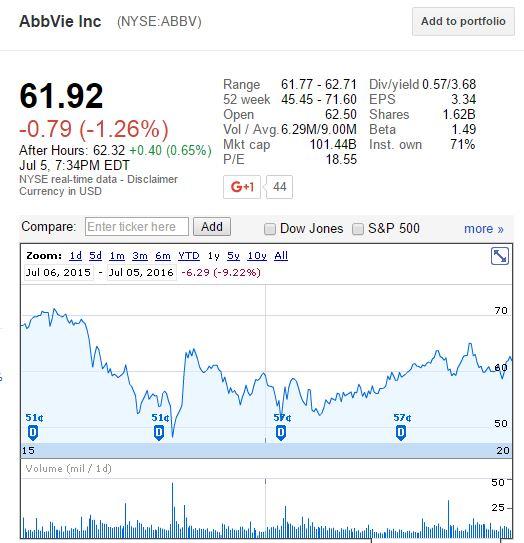 Courtesy of Google Finance
AbbVie Inc (NYSE:ABBV) is another undervalued blue chip. This pharmaceutical giant is steadily diversifying away from blockbuster drug Humira. The company has done so by big R&D investments and by two multi-billion dollar acquisitions.
Management's plan is to grow both revenue and earnings by double-digits until 2020, thanks to continued revenue growth from Humira (despite the possibility of biosimilar competition in 2018 in Europe), and also thanks to new drugs acquired and over 20 drugs in Phase III of federal regulatory approval. That's an awfully strong pipeline. Altogether, non-Humira developments represent about $25 billion in de-risked assets. I expect management to achieve this goal, and in doing so, provide ample dividend growth.
Like Cisco, AbbVie has lots of room for dividend growth. The dividend is a bit less than half of free cash flow. AbbVie yields 3.6% already, and sits at just 13.8 times trailing earnings, which is a decent bargain. AbbVie remains a good place to park money, in my opinion.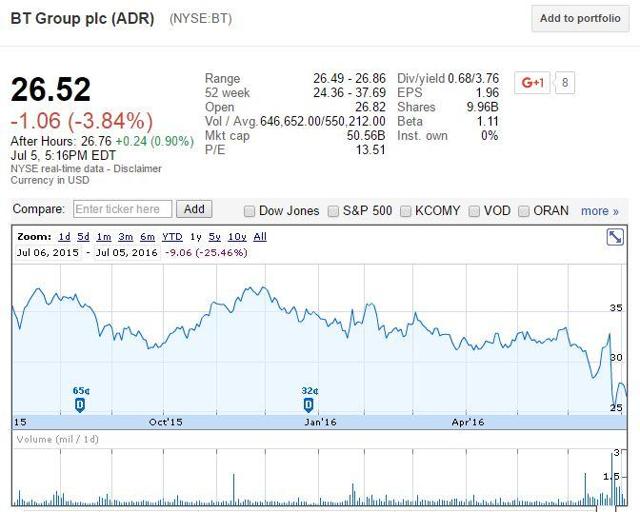 Click to enlarge
Courtesy of Google Finance
Then there's British Telecom (NYSE:BT). Most telecoms would be considered "high yield," but BT has a low dividend-to-FCF ratio, and expects to grow its dividend by 10% in fiscal 2016 and fiscal 2017. With the dividend only about 45% of free cash flow, BT has plenty of room to expand the payout. For all these reasons, I consider it a "dividend grower."
As consumers transition from voice and text to voice, data and apps, and also increasingly move to a multi-platform means of consuming entertainment, BT has invested heavily in 4G coverage and broadband capacity. Much of that build out is now complete, and as a result, BT has turned its revenue decline into modest growth. last year, BT managed to grow revenue by 2%.
That's not much, but the low dividend-to-FCF ratio allows for dividend growth nonetheless, at least for awhile. The best thing about BT is that its American shares yield a respectable 3.8%, and it sits at just 13.5 times trailing earnings. This relatively good valuation no doubt comes from the decline in British stocks due to the British exit from the EU, but I believe this is an opportunity to buy.
Conclusion
Again, this "mini-list" is by no means exhaustive, nor is it a comprehensive review of the companies I have covered. Consider this a starting off point. However, I am familiar with each of these three, have researched them, and I believe they are all buys right now.
If you are interested in Cisco, BT or AbbVie, or just dividend growth stocks in general, consider following me on Seeking Alpha. I am long two of these three stocks, and will provide update articles when they are material and relevant.
Disclosure: I am/we are long BT, CSCO.
I wrote this article myself, and it expresses my own opinions. I am not receiving compensation for it (other than from Seeking Alpha). I have no business relationship with any company whose stock is mentioned in this article.