A recent SA article by Renaissance Research (RR) suggests that Barclays (NYSE:BCS) may trade as low as $4. The key rationale of this call is that BCS will likely need to raise substantial amount of capital given its "weak capital ratios" - as such, the author concludes the following:
Given numerous headwinds, a capital call at Barclays is not a tail risk anymore. We believe ongoing debates over Barclays's capital position could soon reach the point, where the market starts pricing in a capital increase.
In my view, the above analysis is somewhat misguided - BCS has certainly several material challenges post-Brexit, but its capital position is not one of them.
RR's rationale is rather simple. BCS currently holds a Common Equity Tier 1 (CET1) ratio of 11.3% - whereas, its end-target is estimated at 12.7% to 13.2%. As such, given the challenging post-Brexit environment, RR assumes (perhaps rightly so) that organic capital generation will be much more difficult to achieve. So all else being equal, BCS has a minimum CET1 gap of 1.4% to bridge - a capital call risk indeed, right?
Well, not quite - as I will illustrate below, there are several moving parts impacting estimated end-state CET1 ratio assumptions as well as Barclays's "real" CET1 position.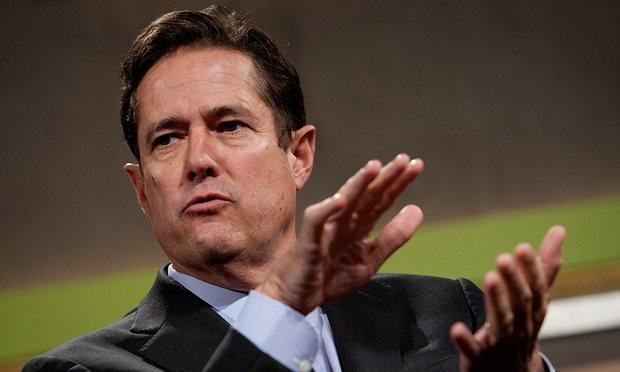 Barclays capital position: a deeper dive
BCS estimated end-state targeted capital ratios are reproduced below: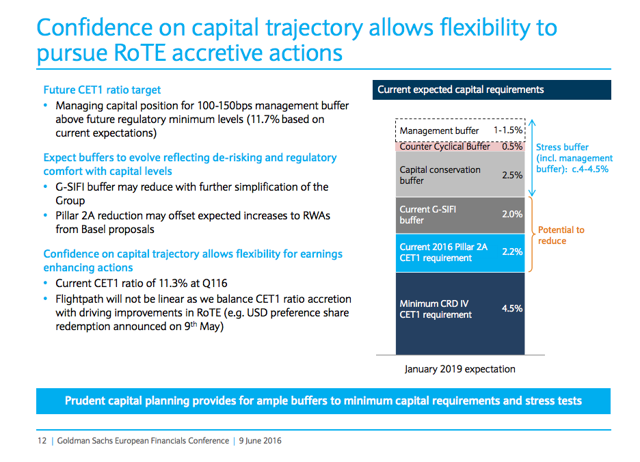 Click to enlarge
As can be seen from above, the CET1 target ratio is a minimum of 11.7%, plus a management buffer of 100 to 150 basis points - so as RR stated, 12.7% to 13.2% target, whereas current ratio stands at 11.3%.
But that is of course not the whole story - there are several meaningful moving parts.
What are the moving parts?
Firstly, the Bank Of England (BOE) just announced that the Counter Cyclical Buffer (CCB) has reduced by 50 basis points - hence, a straight one for one reduction for BCS estimated capital end ratios.
Secondly, BCS G-SIFI buffer is expected to reduce by 50 to 100 basis points - there are several items driving the reduction, namely:
Non-core wind-down and the sale of Barclays Africa, reducing G-SIFI score.
The G-SIFI score is denominated in euros and it is a relative calculation - hence, BCS, given its large UK-denominated balance sheet, will benefit by the relative decline of GBP compared with USD- and euro-denominated peers.
My estimate is that it will be a full reduction to the 100 basis points bucket (or at least it will be very close) - but let us still be conservative and assume only a 50 basis point drop.
Thirdly, the unwinding of non-core, while results in a net loss financially, is generally capital accretive - this can be seen in the below slide: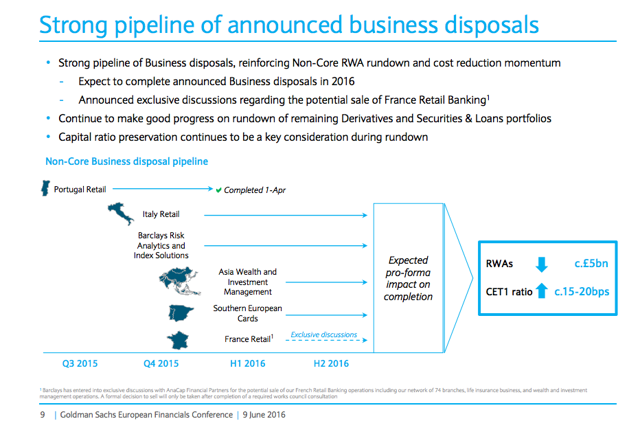 Click to enlarge
The non-core assets "on-contract" already expect to generate 15-20 basis points of CET1 accretion - I will conservatively assume that the remaining assets result in additional 30 basis point or so (especially given GBP10 billion of RWAs are Operational Risk RWAs).
Finally, the sale and regulatory de-consolidation of Barclays Africa is expected to generate ~100 basis points of regulatory capital.
So putting this all together
End-state minimum requirements should be reduced by at least 100 basis points (i.e. 11.7-12.2%). Whereas, the capital accretion from non-core and Barclays Africa sell-down should result in ~150 basis point increase in CET1 (i.e. 12.8%).
So in short - BCS does not have a capital shortfall - one just needs to examine at the detail.
A GBP20-30 capital raise is a reasonable assumption?
This figure had me scratching my head as well. BCS Group's RWA stands at ~GBP360 billion (and GBP310 excluding non-core). So a GBP30 billion capital raise represents an almost whopping 10% CET1 ratio (in other words, BCS's CET1 will be well above 20%).
Another point of reference is the BOE stress tests. The 2014 stress tests focused on a severe stress scenario in the domestic economy, which includes a productivity shock, sharp decline in the GBP trade-weighted index, unemployment at 12% and house price declines of ~35%.
The results for mortgages and unsecured credit are shown below:

Click to enlarge
Note this is over a three-year period, so not a yearly charge, and excludes earnings.
I am not sure how the author calculated a GBP20 to GBP30 billion capital call - seems like a complete overkill even in the unlikely scenario a capital call will be needed.
Final thoughts
In a post-Brexit world, BCS is certainly facing significant strategic challenges and revenue headwinds. The expected slowdown (or recession) in the UK will likely mean revenue slowdown, increased loan loss provisions and net interest margin (NIM) compression due to lower interest rates for longer.
The investment banking business model is also facing significant strategic and operating challenges and potential emergent forms of "protectionism" in the financial services industry.
However, BCS operates from a position of strength when it comes to its capital position - in my view, fears of a capital hole are unfounded. This is contrary to the position outlined in RR's article - I suppose that is what makes a market.
In my view, Mr. Market is already pricing in the Brexit headwinds and more - as such, the stock is substantially oversold and probably not given due credit to potential tailwinds (such as capital accretion and disciplined strategy execution by a credible management team).
I provide quality and completely independent research on the large U.S., European, Canadian and Asian banks. I will be continuously updating developments with Barclays and other large U.S. and European banks; if interested in this topic, do subscribe as a "real-time follower" at the top of this article.
Disclosure: I am/we are long BCS.
I wrote this article myself, and it expresses my own opinions. I am not receiving compensation for it (other than from Seeking Alpha). I have no business relationship with any company whose stock is mentioned in this article.