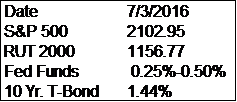 July 3, 2016
Market Indicators
And
Strategy Report


The MMI Say Keep Riding The Bull
Our weekly calculation of the Major Market Indicators scores bullish this week, for the third week in a row. In fact seven out of the last ten weeks the MMI have scored in the bullish range (above 60.00). See the graph below. This week, the MMI ended at 63.50 as shown in the chart above. We require a score of at least 60.00 to warrant a bullish rating, while any score below 50.00 is bearish.
The U.S. equity markets hit a short term peak in early November (but early December for the NASDAQ) and then the indexes (along with their representative ETFs) retreated, bottoming around February 11 th. Since February 11 th the indexes have recovered most of the ground lost.
The chart below shows how far the significant indexes are below their all-time top. Each index hit its peak sometime last year.

The stock ETFs associated with the major stock indexes are also below their all-time highs as follows: S&P 500 (NYSEARCA:SPY) is (1.53%), the Dow Jones Industrial Average (NYSEARCA:DIA) is (1.07%), the NASDAQ (NASDAQ:QQQ) is (6.63%) and the small cap Russell 2000 (NYSEARCA:IWM) is (10.62%) below its prior peak prices.
Below, the weekly graph of our Major Market Indicators shows the trend since May of 2014 through July 3, 2016.

Click to enlarge
The MMI is a collection of at least 46 different indicators (some have sub-indicators) covering the categories shown in the chart above, which try to "take the temperature" of conditions for equity investors. Frequently investing pundits try to point to a single statistic as justification for bullishness or bearishness. The MMI is designed to take a broad reading of the data to achieve a more measured response. We've been publishing our results since May of 2014 as shown in the graph above.
Please read on below for the details of how we arrive at our MMI index calculation.
MARKET SENTIMENT INDICATORS: Neutral
The market sentiment indicators score neutral for this past week. Since we use a mostly contrarian judgment on sentiment, a bullish behavior by market participants registers as bearish, and vice versa. In terms of bearish indicators, the Volatility indicators (VIX and VXN) stood at week's end at 14.77 and 16.83. We require both of these indicators to sit above 20.00, and although implied volatility shot up like a rocket after the Brexit vote, it has since come down as the panic has subsided for now, so therefore this indicator scores one point bearish. The Put-Call ratio on the S&P 100 ended the week at 97/100, and we require it to be above our benchmark of 125/100, so this indicator is bearish. The ARMS index on the NYSE and NASDAQ (0.83 and 1.06 respectively) also were bearish, since they were below our benchmark of 1.50 for bullishness. That's two points to the bearish. Finally, the Consensus Index (67%) and the Market Vane Index (55%) were both above a 50% reading, and thus we score these two indicators as bearish. So that's six indicators scoring to the bearish.
On the bullish side of the ledger, the Put-Call ratio on the CBOE was 64/100, and we require this to be over 60/100 to score bullish, so therefore it is bullish. The confidence index, the ratio of the index of high-grade bonds yield vs. intermediate grade bonds yield (3.05%/4.66%) produces a ratio of 65.5%; we score any spread under 75.0% as bullish. The AAII (American Association of Individual Investors) survey of investors registered a ratio of bullish to bearish attitudes of 0.87, and so since this shows a tendency for individual investors to lean slightly to the bearish, we score this also as a bullish reading. The TIM Group Market Sentiment Indicator (48.30%) registered below a 50.0 reading and so it scores bullish. Also, the short ratio on both the NYSE and the NASDAQ (as of the last reading, June 15 th) were bullish, at 4.90 days and 4.80 days to cover for both these markets, respectively. This adds up to six bullish indicator points. To summarize, six points scored bearish and six bullish, thus the market sentiment category scores neutral for the week.
The graph below documents the implied volatility (CBOE - VIX) we've seen in the equity markets since the beginning of 2016. Note how volatility stayed above a reading of 20.00 through early February, coincident with the correction which took place during that period. Recently the VIX has again popped up over 20.00 for a short period before receding.

Click to enlarge
TECHNICAL INDICATORS: Bullish
Our technical indicators scored 12 of 15 indicator points bullish this week.
On the bullish side of the technical indicators, the advance/decline weekly volume ratio on the NYSE closed at 1.85, and the same ratio for the NASDAQ was 1.62. We require a score for this ratio of over 1.12 to rate as bullish, so thus these volume ratios score two bullish points. We also score the advance/decline ratio of the number of stock issues rising vs. falling. The NYSE achieved a ratio of 3.84, while the NASDAQ registered a ratio of 2.24. We require a ratio of greater than 2.00 to score bullish, so this metric generates an additional two bullish points. That's a total of four indicator points bullish from the volume indicators.
Turning to the indexes, we score specific indexes vs. their 200 day moving average at the week's end. Since these indexes are above their respective 200 day moving average, they all score bullish. The indexes we score were above their 200 day moving average at the end of this past week, by the following percentages: The S&P 500 by +3.94%, the Dow Jones Industrial Average by +3.97%, the NASDAQ composite by +0.94%, the NYSE Composite by +3.96%, the Guggenheim S&P 500 equal weight ETF (NYSEARCA:RSP) by +4.92% and the Guggenheim S&P SmallCap 600 equal weight ETF (NYSEARCA:EWSC) by +4.13%. In our methodology, we double weight the equal weight ETF and the equal weight ETF, so they both score either a 0 or a 2. Thus the indexes generated eight points to the bullish.
Only three of a possible 15 points in our technical score were bearish. First, the ratio of new highs to new lows was 1.82, and since this is below our benchmark of a 2:1 ratio, this is bearish. Also, we score the 10-day moving average of up vs. down volume on the NYSE and the NASDAQ, and this produced two more bearish readings. The 10-day moving average of the NYSE registered at 1.22 and the 10-day moving average of the NASDAQ was 0.61. The required ratio for a bullish score is 1.50, so this metric was bearish on both those points.
Thus we have a total of eight indicator points bullish from the indexes, plus four from the volume indicators, for a total of 12 indicator points to the bullish in the technical category, and only three indicator points bearish. Therefore we rate the technical indicators as bullish overall.
LIQUIDITY INDICATORS: Bullish
Our liquidity indicators are bullish this week. Money market funds balances are 11.2% of the market cap of equities, which provides buying power to support stock prices, a bullish score. On the other hand, customer credit balances at brokerages stood at only 34.6% of margin debt at last reading, a low level and a bearish score. In a sharp sell-off, customers either have to post more cash to bring their margin account above the minimum maintenance threshold, or margined stocks will be sold to meet the cash call. This low cash level implies increased risk of customers having to meet margin calls with stock sales rather than posting more cash. So that's one bullish and one bearish reading.
Tipping the balance to the bullish was our cumulative market liquidity calculation for the trailing four weeks. We collect net cash flow data in a number of categories and score the net total as bullish or bearish. Total flows into the market as calculated are registering a bullish inflow as of the end of this past week.
Mutual funds (including ETFs) have seen net outflows over the past four weeks, with a net ($17.2) billion withdrawn from the market for the four weeks. We've seen a string of weeks of withdrawals from funds and ETFs. We have to go back to late April to find a week of positive flows to funds and ETFs.
In the corporate acquisition market we count only the cash component of M&A deals as announced. The sum of that figure for these four weeks was $29.4 billion. The most significant deal announced this past four weeks was Microsoft's acquisition of LinkedIn, which we peg at a cash value of $23.3 billion, dwarfing all other deals. What is unusual this period is we counted a negative cash flow for a deal which was broken, since we had previously accrued it when it was announced. Energy Transfer Equity's (NYSE:ETE) offer to buy Williams Companies (NYSE:WMB) for $6.05 billion (cash portion) was terminated and we backed this out of our calculation. We treat M&A deals announced as a positive source of liquidity.
Announced stock buybacks are treated as a positive source of liquidity, and they contributed another $63.4 billion to our liquidity calculation in terms of total buyback authorizations announced in the trailing four weeks. We capture the cash value of prospective buybacks at the time of the announcement. The most significant buyback announcements were made just this past week, which we total up to $52.3 billion, driven by the banking industry. This past week the Federal Reserve approved the capital plans of the major banks under its supervision for the coming twelve months, and almost all of them announced significant stock buybacks in their press release (along with dividend increases in many cases). Topping the list was JPMorgan Chase, which announced a $10.6 billion buyback.
It is no secret that IPO activity has been very slow so far this year. We capture the total value of new market capitalization added to the market, which for the past four weeks we value at just $3.5 billion. We treat IPO activity as a reduction of liquidity.
The chart below shows the proceeds from IPOs that have come to market over the past decade, with 2016 showing six month YTD numbers. Clearly we are in a low point for IPOs, and at current rates we'll fall well below the levels attained during the crisis years of 2008 and 2009. This is truly remarkable.

Click to enlarge
Source: Renaissance Capital
Secondary stocks offerings are also treated as a reduction of liquidity, and constituted $10.6 billion of cash offerings in the trailing four weeks. While we count the total value of shares sold in secondary offerings, we exclude sales by large existing shareholders (such as private equity), which do not increase the total number of shares outstanding. Only new shares are captured in this calculation.
However we do make an exception: a separate calculation of the value of shares sold by CEOs and other corporate insiders. Insider selling pulled $3.5 billion of net cash out of the equity markets in the past four weeks, and this is treated as a reduction of liquidity.
We track cash inflows to domestically focused equity hedge funds on a monthly basis. We calculate cash outflows from domestically focused equity hedge funds at approximately ($0.15) billion in May (June data is not yet available). Given the relative secrecy of hedge funds this calculation will always be a rough approximation, but we are applying our methodology on a consistent basis, month-to-month.
Overall, we count up a positive net inflow of liquidity into the domestic market of approximately $57.8 billion for the past four weeks, which is more than sufficient to warrant a bullish score. We require at least $20.0 billion of calculated positive liquidity to warrant a bullish score, so therefore the liquidity calculation this week is bullish. We double weight this calculation in our MMI scoring. Combined with the other factors above we score liquidity as bullish, as three out of a potential four points scored bullish.
VALUATION INDICATORS: Neutral
Our valuation indicators score at a neutral level this week. Our fair value target for the S&P 500 is 2551, representing a 21.3% upside from the close on July 1st. That upside potential is a bullish indicator in our calculation. We require a potential upside of at least 10% to score it bullish. The target uses a 21.46x multiple applied to 2016's estimated operating earnings of 118.89. Our fair value target multiple is arrived at using an intermediate grade bond yield rather than the ten year Treasury bond, due to the artificiality we are still experiencing in the aftermath of Quantitative Easing. The S&P 500 is trading at 17.8 times the trailing four quarters operating earnings (through the fourth quarter of 2015), compared to an historical norm of 15.5 times operating earnings. The S&P 500 is now trading at 17.7x 2016E and 15.6x 2017E earnings per share, respectively.
We score the target for the S&P 500 a second time, with a more conservative price target, using a discounted P/E multiple at 90% from the prior target. We require a minimum of a 10% upside from the current index price to this second target in order to score the indicator as bullish. The calculation produces a prospective gain vs. the week's close of 9.2%. Since this is less than a 10% potential gain, it scores bearish. To calculate this, we multiply the fair value P/E times the EPS projection times 90%, and compare it to the most recent closing price of the S&P 500.
We score small cap stocks, as judged by comparing the P/E of the T Rowe Price New Horizons Fund to the P/E of the S&P 500. This ratio, at 1.64 times, is greater than our benchmark of 1.50x in order to justify scoring it bullish, so therefore it is bearish.
Compared to GDP the market (using Wilshire's total market value-Full Cap) is at a 33% premium. Since this is more than our benchmark of a 25% premium to GDP, we score this bearish.
There are a couple more bullish indicators. We estimate the total domestic market capitalization is trading at 87.8% of replacement cost of the asset base of non-farm, non-financial corporate businesses. By this metric, our version of Tobin's q, stocks are cheap. Since this is less than 100% of replacement cost we score this a bullish indicator. Finally, we divide the earnings yield of the S&P 500 by an average of the corporate Single A 10-year bond yield. The resultant ratio, 1.79x, is greater than one, and thus it is bullish.
Overall, with valuation indicators scoring an equal number of bullish and bearish indicator points (3 out of a possible 6 points), we rate the overall category as neutral.
EARNINGS MOMENTUM INDICATORS: Bearish
We score this category of indicators measuring earnings momentum. The momentum as we measure it is currently bearish.
The earnings season for the first quarter 2016 is over, and has registered a positive to negative ratio of earnings surprises at 3.51x, a bullish score (we set a high bar for this indicator; since the earnings game system is set up to naturally encourage companies to "beat the street" we require a ratio of greater than 3.0:1 for this indicator to score bullish). The count for Q1:16 is 361 "beats" vs. 103 "misses" according to Standard and Poors. We double count this indicator since it's such a key component of earnings momentum, and it scores two points.
We score earnings momentum for three time periods based on the change in estimated earnings for the S&P 500 companies. A positive change in earnings expectations is bullish, but a flat or negative change in expectations is bearish. We rely on FactSet for these specific estimates. Note we score earnings momentum vs. the most recent month-end, again emphasizing the momentum.
First quarter 2016 earnings are currently estimated at a growth rate of negative(6.7%) compared to (6.7%) at the end of May 2016 (the most recent month-end). This unchanged expectation vs. the prior month's ending estimate is judged bearish in our scoring, since we require a positive percentage change to earn a bullish score. Calendar year 2016E annual earnings are now projected by the street at a positive growth rate of 0.6% vs. 0.8% at the end of May. Since this is a decrease vs. the prior month end, we score this as bearish. Calendar year 2017E annual earnings are now projected by the street at a positive growth rate of 13.5% vs. 13.5% at the end of May. Since this expectation is unchanged vs. the prior month end, this is scored bearish. These three indicators add up to three bearish points.
We score the valuation of the S&P 500 on a PEG ratio (P/E to growth rate) basis. As stated above, a trailing P/E ratio (using earnings through 12/31/15) of 17.8 x is compared to the trailing growth rate. As of 12/31/15 the trailing four quarters growth rate stood at a 0.37%. The resultant PEG ratio is over 47 times, which is considerably worse than our cutoff of 2.58 times. Anything above 2.58 is bearish, while values below 2.58 are bullish. We use 2.58x as the cutoff based on an historical P/E of 15.5 times, and historical earnings growth of 6%. Since the S&P looks expensive valued on a PEG basis, we score this indicator as bearish.
Thus, overall earnings momentum as we judge it now scores bearish since four out of our six indicator points scored bearish and two bullish.
Looking ahead to the second quarter of 2016, S&P 500 earnings are estimated to decline (5.3%) year-over-year. If this holds, it will mark the fifth quarter in a row of year-over-year negative earnings comparisons. The last time we saw this was Q3:08 through Q3:09. For Q2:16, 81 companies have issued negative EPS guidance and 32 companies have issued positive EPS guidance. The Energy sector is expected to post the largest year-over-year decline in earnings at (77.7%). However, five other sectors are also expected to decline (and only four of the sectors are expected to show earnings growth). If we remove the Energy sector from our calculation, the remainder of the S&P 500 is still expected to post a decline, though only (1.8%) for the second quarter. Earnings growth is forecast to return to a positive number in the second half of the year. The estimated earnings growth rates for Q3 and Q4 are 0.8% and 7.3%, while revenues are forecast to grow 2.2% and 5.1% respectively.
MONEY SUPPLY: Bullish
Our excess liquidity indicator is bullish at 22.0 basis points. This means the Fed is providing 0.220% more liquidity than the current nominal GDP growth rate. This figure takes into account the decreased velocity of money in recent periods. We arrive at this figure by subtracting the annual percent change in velocity from the year over year percent change in M2 money supply. Then we subtract the most recent quarter's year-over-year percentage change in nominal GDP. We score this amount of excess liquidity as bullish. However, we should point out this is a small amount of excess liquidity, and it may be indicative that the market will require more stimulus, Recall that the markets have stagnated since the end of Quantitative Easing, and even more so since the Fed Funds rate hike.
We recently received the third estimate for Q1:16 GDP. Real GDP growth came in at +1.1%, which was an improvement over the +0.8% in the prior estimate. Also, velocity of M2 money for the third quarter, at 1.43, was down from a year ago. The continued decline in velocity is symptomatic of the conundrum we face: Increasing money supply won't necessarily get the economy revving.
We score the forward rate yield environment as bearish, the only bear score in this category. Here, we are looking at just the short end of the curve, between three and twelve months.
Looking at a longer-term comparison, the Treasury yield curve is accommodative to growth. We compare the ratio between the one-year Treasury rates and 10-year rates, which is about 0.39% (0.56% vs. 1.42%), and this produces a positively sloped yield curve, and we score this bullish.
Junk bonds yields remain elevated. Using the HYG fund as a proxy, the yield-to-maturity of that fund stood at 6.38% this week and the spread vs. 10-year Treasuries stands at 4.96%, and this is bullish, since we judge anything over 4.0% as wide enough to rate bullish. We are applying a contrarian view point to score this.
The chart shown below shows the recent history of the breakeven inflation rate between 10-year Treasuries and 10-year TIPS. Inflation expectations remain well below 2.0%. Given the fear generated by the Brexit vote, if the Federal Reserve raises short term interest rates (a very big IF) it would be doing so despite the bond market forecasting a low inflation environment. Until data changes, we think further rate increases are off the table. Given the election coming up, that probably means at least until after the election.

Click to enlarge
Overall, the monetary policy indicators are bullish.
CONCLUSION: Bullish
In summary, our MMI score sits in bullish territory at the beginning of July. Technical, Liquidity and Money Supply indicators scored bullish, Earrings Momentum indicators scored bearish, while Market Sentiment and Valuation indicators scored neutral. We divide the number of bullish indicators points in each category by the total number of potential points in that category, and multiply the result times the weight each category carries out of 100% (each of the six categories being between 10% and 20%). The result this week is 63.50 points. This is the third week in a row the Major Market Indicators index has scored in the bullish range, and in fact seven out of the last ten weeks the MMI have scored in the bullish range (above 60.00). The Brexit vote generated an as expected sharp emotional reaction, but for now the major market indicators are supportive of U.S equity market exposure.
Singular's Major Market Indicators - Methodology
Singular's Major Market Indicators ((NYSE:MMI)) analysis weighs a large number of factors impacting the domestic equities market, gauging the temperature of the market. The MMI is a yardstick which measures whether we should be more bullish, or neutral, or bearish.
Rather than rely on anecdotes, or just one or two rules of thumb, we scour the investment landscape, scoring the indicators we believe are most representative of influencing the near to mid-term outcome of the market. We judge each indicator independently, based on its historical behavior, to determine whether it implies a bullish scenario for equities. We weigh and total our scores, producing a composite total to guide our investment posture.
Is the data telling us of impending bearishness? Or should we expect a breakout of bullishness? Or are we somewhere in-between? We produce an MMI score weekly answering these questions. The indicators are meant to serve as a guide to what to expect over a three to six month forward horizon. They are not intended to predict any particular day, or next week's, price action.
IMPORTANT DISCLOSURES
The following disclosures relate to relationships between Singular Research and Millennium Asset Management, LLC ("Millennium") and companies covered by Singular Research and referred to in research reports.
This report has been prepared by Singular Research, a wholly owned subsidiary of Millennium which is an investment advisor registered in the State of California. Singular Research receives fees from Millennium for the right to use and distribute research reports prepared by Singular Research.
Millennium does and seeks to do business with companies covered in Singular Research's research reports. Millennium may receive fees from issuers that are the subject of research reports prepared by Singular Research for investor and public relations and other marketing-related services provided to such issuers by Millennium. As a result, investors should be aware that Singular Research and Millennium may have a conflict of interest that could affect the objectivity of this report. Investors should consider this report as only a single factor in making their investment decision.
There are no company-specific disclosures.
General Disclosures
This research report is for our clients' informational purposes only. This research is based on current public information that we consider reliable, but we do not represent it is accurate or complete, and it should not be relied on as such. Any opinion expressed in this report is subject to change without notice and may differ or be contrary to opinions expressed by other professionals or business areas of Singular Research or Millennium. We are under no responsibility to update our research.
The views expressed in this research report accurately reflect the responsible analyst's personal views about the subject securities or issuers. No part of the analyst's compensation was, is, or will be, directly or indirectly, related to the specific recommendations or views expressed by that analyst in the research report.
Millennium and its affiliates, officers, directors, and employees, excluding analysts, will from time to time have long or short positions in, and buy or sell, the securities or derivatives thereof of covered companies referred to in our research reports. Our affiliates, officers, and directors won't execute on any new recommendation or recommendation change until 48 hours after the dissemination of the report.
This research is not an offer to sell or the solicitation of an offer to buy any security in any jurisdiction where such an offer or solicitation would be illegal. It does not constitute a personal recommendation or take into account the particular investment objectives, financial situations, or needs of individual clients. Clients should consider whether any advice or recommendation in this research is suitable for their particular circumstances and, if appropriate, seek professional advice, including tax advice. The price and value of the investments referred to in this research and the income from them may fluctuate. Past performance is not a guide to future performance, future returns are not guaranteed, and a loss of original capital may occur. Certain transactions, including those involving futures, options, and other derivatives, give rise to substantial risk and are not suitable for all investors.
Rating Definitions
BUY, 30% or greater increase in the next 12 months.
BUY- Long-Term, near term EPS horizon is challenging, attractive long-term appreciation potential.
HOLD, perform in line with the market.
SELL, 30% or more declines in the next 12 months.
© Copyright 2016 Singular Research
No part of this material may be copied, photocopied or duplicated in any form by any means or redistributed without the prior written consent of Singular Research.
Disclosure: I/we have no positions in any stocks mentioned, and no plans to initiate any positions within the next 72 hours.
I wrote this article myself, and it expresses my own opinions. I am not receiving compensation for it. I have no business relationship with any company whose stock is mentioned in this article.