We have long been in the camp that the sell-off to $26 had more to do with emotions rather than actual fundamentals. WTI (NYSEARCA:USO) below $45 will continue to keep U.S. oil production declining, while an increase to $50+ could see production stabilize somewhat by the second half of 2017. A return to $60 could see U.S. shale production stabilize as soon as the first half of 2017.
The timing of the rebound is also important, as U.S. storage levels for gasoline, distillate, and crude oil are at record highs for this time of the year. Implications going forward for refinery throughput will be rather crucial to the broad crude oil complex, and a slowdown in throughput could bring some of the bears back from hibernation.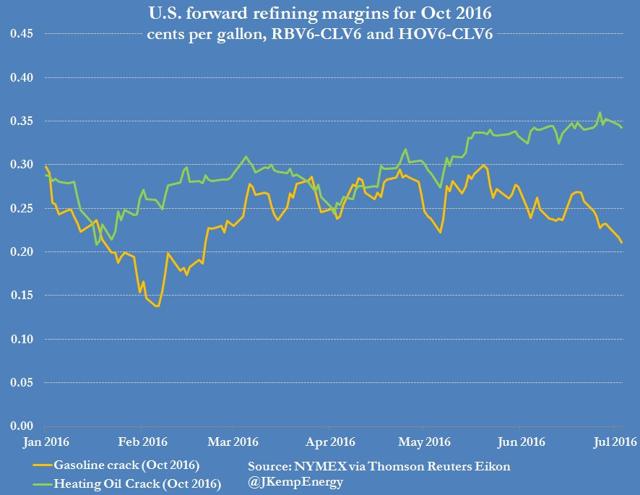 Click to enlarge
U.S. refinery margins are showing some compression. With crude oil prices rallying, gasoline prices haven't followed in lockstep, thus pressuring the 3-2-1 crack spread. The key to figuring this all out is where demand will be going forward.
Looking at the consumption adjusted inventory, U.S. gasoline remains in the higher range.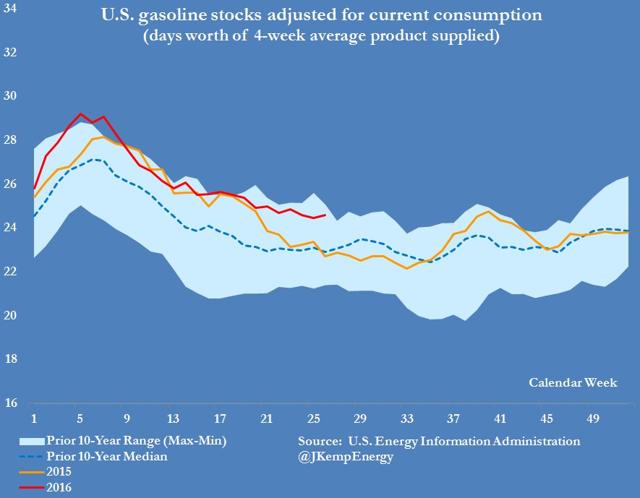 Click to enlarge
If refinery throughput remains high, which we think it will for the time being, gasoline storage could get worse leading to large draws in crude oil while seeing a build in gasoline stock. WTI could respond positively to a decrease in crude oil inventory, but we think the market will also be concerned about gasoline inventory. Any indication that the crack spread continues to deteriorate might prompt oil traders to be wary of any rally in crude oil.
This leads to several scenarios playing out:
If refinery throughput remains high, then gasoline prices will stay low, and crude oil will see large draws. This doesn't mean oil prices could rally, which would actually keep refinery margins around current levels.
Refinery throughput drops leading to lower gasoline builds, but potentially builds in crude oil inventory. Oil prices could drop, leading to higher refinery margins, which prompts refineries to increase throughput. The cycle repeats until both surplus storage disappears.
Refinery throughput remains high, gasoline prices stays low, and oil prices rally due to large draws. This leads to negative refining margins and refineries cut back throughput, which then leads to large draws in gasoline and oil inventory builds. Gasoline prices go up and oil prices go down. Refinery margin improves, and the cycle rinses and repeats until surplus disappears.
In all three scenarios, the eventual outcome is that the surplus disappears, but no one knows how the market will react. These are just some of the scenarios we've seen and think could happen, but please let us know in the comment section below what your thoughts are.
In the end, gasoline is extremely important to crude oil prices. Demand for gasoline needs to be scrutinized over the next several months, and participants need to watch refinery throughput. Any indication of a slowdown could result in inventory builds, which could lead to lower oil prices.
Disclosure: I/we have no positions in any stocks mentioned, and no plans to initiate any positions within the next 72 hours.
I wrote this article myself, and it expresses my own opinions. I am not receiving compensation for it (other than from Seeking Alpha). I have no business relationship with any company whose stock is mentioned in this article.