Esteemed colleague Andrew Hecht astutely enumerates a bear case in his article The Top 10 Reasons The Second Half Of 2016 Could Be Ugly.
But if it were a sure thing that the market would finish the year lower -- the market would already be that much lower. We will have to wait and see where the market goes.
In the meantime, let's look at the flip-side of Mr. Hecht's 10 reasons for ugliness, and see if there is room for optimism yet:
1) Fed Policy
Reason number one for a lower U.S. stock market in the second half of 2016 is Fed policy. The stock market is artificially high because of low interest rates since the 2008 financial crisis. Sure the Fed could go negative like their brethren in Europe and Japan, but it is highly unlikely given the lack of history and potential effects of such an action by the most influential monetary authority in the world. In fact, the example set by other central bank's around the world shows so far that despite the radical action with interest rates, growth remains elusive. An interest rate cut back to zero might cause a short-term pop in equity prices as money has few places to hide, but like a game of musical chairs when the music stops selling will return to the market.
No doubt about it, the Fed has gone to unprecedented lengths to support employment and price stability. This has meant an extremely accommodating environment for investors.
But the music does not have to stop. The Fed is legally mandated for full employment and price stability with a target of 2% inflation. There was little history for "easing" and "twisting" and the Fed went ahead with it and fulfilled its legal mandate. We may have more, along with negative interest rates.
Pretty Stocks: If the Fed music does not stop, watch out for Bank of America (NYSE:BAC) and Citigroup (NYSE:C) and their banking brethren that thrive on higher rates. Other than that, most of the market should benefit, especially the higher yielders like AT&T (NYSE:T), Verizon (NYSE:VZ), Cisco (NASDAQ:CSCO), and utilities like Wisconsin Energy (NYSE:WEC).
2) Housing
Reason number two for a lower U.S. stock market in the second half of 2016 is the housing market. There are signs that the rebound in the housing market is hitting a ceiling once again in 2016. Low and medium priced homes are high and latest reports indicate that prices are holding but not moving higher. Additionally, high-end properties are in decline over recent months as buyers have retreated and sellers have begun lowering prices.
That is some gloomy data, but the next wave of data may be considerably better. Most people borrow money to buy a house, and the rate they pay on their loan matters a great deal. Well, with interest rates so low, mortgage rates are also now at all time lows. That can only be good or great for housing.
Pretty Stocks: If housing is indeed due for a bump off of the recent gloominess, Home Depot (NYSE:HD) and Lowe's (NYSE:LOW) should be benefactors.
3) British Exit
Reason number three for a lower U.S. stock market in the second half of 2016 is Brexit...Britain and Europe are major trading partners with the United States, and a U.K. recession will have contagious effects on the U.S. economy, which is negative for the prices of U.S. equities.
It is true that major trading partners of the US are likely to experience some economic pressures and dislocations because of Brexit, but this is already known, and the market has priced itself accordingly. There is no special reason to think that things will end up worse than the market is estimating, and things could end up better.
Pretty Stocks: One thing that is happening from Brexit and is likely to continue is the weakening of foreign currency and strengthening of the dollar. This is bad for US exporters, but good for domestic companies selling at home. AT&T, Verizon, WEC, Home Depot, and Loews are good plays here again. Starbucks (NASDAQ:SBUX) is still mostly domestic as well, but there may be no companies that benefit more than Amazon (NASDAQ:AMZN) and Wal-Mart (NYSE:WMT). Here we have businesses based largely on importing (now cheaper) goods, to be sold to Americans with their strong dollars.
4) European Anti-Globalism
Reason number four for a lower U.S. stock market in the second half of 2016 is a trend of rising anti-globalism in Europe...A deterioration of the E.U. and euro currency will cause the dollar to strengthen, putting more pressure on U.S. corporate profits, thus resulting in lower equity prices in the U.S.
To the extent businesses are selling goods and services from the US to customers abroad, there is no doubt corporate profits will be hurt. But here again, the market has priced in its estimated impact.
We do believe there will be worldwide Brexit knock-on effects for currencies, click our "strengthening of the dollar" article above for more. But the market has reacted to the Brexit and its effects, and there is no special reason that things will be worse than the market is estimating. And things could always be better.
Moreover, not all companies are negatively impacted. Importers can be helped greatly, and investment in foreign ventures becomes cheaper as well, benefiting companies with high foreign capex.
Pretty Stocks: The same as #3.
5) Asian Contagion
Chinese growth continues to slow, and Japan is in terrible economic shape with nowhere to turn. Reason number five for a lower U.S. stock market in the second half of 2016 is Asian contagion. In China, the high level of the dollar continues to force the central bank to devalue the Chinese yuan. Additionally, there will be a likely decrease in demand for Chinese exports as Europe and the U.S. slip into recession. Weak economies around the world could reduce Chinese demand for raw materials causing a further deterioration in economies of commodity producing nations like Australia, Canada, Brazil, and Russia as well as others.
We are on the same page here as far as foreign currencies being debased. But we've discussed that, so let's look at the idea of weak economies causing further deterioration in commodity producers.
The broad-based Bloomberg Commodity Index shows that commodities have not only been falling for five years, but never even returned to pre-crisis levels:

China and its demand for raw materials have been weakening for some time -- there is no special reason that the second half of 2016 should be considerably worse than what the market has priced in from a perspective of a weak Asia.
Pretty Stocks: Alphabet (NASDAQ:GOOG) and Facebook (NASDAQ:FB) fit the bill here -- Google, Gmail, Youtube, and Facebook are all blocked in China and will carry on without a robust People's Republic.
6) US Slowdown
The U.S. economy was the first to emerge from the effects of the global financial meltdown of 2008. Reason number six for a lower U.S. stock market in the second half of 2016 is an economic slowdown in the United States. Moderate growth in the U.S. economy was the reason that the Fed finally increased interest rates last December. However, the latest employment report shocked markets, and although the jobless rate remains at 4.7%, despite the way the Labor Department measures the workforce and the Fed monitors, the latest numbers are a sign that an economic slowdown has commenced.
An economic slowdown has indeed commenced. While the Fed has increased the money supply by about $4 trillion since the financial crisis, inflation is stubbornly low because the velocity of money -- the speed of money being spent and moving around the economy -- is falling.
But this is not new. In fact, the velocity of money has been falling for two decades, is at an all time low, and is still falling: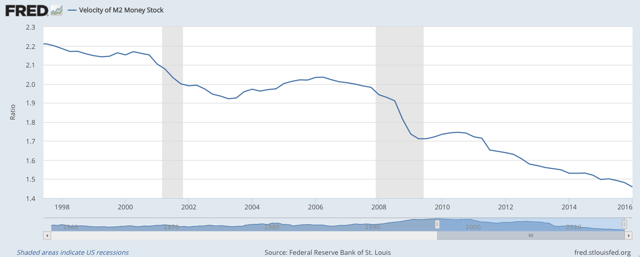 This is the long arm of Secular Stagnation, a phenomenon which probably started in the late 80's but was masked by "artificial" stimulants like enormous Savings and Loan bailouts, tech bubbles, and housing bubbles.
This is a major problem -- if we have a Fed that listens to pundits that say rates must be normalized. But it is not necessarily a problem for the stock market if the Fed is accommodative. It has actually been quite good for the stock market, and as we said in point #1, we expect a consistently accommodative Fed if need be.
The economy may want to slow, but that's what the Fed is for. And while the latest employment numbers may not be encouraging, there have been a number of data points in the past year that were either too encouraging or too discouraging, and one data point here may end up just being more noise.
Pretty Stocks: Even if the economy does hiccup, the Fed should do its job, and either way the telecoms and utilities should be fine, and may even get a bump on a flight to safety move.
7) Presidential Election
Reason number seven for a lower U.S. stock market in the second half of 2016 is the upcoming Presidential election. Politicians tend to be popular figures in their countries; they have a unique ability to rally public opinion and trust. However, there may have never been a Presidential election in the United States where both candidates were so unpopular with the electorate. Both Hillary Clinton and Donald Trump have hard-core supporters, but the majority of the country not only dislikes but detests each candidate. The polls currently indicate a small lead for Clinton, but polls in the U.K. showed that the "remain" vote led the "exit" vote. In highly contentious elections, it is possible that people become reluctant to express their views to pollsters for fear of recrimination or embarrassment. Therefore, polling has become less scientific and the outcome of elections, questionable before the tallying of the last votes.
There is not necessarily a straight line drawn from an unpopular President to bad markets. There surely is something of an "ability to rally public opinion and trust", but presidents are never very popular.
In 2012, 66 million Americans voted for Barack Obama, while 61 million voted for his ideological rival. This was a decisive victory, yet far more than half of the 314 million Americans either had practically no opinion, or were opposed to the winner.
It might be nice if the country liked its leaders, but it is not necessary for strong markets.
Pretty Stocks: Manufacturers like Ford (NYSE:F), General Motors (NYSE:GM), Tesla (NASDAQ:TSLA), and GE (NYSE:GE) may get a boost from a protectionist movement. Foreign cars and turbines are getting cheaper, and a protectionist president might be a huge boon for these companies.
7 Again) Terrorism
Reason number seven for a lower U.S. stock market in the second half of 2016 is terrorism in the U.S. and around the world. Economic conditions are difficult around the world, but events in Paris, Brussels, San Bernardino, Orlando and last week in Istanbul are constant reminders that we live in a very dangerous world. A continuation of terrorist attacks will weigh on economic growth, productivity and stoke fear throughout the United States and the world.
We are in agreement here that terrorism is not coming to an end anytime soon. But what does that mean for markets?
On September 10, 2001 the S&P 500 closed at $110.05 per share. It finished the year at $116.00.
In between the country was shaken by the most horrific terrorist act in American history. As the markets grappled with what a world with aggressive terrorism meant, markets went higher. Markets can go higher in the face of terrorism.
Pretty Stocks: Defense and government contractors like Lockheed Martin (NYSE:LMT) and Boeing (NYSE:BA) are good long-term plays in their own right, as we expect the US economy, its government, and its defense to continue to grow for decades to come. Every terrorist act is another reason for departments to expand budgets.
8) Corporate Earnings
Reason number eight for a lower U.S. stock market in the second half of 2016 corporate earnings. In the first quarter of 2016, corporate profits in the United States were down by 7.5% on a year-on-year basis. The dollar had been under pressure until it recovered in the wake of the Brexit vote and a stronger dollar will continue to have a depressive effect on corporate earnings. Moreover, while stocks remain close to highs, they refuse to break higher.
We've talked about corporate earnings, and while some of the companies will indeed be challenged, there is no reason to think this is not already priced in to the market.
Pretty Stocks: Same as #3 and #4.
9) Technical Factors
Reason number nine for a lower U.S. stock market in the second half of 2016 is technical factors point to a top. The bull market in stocks is long in the tooth. If the market is still in bull mode, that bull is aging as it approaches its eighth year.
We interpret the charts a little different than Mr. Hecht. It's true that momentum has been lost from the market -- In Decmber of 2014 the S&P was at $208, it is now at $209.
But we think that is bullish, and a reason to be buying, not selling. The market has had eighteen months to digest its bull run, that is better than going on an unjustified run.
Pretty Stocks: Exxon Mobil (NYSE:XOM) and Chevron (NYSE:CVX) have lagged with oil, and may be primed to participate in the next move up.
10) Valuation
Reason number ten for a lower U.S. stock market in the second half of 2016 is valuation. Low rates have held equity prices up with accommodative juice, smoke and mirrors over recent months. The spike down last August when the Chinese shocked world markets with a surprise devaluation of the yuan and the plunge at the beginning of the year as Chinese stocks cascaded lower, were signs of things to come. The valuation of U.S. stocks remains too high in the current environment.
Mr. Hecht includes this chart of the S&P 500 PE ratio: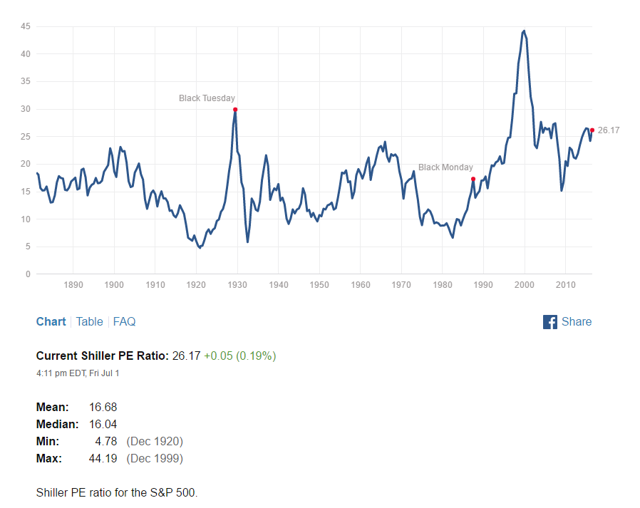 But without Treasury yields we think this chart is incomplete. Have a look at this chart showing the close relationship between Treasury yields and the S&P 500 earnings/price ratio: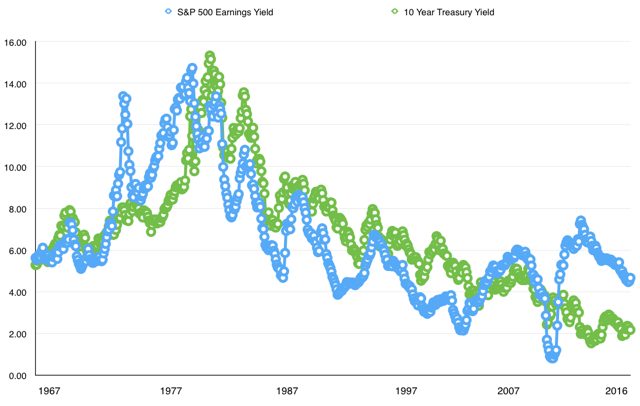 There is a lot of money in the world, and only two markets large enough to absorb it: stocks and bonds. When bond yields head lower, PE ratios head higher.
Where are Treasury yields right now? All time record lows. Where is the S&P 500's PE ratio? Not at all time highs.
There are two markets large enough to absorb the world's money, and if either of them is over-valued right now it is bonds, not stocks. If anything, stocks have catching up to do.
Pretty Stocks: The whole stock market should appreciate when bonds get endlessly bid up, most especially the high yielders from reason #1.
Conclusion
There is a good case for ugliness in the second half of the year. But the case for sexy results is not to be dismissed. We are in a new world where the old rules do not seem to apply, and we may be setting up for a bullish second half.
For More on Retirement
To receive all of our content before it is published check out our Resolving Retirement letter, where we analyze our favorite individual stocks. Also check out our "Best Retirement Strategy in The World" -- if you can beat it, tell us.
Please follow us by clicking "follow" next to "Premium Research" at the top of the page under the article's title.
Disclosure: I am/we are long WEC.
I wrote this article myself, and it expresses my own opinions. I am not receiving compensation for it (other than from Seeking Alpha). I have no business relationship with any company whose stock is mentioned in this article.