Transocean (NYSE: RIG) has recently announced that it commenced an offering of $1.5 billion aggregate principal amount of senior unsecured notes due 2023. Simultaneously, the company is making a cash tender offer to buy up to $1 billion principal amount of 6.5% senior notes due 2020, 6.375% senior notes due 2021 and 3.8% senior notes due 2022.

Earlier, I wrote an article where I discussed the relative underperformance of Transocean's shares compared to more speculative offshore drilling peers. In that article, I stated that the lack of positive catalysts weighed on the company's shares and that they were unlikely to leave the $8-$13 range in this summer.
The refinancing is an interesting move as it deals with longer-dated maturities. Transocean has $2.75 billion of debt maturing before 2020, so, at first glance, it is not crystal clear why the company decided to deal with those maturities first.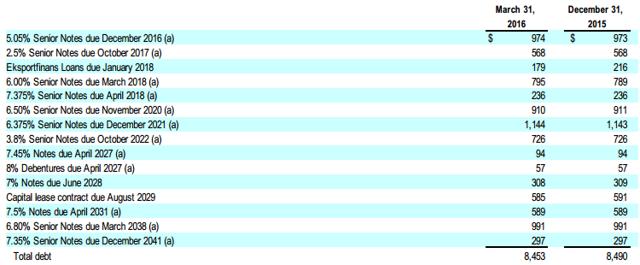 However, if you look at the SEC filing rather than at the press release, you will find out that Transocean is buying its bonds back at the open market:

In my view, the company's strategy is the following: slowly buy back nearest maturities at the open market while pushing the other debt to 2023. In theory, this will allow Transocean to have a "debt window" between 2018 and 2023, so, once the company gets past 2018, it will have plenty of time to prepare for the next debt maturity.
The current cash tender offer does not cover all bonds that mature in 2020-2022, as their total amount is $2.69 billion. However, this could be a first important step in a series of future offers. The timing of the offering looks good, as oil met resistance around $50 per barrel and uncertainty grows, so if Transocean wanted to make the cash tender offer in 2016, the time is now.
The targeted interest rate on the bonds was not disclosed in the filing, and it will be very interesting to see how the bond market views the risks of lending to an offshore driller. I don't think that the market will be favorable for unsecured notes and expect to see the resulting interest rate in high-single digits.
Nevertheless, the decision to refinance now looks like a good move for Transocean. It highlights that the company is thinking about its future and believes that it must be prepared for challenging market closer to 2020.
Time goes by and we see little, if any, signs of a bottom in the offshore contracting space. Unless oil prices make an impressive rally and the whole world starts drilling again, the recovery will be gradual and the day rates will take much time to recover due to rig oversupply in both floaters and jack-ups.
I think that long-term investors should be satisfied with the company's decision. Speaking about the shorter time frame, I don't see bond offering and the cash tender offer as a serious catalyst for potential upside. The stock market is likely concentrated on nearest maturities and contract extensions, so strategic moves will likely be ignored and the oil price will remain the main driver for Transocean shares until the company reports its second quarter results.
Disclosure: I/we have no positions in any stocks mentioned, and no plans to initiate any positions within the next 72 hours.
I wrote this article myself, and it expresses my own opinions. I am not receiving compensation for it (other than from Seeking Alpha). I have no business relationship with any company whose stock is mentioned in this article.