I have written lately about taking profits on my investments in consumer staple companies such as Kraft Heinz (NASDAQ:KHC), General Mills (NYSE:GIS) and Procter & Gamble (NYSE:PG). The valuations on companies like these are amazingly high, and I feel that they are largely unsustainable. That being said, the shares are trading at higher levels than when I sold them earlier this year. The trend of investors buying the shares of consumer staples companies for their dividends will likely continue of course, until it doesn't. I'm not here to call any kind of bottom (or top), but I find it very unlikely that an investment in Kraft Heinz, General Mills or Procter & Gamble at these levels will turn out favorably in five years. I could be wrong. The headwinds are numerous for these companies. Slowing global growth, a strong US dollar, rising input costs - you've heard them all before. One subsector of the consumer staples group I do like however is the soda companies. Between Coca-Cola (NYSE:KO) and Pepsico (NYSE:PEP), I prefer Pepsico, but will not put new money to work at these valuations. Below I will dig into Pepsico, and see if the company's shares are as overpriced as they appear at first glance.
Overview
PepsiCo is a soda and snack company, which Yahoo Finance profiles as:
"PepsiCo, Inc. operates as a food and beverage company worldwide. Its Frito-Lay North America segment offers Lay's and Ruffles potato chips; Doritos, Tostitos, and Santitas tortilla chips; and Cheetos cheese-flavored snacks, branded dips, and Fritos corn chips. The company's Quaker Foods North America segment provides Quaker oatmeal, grits, rice cakes, natural granola, and oat squares; and Aunt Jemima mixes and syrups, Quaker Chewy granola bars, Cap'n Crunch cereal, Life cereal, and Rice-A-Roni side dishes. Its North America Beverages segment offers beverage concentrates, fountain syrups, and finished goods under the Pepsi, Gatorade, Mountain Dew, Diet Pepsi, Aquafina, Diet Mountain Dew, Tropicana Pure Premium, Sierra Mist, and Mug brands; and ready-to-drink tea and coffee, and juices. The company's Latin America segment provides snack foods under the Doritos, Cheetos, Marias Gamesa, Ruffles, Emperador, Saladitas, Sabritas, Lay's, Rosquinhas Mabel, and Tostitos brands; cereals and snacks under the Quaker brand; and beverage concentrates, fountain syrups, and finished goods under the Pepsi, 7UP, Gatorade, Mirinda, Diet 7UP, Manzanita Sol, and Diet Pepsi brands. Its Europe Sub-Saharan Africa segment offers snack foods under the Lay's, Walkers, Doritos, Cheetos, and Ruffles brands; cereals and snacks under the Quaker brand; beverage concentrates, fountain syrups, and finished goods under the Pepsi, 7UP, Pepsi Max, Mirinda, Diet Pepsi, and Tropicana brands; ready-to-drink tea products; and dairy products under the Chudo, Agusha, and Domik v Derevne brands. The company's Asia, Middle East and North Africa segment provides snack foods under the Lay's, Kurkure, Chipsy, Doritos, Cheetos, and Crunchy brands; cereals and snacks under the Quaker brand; beverage concentrates, fountain syrups, and finished goods under the Pepsi, Mirinda, 7UP, Mountain Dew, Aquafina, and Tropicana brands; and tea products. The company was founded in 1898 and is headquartered in Purchase, New York."
Operations
One of the reasons I would prefer an investment in PepsiCo to Coke is that PepsiCo has a large food and snack division. The graphic below is taken from the 2015 annual report and shows that the food segments represented 53% of PepsiCo's net revenues, and 44% of net revenues came from outside the United States. I appreciate that level of diversification. I'm also a big believer in the continued growth of Asia and Africa, so I appreciate seeing those segments are a growing part of PepsiCo's business.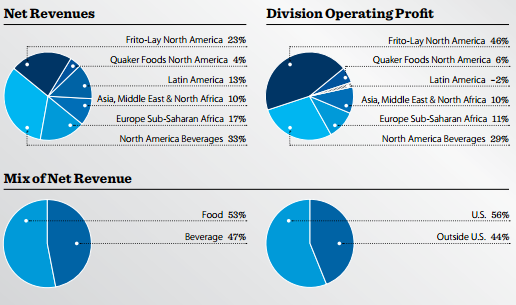 As you can see from the GuruFocus graphic below, the company's operational trends have been fairly flat the last few years. Given PepsiCo's size and maturity, that's not surprising to see.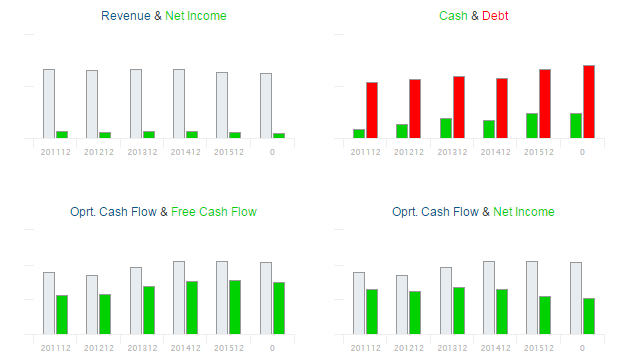 The GuruFocus chart below shows the revenue, earnings and free cash flow trends for PepsiCo. Management has bought in billions of dollars worth of the company's stock over the past few years. Those large buybacks have greatly helped engineer the company's per share results. Unfortunately, some of those buybacks have been funded by the issuance of a large amount of new debt. With global interest rates being so low, many companies have taken on loads of new debt. See a graphical depiction of PepsiCo's increase in debt below.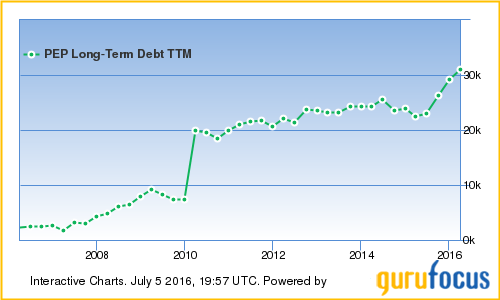 Valuation
By any valuation, PepsiCo's current share price is expensive. The Morningstar chart below probably sums up the situation fairly well. I'm willing to pay a high p/e for a rapidly growing business, but I'm skeptical that there is any rapid growth in PepsiCo's future. Apparently, analysts are expecting some reasonable growth, especially for our low growth world. The analyst consensus is calling for top and bottom line growth for the next couple years, with earnings expected to grow about 8% each year. Given the headwinds of slowing global growth and a strong US dollar, those rates won't be simple to achieve. It is possible however that management will continue to buy back enough shares to help meet those goals.

Even if those goals are achieved, shares still look really expensive at the current price around $106. Next year's (2017) consensus estimate yields a price to earnings ratio of 21 times, at current prices. Those estimates also work out to represent about a 40% increase in earnings over 2015 earnings, although it's important to note that PepsiCo 2015's earnings marked a decline from earnings in each of the previous three years. Without an increase in earnings, PepsiCo's management may need to slow the rate of dividend increases. The current dividend payout ratio stands at about 80%, which is approaching an unhealthy level in my opinion.
To recap, I like PepsiCo on a relative basis... when compared to many other companies within the consumer staples space, and I like the company's business. From the perspective of absolute value however, I think PepsiCo's shares are too expensive for me to be putting new money to work. I feel that just about the whole sector is overvalued, and I may be liquidating my shares of Coca-Cola as well. I like PepsiCo's business more than Coke's, but they are each too rich for my blood at this time.
Disclosure:
I am long KO. This article is for informational purposes only and should not be considered a recommendation for anyone to buy, sell, or hold any equities. I am not a financial professional. The information above is provided by Yahoo Finance, Morningstar.com, GuruFocus.com, and Pepsico's 2015 Annual Report
Disclosure: I am/we are long KO.
I wrote this article myself, and it expresses my own opinions. I am not receiving compensation for it (other than from Seeking Alpha). I have no business relationship with any company whose stock is mentioned in this article.