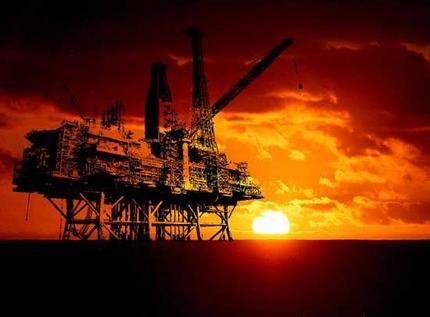 Source: oilandgasinformation
In a recent interview on Bloomberg Television, Vitol Group of Cos. CEO Ian Taylor said he doesn't see the price of oil climbing too much more over the next 18 month, citing slowing pace of growth in demand and the ability of refiners to meet gasoline demand. Also noted was it will take a time to work down the excess inventory already in the system.
His conclusion that oil will probably end the year close to where it is today is correct in my opinion, as I'm on record as saying it will trade sideways over the next year, or probably a little longer.
Near the end of 2017, Taylor said he sees the price of oil climbing to about $60 per barrel. My only caveat to that would be where the global economy is at then. If it's close to or in a recession, that projection could be too high. That's one of the negative factors I see few people talking about. Most are throwing out future estimates based upon the economy moving on as it is now. It won't work out that way. The global economy is definitely weakening and there will be a recession in the not too distant future. Oil demand will drop further during that period of time, which will skew many of the price projections for oil.
Oil demand
Dubious headlines announced the fiction that oil had already rebalanced after the disruption in Canada from fires and supply disruptions in Nigeria. But both of these markets are improving, which means the tighter market in the first half of the year won't be the same unless there are more unforeseen disruptions that change the supply/demand factor.
We're going to see more oil coming to the market in the second half, and the question now is how demand will line up with increasing supply. Some OPEC countries also are increasing production, strengthening the thesis oil in the second half will probably continue to trade sideways, and that will likely be the case through the middle of 2017 as well.
An emerging story that doesn't support oil is there may be a glut forming in refined products, which if is confirmed as sustainable will result in demand for crude dropping. One of the early signals is there are some tankers carrying components to make gasoline that were forced to wait because there tanks for their product were full - there was nowhere to store it.
The other unknown is how much of an impact the additional oil being brought to market from shale producers completing wells will have. This is something the market hasn't experienced before, and the consistent improvement in productivity from newer wells hasn't been averaged out yet on a per-barrel basis. Another problem is each well, even if they're high quality wells, produce at different levels. For that reason we'll have to wait until earnings reports from those completing a meaningful number of wells before we get more accurate data in order to get a clearer look at how this will impact supply and demand.
As for Asia, we already know that is slowing down, and demand should remain down a little during the latter part of 2016. Independent Chinese refiners appear to have satiated their demand for oil, and that should slow the pace of demand growth.
Gasoline supply and demand
As has happened with crude in general over the last couple of years, the supply of gasoline in the U.S. is now exceeding demand, even though demand has been high. According to the U.S. Energy Information Administration, gasoline stockpiles climbed to a seasonal record of 239 million barrels as of June 24, an upward bump of 22 million barrels year-over-year.
Gasoline inventory has been climbing across the nation, with Midwest stocks up 4 million barrels, Gulf Coast stocks up 6 million barrels, and East Coast stocks soaring by 13 million barrels. East Coast stocks are used as the pricing point for gasoline futures in the United States.
Before the end of the year we'll probably see refiners start to shrink their processing of crude and increase the processing of diesel. Even though demand from U.S. is at record levels, it appears once again it was overestimated, or worse, ignored by refiners. This could be similar to OPEC where refiners won't give up market share. Either way, inventory levels will probably force them to cut back on processing gasoline.
Based upon futures, it looks like the market is expecting oversupply to increase even more during the busiest driving season of the year. Crack spreads have been pressured in response to the oversupply. As of July 5 crack spreads for October delivery has dropped to under 22 cents, down from just under 30 cents per gallon on May 23.
Wholesale gasoline futures for August delivery in the U.S. traded at $1.50 per gallon on Monday, under the futures price for delivery in September. That means the market believed there's plenty of gasoline to meet demand. The market in this case is correct.
What for some time has been considered a positive catalyst for the price of oil is now quickly becoming a drag on it because of the increasing gasoline glut from excess supply.
This will have an impact on much of the industry with refiners probably coming under the most direct pressure. Heavily indebted upstream companies will face deep challenges if the price of oil remains flat into 2017, where they face debt maturity that will challenge their ability to continue doing business.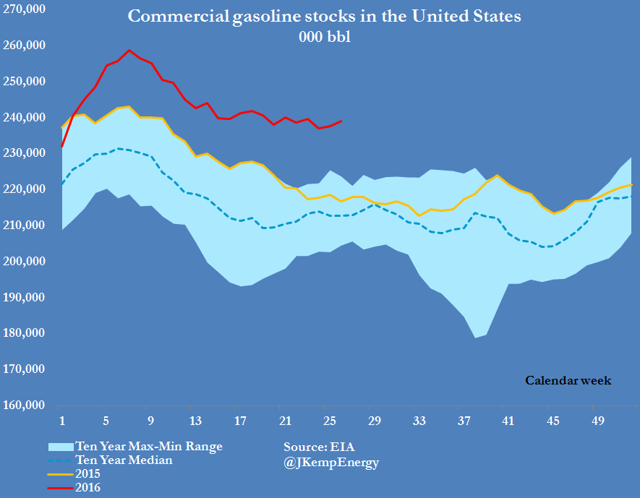 Click to enlarge
source: EIA via Reuters
Supply in 2017
Even though the disruption from U.S. shale production continues to be a factor in the price of oil, because of the additional supply to the market during a time when OPEC has decided to defend its market share at all costs, it's not the only story in the supply picture as we get closer to 2017.
For example, the lag time for some U.S. Gulf of Mexico projects has resulted in those now being completed, resulting in an increase of production coming from that region, which caught some analysts and traders by surprise.
Another factor is the new oilfields being brought into production in Kazakhstan. That will offset some of the expected decline in production in other areas.
Coming back to U.S. shale, it still remains an unknown factor because we don't have clarity yet on how much the completed premium wells will offset some of the declining production from older wells, and how much oil they will produce. All of this is a new part of the oil play that has yet to be proven and worked out. If shale surprises once again to the upside it will disrupt projection models that assume U.S. shale production will continue to decline. Even if it does decline, new wells could cause the decline to be much less than expected. Under that scenario, there will be more oil coming from U.S. shale than is now being priced by the market.
Conclusion
My thesis has been that oil still has a lot of headwinds that won't allow the price to run up as a lot of analysts have suggested. Add to this the increase in supply from several OPEC members, and it's hard for me to believe the projected increase of demand of about 1.2 to 1.4 million barrels per day in 2016 won't be able to easily be met by the new supply coming into the market.
One of the fallacies in my opinion is that the cut in capital expenditures will result in a lot less supply in the near term. It could be a factor in a few years, but right now I don't see anything to suggest capex cuts will have any meaningful impact on supply over the next year. If I saw some of the stronger shale producers deciding to not complete wells, I would change my opinion on the matter, but most of them are not only increasing the number of wells completed, but are looking at increasing the number they're considering completing.
Now the price of oil will limit the number of U.S. shale producers able to profitably complete wells, but those that can have a significant number of them when combined together. This could significantly add to supply over the next couple of years.
We still have a lot of oil inventory to work off, growing gasoline stockpiles, slowing demand in Asia, correcting of outages, and new supply coming to market. I don't see under those conditions how some of the bullish projections for the price of oil can be justified over the next 18 months or so.
Disclosure: I/we have no positions in any stocks mentioned, and no plans to initiate any positions within the next 72 hours.
I wrote this article myself, and it expresses my own opinions. I am not receiving compensation for it (other than from Seeking Alpha). I have no business relationship with any company whose stock is mentioned in this article.