Garmin Ltd. (NASDAQ:GRMN) gained 13.6% in after-hours trading on July 5, and recently paid out a $0.51 dividend. It is a stock that has elicited considerable interest, and it is worth taking a look at to see exactly why that might be, and how useful it may be for prospective investors.
Company Overview
Garmin Ltd. is a multinational technology company that was founded in Lenaxa, Kansas in 1989, and is currently based in Schaffhausen, Switzerland. It designs and makes all manner of Global Positioning System - or GPS - devices, which are either fixed-mounted, hand-held, or portable. In addition to GPS devices, Garmin also designs and makes all manner of other navigational equipment, and various other communications and information technology products.
Garmin has a market capitalization of $7.91 billion and has fifty offices worldwide, employing in excess of 10,000 people. Its operations are divided into five sectors: Automotive and Mobile, which provides navigation equipment for automobiles, motorcycles and smartphones; Aviation, which provides all manner of electronic and navigational equipment for aircraft; Marine, which provides electronic and navigational equipment for nautical vehicles; Outdoor, which provides equipment for cyclists, hunters and other outdoor enthusiasts; and Fitness, which provides training assistance with integrated equipment for athletes such as swimmers.
Competitive Advantage
Garmin is a well-established provider of a niche specialty - GPS technology. For years, it was synonymous with GPS to the extent that its focus on this sector alone assured it of a competitive moat. However, as other competitors have begun offering similar services on smartphones, Garmin has seen this competitive advantage erode.
Tech companies are generally more volatile investments than other sectors due to the fast-changing nature of the industry and the consequent 'creative destruction' that innovation causes within it. Stable investments are few and far between. In the medium term, Garmin looks as though it will perform well. Long term, however, it is uncertain how Garmin will perform.
Valuation
Currently, Garmin is trading in the low $40 range with a price-to-earnings ratio of 16.72. Garmin offers a very generous dividend yield of 4.92%, but also has a very high payout ratio of 89.5%. The sustainability of the dividend over the long haul is therefore in question.
Garmin's sales and revenue figures over the last five years suggest relative stability. In 2011, the company generated $2.76 billion, and in 2012, it generated $2.72 billion. In 2013, Garmin earned $2.63 billion, in 2014, it earned $2.87 billion and in 2015, it earned $2.82 billion. If that trend holds, Garmin may well be able to support the dividend in the medium term. Its complete lack of debt makes that support for the dividend even more likely.
As to fair value, Garmin's earnings per share over the last twelve months was $2.51, and earnings per share for the next five years is expected to grow at a rate of 6.57%, leveling off to 5.7% thereafter. Using a discount rate of 11% (the stock market average), I estimate fair value for Garmin to be $51.96, which suggests that the stock is 20% undervalued at this time.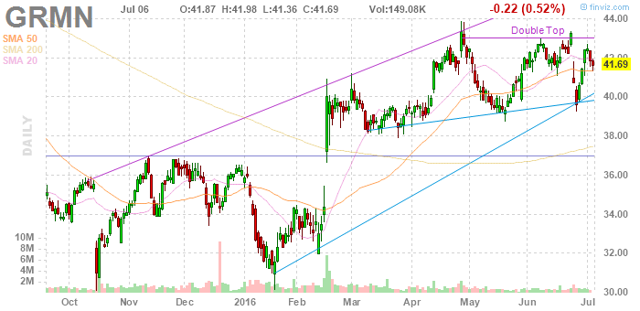 Click to enlarge
Final Thoughts
Garmin is a well-run company with expertise in its field, is undervalued in the market, has no debt, and offers a generous dividend yield which its stable revenues seem capable of supporting. However, the payout ratio is higher than desirable, and its competitive advantage has eroded due to the volatile nature of the sector within which it operates. Consequently, I am comfortable recommending Garmin as a medium-term investment, but cannot commit myself to recommending it for the long term.
Disclaimer: I am not a financial professional and accept no responsibility for any investment decision a reader makes. Furthermore, the figures cited here are the product of the author's own research and may differ from those of other analysts. Always do your own due diligence when researching prospective investments.
Disclosure: I/we have no positions in any stocks mentioned, and no plans to initiate any positions within the next 72 hours.
I wrote this article myself, and it expresses my own opinions. I am not receiving compensation for it (other than from Seeking Alpha). I have no business relationship with any company whose stock is mentioned in this article.