It's Christmas in July, thanks to Bank of America's (NYSE:BAC) stock price falling below $13/share. While I am sure there will be readers who criticize BAC's inferiority compared to Wells Fargo or other prestigious financial institutions, and cite that it is priced fairly due to its quality. In this article, I'd like to offer reasons why I think that buying shares under $13 is a great long-term investment opportunity.
Overblown Reaction to Brexit
While Brexit may be bad for bank stocks, it's not the end of the world some are making it out to be. Since June 23rd, it has shed almost 8.5%, and while earnings will be negatively affected by the Brexit, the actual solvency of Bank of America will not be threatened, and life will go on for it. The bank currently has $525 billion in liquidity according to the most recent 10-Q, and even if credit markets were to halt, BAC could still internally fund operations without offloading assets at steep discounts.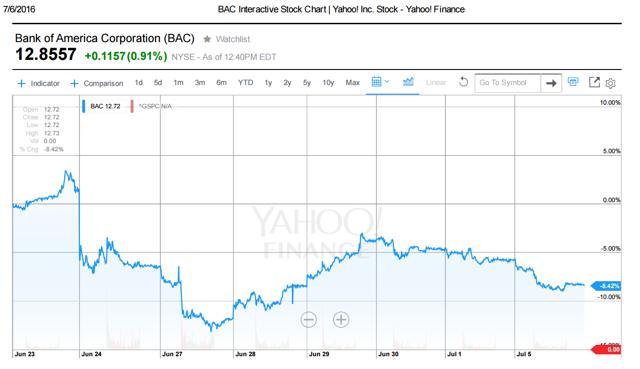 Click to enlarge
The Stress Test
Out of the past five stress tests, BAC has failed three of them. Readers may start criticizing BAC going back to 2014 where it had some errors regarding the valuation of the acquired debt securities from Merrill Lynch, and again in 2015 where it was required to resubmit its capital plan. 2015 was especially painful since BAC was the only United States-based bank required to resubmit a capital plan, but, in June it passed the Federal Reserve's first round stress test in which a "worst case scenario" replicating unemployment doubles, home prices crash, etc. was simulated.
So yes, BAC has had a rough go of it over the past couple years, but that should not come as any surprise or breaking news to investors. BAC has been steadily working to rebound from the 2008 financial crisis and passed this year's test with $123 billion in high quality capital (CET1) and a common equity tier 1 capital ratio of 8.1% after the hypothetical "worst case scenario" was run by the Federal Reserve. Not only was it sufficient, it was 180% of the 4.5% ratio required to pass the test. This was better than U.S. Bancorp's (NYSE:USB) 7.5% and Wells Fargo (NYSE:WFC) with 7.2% CET1 ratios under the hypothetical severely adverse scenario.
Share Buybacks and Dividend Increase
Due to BAC's performance in the first round of the stress test, plans to increase the dividend by 50% were approved along with a $5 billion repurchase of stock over the next 12 months. This is a 25% increase from the prior repurchase plan of $4 billion, which was over 5 quarters.
While other banks have raised dividends multiple times since 2008, this is only BAC's second time doing so, which is another reason where investors have likely been frustrated with this stock and moved towards others. While the quarterly dividend of $0.075 (a bit over 2.3% yield) may not be the sweetest payday, it's moving in the right direction, and is indeed a positive sign that the bank is on rebound.
Significant Discount to Book Value
After the events of the 2008 financial crisis, picking up BAC for a price roughly half of its book value would seem very reasonable given the uncertainty and risk associated with the stock. However, that same ratio today is an absolute steal, given the most recent results from the stress test and signs that the bank is on its road to recovery.
Of course, I would be foolish to stop at price to book value when judging the quality of a banking stock. Some other important factors to look at include ROE, ROA, and shareholder-friendly decisions, just to name a few. ROA is a minute 0.72% over the past 12 months and its ROE as of April is slightly over 6.6% (which is about half of WFC's 13.27%). These do partially justify some type of discount, but I do not believe a 50% discount. Looking at the graph below, we see that ROE is trending in the right direction, and with continued proper management can reach higher levels, making today's price a bargain.

Click to enlarge
(Source: YCharts)

Click to enlarge
(Source: YCharts)
BAC was not shareholder-friendly during the financial crisis - issuing shares to raise capital, resulting in shares outstanding more than doubling from 4.6 billion in 2009 to 10.25 billion in 2011. It has put the majority of its litigation troubles and expenses behind it from the mortgage crisis, which translates into fewer expenses and increased predictability of its future. BAC has also been working to reduce costs via branch closures and has been working on the shift towards mobile banking, which is a win-win since it is preferred by some customers and is cheaper for the bank to process. With the interest rates that should increase in the middle term - and definitely the long term - BAC should see its ROA also improve.
Conclusion
While some won't touch BAC with a 10-foot pole from being burned by the bank during the financial crisis, or favor a stalwart such as WFC, I think BAC deserves a look as it is a deal at its current share price. This is a company that has put many of its troubles behind it and is starting to recover and prove that it can be a reliable bank and investment. I look forward to watching BAC recover and its share price appreciate over the next 5+ years as rising interest rates, reduced costs, and increased dividends all provide me, the shareholder, more value.
Disclosure: I am/we are long BAC, WFC, BNS.
I wrote this article myself, and it expresses my own opinions. I am not receiving compensation for it (other than from Seeking Alpha). I have no business relationship with any company whose stock is mentioned in this article.