In January 2015 we started covering Armada Hoffler (NYSE:AHH), a relatively unknown REIT that was flying under the radar. Shares were trading under $10.00 per share and we initiated a BUY with the hopes that we would see value unlocked in the months to follow.
We added AHH to our Small Cap REIT Portfolio and in a recent article we described the company as one of top Small Cap REIT picks this year.
We like AHH for a number of reasons and insider ownership ranks high on that list. Internal management with "skin in the game" suggests a strong alignment of interest and AHH has plenty of that - around one-third of the company is owned by insiders.
As part of our standard operating procedure we decided to reach out to AHH's CEO to ask a few questions. Louis S. Haddad, the president and CEO, was nice enough to reply so we thought we would provide you our interview. First, let me introduce you to Haddad:
Louis S. Haddad has served in executive roles within Armada Hoffler since 1987 and is currently the Chief Executive Officer of Armada Hoffler Holding Company. Mr. Haddad has served as Chief Executive Officer of Armada Hoffler Holding Company since 1999 and has served as President since 1996.
From 1987 to 1996, Mr. Haddad served as President of Armada Hoffler Construction Company. Additionally, Mr. Haddad served as an on-site construction supervisor for Armada Hoffler from 1985 until 1987. Prior to joining Armada Hoffler, Mr. Haddad worked at Harkins Builders, which provides construction management services, in Baltimore, Maryland.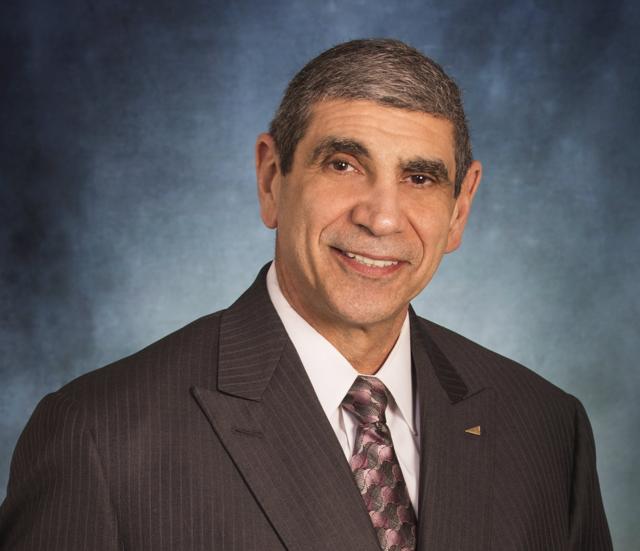 Click to enlarge
Thomas: Armada Hoffler's management owns approximately one-third of the entire company, more than most REITs that I cover. Can you tell us briefly how the company was started and your role today?
Haddad: Armada Hoffler Properties was founded in 1979 by Daniel A. Hoffler who is now the Executive Chairman of the Company. At the time, the Company was focused on commercial real estate development and related services and launched its own third-party construction business in 1982.
Armada Hoffler Properties has evolved into a full-service real estate company with extensive experience developing, building, acquiring and managing institutional grade office, retail and multifamily properties in the Mid-Atlantic and Southeastern United States. In May 2013, the Company successfully completed a $218 million initial public offering and is now a publicly-traded REIT listed on the NYSE as "AHH" with a market cap in excess of $500 million.
Today, Armada Hoffler Properties owns nearly 50 assets across seven states, totaling nearly 4.2 million rentable square feet and more than 1,100 apartment units, which together represent approximately $1 billion in total asset value.
Armada Hoffler Properties' management team is well aligned with the interests of its shareholders: the executives have an average tenure of about 25 years with the Company and own approximately 20% of the outstanding equity. The Company's leadership believes that this alignment of incentives speaks volumes to the team's commitment to a long-term strategy that delivers value to all shareholders.
Thomas: It appears that AHH is expanding into new markets. Can you tell us about your diversification and what markets are you currently focused on?
Haddad: While Armada Hoffler Properties has developed projects throughout the Mid-Atlantic and Southeastern United States over its four-decade history, the Company's $1.5 billion plus of commercial real estate development projects have been historically concentrated in Virginia and North Carolina.
In addition to the projects the Company has developed for placement into its own portfolio, Armada Hoffler has also provided construction services for many third-party clients over the years, including over $1 billion worth of commercial real estate construction in Baltimore's Inner Harbor alone.
The Company continues to leverage the many relationships developed through both its development and construction businesses with an ever-increased development footprint that includes projects throughout Virginia, the Carolinas and the Greater Baltimore/Washington, D.C. area as well as opportunities in other markets located in the broader Mid-Atlantic and Southeastern United States.
Thomas: Can you tell us about your recently announced project in Durham, NC?
Haddad: One City Center is a mixed-use project located in Downtown Durham, structured as a joint venture development agreement. Upon completion, Armada Hoffler Properties will develop and own the office tower and the retail component of the project.
The 27-story building will feature 130,000 square feet of Class A office space, anchored by a 55,000 square foot lease with Duke University, along with 22,000 square feet of street-level retail space. The Company's joint venture partner will simultaneously develop and own 139 residential units as well as a two-level underground parking garage.
Armada Hoffler Construction Company, a division of Armada Hoffler Properties, will serve as the general contractor for the entire $86 million mixed-use project.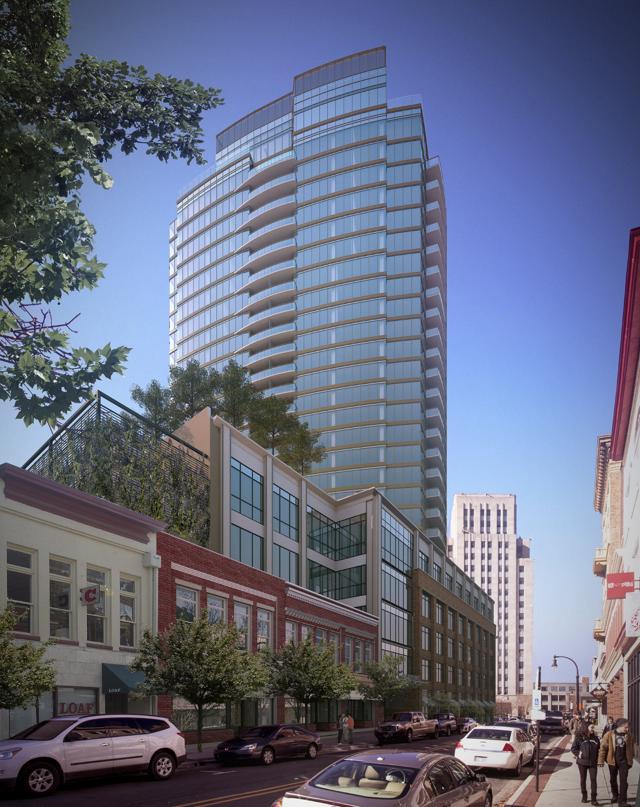 Click to enlarge
Thomas: AHH has a construction business and I'm curious as to how that provides value for the REIT? Do you build for third parties?
Haddad: Armada Hoffler Properties owns, operates, acquires but also manufactures income producing real estate, creating value beyond the traditional buy and hold investment strategy offered by most REITs. This unique business model delivers superior value to shareholders through the Company's ability to directly control construction schedules, delivery dates, and construction costs.
The in-house construction company also results in the elimination of fees and mark-ups, making it considerably less expensive than using an outside contractor. The Company also provides general construction and development services to third party clients.
A large majority of these third-party clients are long-term, multi-decade relationships that value a construction partner whose involvement is initiated at the beginning of the project's conception, similar to the manner in which our construction company participates in the projects the Company builds for its own portfolio.
Thomas: It appears that AHH is focused on office (33%), retail (41%), and multi-family (17%). What types of retail properties and do you intend to grow the multi-family business?
Haddad: Our approach to our development pipeline is opportunistic in nature in that we look at specific sub-market demographics, intersection activity, and project financials when assessing a development opportunity. While the Company maintains an awareness of macro trends with each asset class, there is not a particular allocation goal across the various product types.
With that said, the Company has a long history of retail-oriented development, and grocery-anchored centers in particular and this will continue to be an areas of focus.
Thomas: One of AHH's trophy properties is Virginia Beach Town Center. What makes this property unique?
Haddad: The Town Center of Virginia Beach is an ongoing, public-private partnership which began in 2000 with the City of Virginia Beach and Armada Hoffler Properties. The multiphase development represents a $200 million investment from the City in public infrastructure and a $450 million by Armada Hoffler Properties.
The City of Virginia Beach is the largest city in the Commonwealth of Virginia and its Town Center is its emerging downtown core, located in the heart of the city's Central Business District. It features a vibrant urban mix of upscale retail, Class A office space, luxury residential units, entertainment, and cultural facilities.
The 25-acre, multi-phase development spans 17 city blocks and includes more than 800,000 square feet of Class A office space, approximately 400,000 square feet of upscale retail, 110 commercial tenants, and 628 residential units, all of which are included in the Company's portfolio and represent more than one third of total NOI.
Thomas: Since going public in 2013 AHH has grown its dividend by over 13%. Can you tell us about your dividend policy?
Haddad: The Company believes, just as it did as a private company for 34 years prior to going public, that success in real estate is measured by the cash flow from a stabilized portfolio. It is our intent to continue the trend of responsibly and cautiously raising our dividend as appropriate as we deliver the development pipeline projects into service and they become part of the stable portfolio of assets.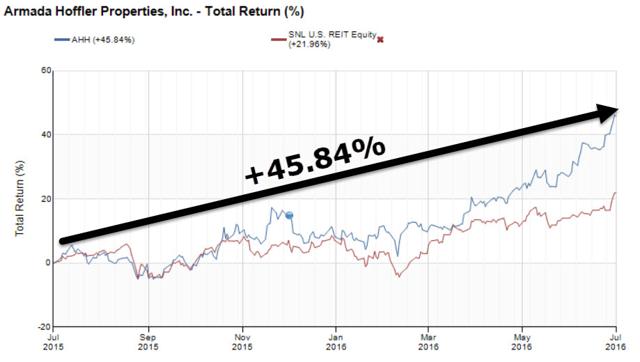 Click to enlarge
Author's Note: Brad Thomas is a Wall Street writer and that means that he is not always right with his predictions or recommendations. That also applies to his grammar. Please excuse any typos, and I assure you that he will do his best to correct any errors if they are overlooked.
Disclaimer: This article is intended to provide information to interested parties. As I have no knowledge of individual investor circumstances, goals, and/or portfolio concentration or diversification, readers are expected to complete their own due diligence before purchasing any stocks mentioned or recommended.
Disclosure: I am/we are long O, DLR, VTR, HTA , STAG, GPT, ROIC, HCN, OHI, LXP, KIM, WPC, DOC, EXR, MYCC, TCO, SKT, UBA, STWD, CONE, BRX, CLDT, HST, APTS, FPI, CORR, NHI, CCP, CTRE, WPG, KRG, SNR, LADR, PEB, BXMT, IRM, CIO.
I wrote this article myself, and it expresses my own opinions. I am not receiving compensation for it (other than from Seeking Alpha). I have no business relationship with any company whose stock is mentioned in this article.