It's been a year and a half since anyone has published an analysis article about International Tower Hill Mines (NYSEMKT:THM) on Seeking Alpha. A lot has changed since then in the gold mining sector (Market Vectors Gold Miners ETF (NYSEARCA:GDX), Market Vectors Junior Gold Miners ETF (NYSEARCA:GDXJ)), and in this stock's fortunes, so it's high time for a fresh look.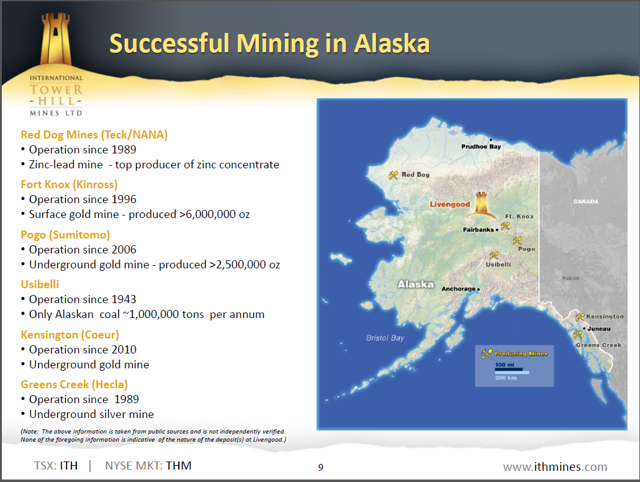 Click to enlarge
THM is developing the Livengood Gold Project in central Alaska, 70 miles northwest of Fairbanks. The company's technical report on the project indicates that it contains over 15 million ounces of gold Mineral Resources. This is an enormous resource: 2 million ounces or 5 million ounces are often considered the standards for a large gold mine project.
Moreover, 14.4 million of these ounces are in the most reliable Measured Mineral Resources category. Many junior gold miners report large numbers of ounces in the Indicated Mineral Resources category, which is enough to justify a feasibility study for a mine, but which is based on only a "reasonable level of confidence" of the geologist about the amount of the resource. Measured Mineral Resources on the other hand are based on a "high level of confidence" of the geologist, which I consider much more reliable. For me, this is a big advantage of THM over other similar junior gold mine developers.
(I am not saying that Indicated Mineral Resources are entirely unreliable. Indeed some successful mines go into production based only on Indicated resources in the technical report. But Measured resources are a big plus in my book.)
The concern about THM has been that the cost of mining the gold in Livengood was too high to be economic at the gold prices we had from 2013-2015. So the stock price crashed upon the release of the technical report in 2013, which revealed the high costs at the same time that the gold price was falling sharply.
But now in 2016, things are turning in the opposite direction. The gold price (SPDR Gold Trust (NYSEARCA:GLD), Sprott Physical Gold Trust (NYSEARCA:PHYS)) is rising again, and there is hope that it will continue to rise to the point where THM's 15 million ounces will suddenly become economic to mine again. At the same time, the cost issues revealed in the 2013 report prompted the company to work on improving and optimizing the project during the past three years. In January 2015 THM announced progress on the optimization of the Livengood project, as Ben Kramer-Miller reported in this Seeking Alpha article.
So it looks like the stars may finally be aligning for this company and this project. To be sure, the gold price still needs to go higher to make Livengood economic to mine. But if you are bullish about the possibility that the gold price will rise to new all-time highs above $2,000/oz in the coming years, as I am, then THM is an excellent bet to gain leverage on the gold price.
Indeed investors have already seen this opportunity developing this year, as THM stock is up an outstanding 377% in the first half of 2016. But this is one case where there is still a lot of room for this stock to run much, much higher. The market cap is still just slightly over $100 million. Mining 15 million ounces of gold will produce profits of many billions. The stock remains very undervalued despite the huge gain so far this year.
In effect, sellers of this stock are betting that the gold price will never rise enough to make THM's project economic, and the mine will never get built and go into production. Buyers are betting the mine will get built and be profitable, and if they are right, the company will be worth billions, far above the current market cap.
Well-Connected Management and Investors
The CEO of International Tower Hill Mines is Tom Irwin. Irwin is both popular and influential in Alaska as the former Commissioner of the Alaska Department of Natural Resources under three different Governors. This is a huge plus for the company and for Livengood's prospects. Other gold mine projects in Alaska, such as Northern Dynasty Minerals' (NYSEMKT:NAK) Pebble Mine Project in the southwestern part of the state, have run into serious environmental and permitting problems that make it unlikely they will ever be approved and built. In Alaska it is critical to navigate the regulatory and permitting procedures correctly. Having a well-connected insider CEO such as Irwin, with vast experience both on the company side and on the government side of the mine permitting process in Alaska, is an enormous advantage for THM.
If permitting can be taken care of, then the project's Alaska location is another big plus for THM, as a safe jurisdiction. Its central Alaska location is also a more mining-friendly part of the state than the more environmentally-minded coastal areas of southern Alaska. Most gold mining projects in safe jurisdictions already command large premiums on their share prices, making them less appealing as investments at current valuations. THM is a rare opportunity to invest in a gold mining company in the U.S. or Canada at a very attractive valuation.
Another valuable feather in THM's cap is Paulson & Company Inc.'s 19.8% investment stake in the company. Of course John Paulson is the billionaire hedge fund manager who is famous for correctly foreseeing and betting on the collapse of the subprime mortgage lending market in 2007-2008, and he has been well-known since then for his bullish view on gold. Other major stakeholders include Tocqueville Asset Management L.P. with 19.7% and AngloGold Ashanti (NYSE:AU) with 9.5%. Naturally this connection also positions AngloGold Ashanti well for a potential takeover of THM at a nice premium.
Issue: Derivative Payment Due
One issue to be aware of for THM is a large payment that is due at the end of this year. The company acquired mining claims in 2011 in return for a payment due after the completion of a five-year period that concludes in December 2016 and which is partially based on the average gold price during the five-year period. As of the end of the first quarter of 2016, the payment due was estimated at $14.6 million, but it rises $23,148 for every dollar that the average gold price rises over the entire period. (See the company's quarterly financial statement for the details.)
The gold price derivative aspect of this payment is actually not a big deal, because it is only based on the five-year average from December 2011 to December 2016. The company will benefit much more from a rising gold price than the increased derivative payment will cost it. But the fact remains that THM must obtain financing to make this $15 million or more payment after the end of this year.
With all of THM's well-capitalized institutional investors, I don't anticipate that the company will have a problem obtaining the financing that they need. But shareholders should be aware that the financing will likely involve some sort of dilution of the equity. To take this into account, I adjust THM's current market cap up by the amount of the $15 million plus payment that it will have to make.
Still, the stock is so massively undervalued for its 15 million ounces of gold in the ground, that even this market cap adjustment does not diminish the attractiveness of the valuation much at all. A $105 million or $120 million market cap hardly makes much difference when the potential value of the company could be many billions of dollars.
Bottom Line
If you don't think the gold price is going to new all-time highs above $2,000/oz in the next 3-5 years, you probably shouldn't be investing in gold mining companies at all.
If you do think the gold price has the potential to skyrocket to such new highs in the years ahead, THM looks like an excellent investment and quite possibly the very best bet on the market. If the gold price continues to rise, THM stock is likely to soar massively in value. If the Livengood project is worth anything at all, it will be worth many, many times more than the current market valuation of the company.
Disclosure: I am/we are long THM, PHYS.
I wrote this article myself, and it expresses my own opinions. I am not receiving compensation for it (other than from Seeking Alpha). I have no business relationship with any company whose stock is mentioned in this article.
Editor's Note: This article covers one or more stocks trading at less than $1 per share and/or with less than a $100 million market cap. Please be aware of the risks associated with these stocks.