There has been a significant amount of bullish sentiment surrounding shares of Dollar General (NYSE:DG) recently. The bullishness started early this year when analysts noted that off-price retailers that promote frequent consumer interaction were a sweet-spot in a struggling retail space. That sentiment was affirmed by a strong Q4 from DG, wherein comps rose 2.2% behind increased traffic and a higher average ticket. Average ticket and traffic both increased again in Q1. The result is that shares of DG are up more than 32% YTD versus market gains of less than 3% (10.7x outperformance).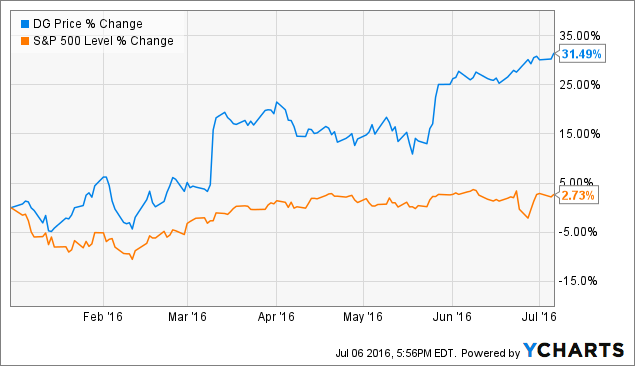 The good news continues to roll in. Millennials are shopping more at dollar stores and data shows that dollar stores have cross-income-level appeal. Most recently, it looks like dollar stores are actually stealing a healthy amount of market share from grocery stores. Certainly, several tailwinds have converged to warrant DG's significant outperformance of the market. We believe, however, the share price is now fully priced and that shares are actually slightly overvalued relative to fair value, which we peg at $90.
To be clear, we are big fans of the DG growth story. From an operational standpoint, DG is doing everything right. Higher average ticket price is driving gross margin expansion (+16 basis points MRQ). Higher sales are driving SG&A leverage with SG&A rate falling 26 basis points MRQ. The runway for unit growth is promising, with 1,900 new stores planned over the next two years. The long-term growth plan calls for 7-10% annual net sales growth driven by 6-8% square footage growth per year. The bottom-line is expected to grow at an even faster rate, driven by cost leveraging and stock buybacks. The company believes it can grow earnings per share at a 10-15% CAGR over the next several years.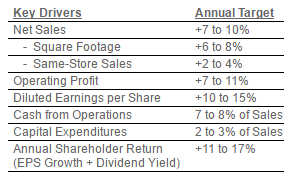 The problem we have is the valuation fully reflects all of this growth, and the upside for investors at these levels is limited. The valuation is already at a marked premium to its 5-year average. The 22.6x trailing P/E represents a 17% premium to the 5-yr P/E of 19.3x. The PSR of 1.3x is a 21% premium to the 5-yr PSR of 1.09x. The biggest multiple expansion has come with the Price/Cash Flow multiple, which currently stands at a 23% premium to the 5-yr P/CF multiple.

Click to enlarge
For those who like charts better, you can see below that the valuation is at near peak 5-year historical levels.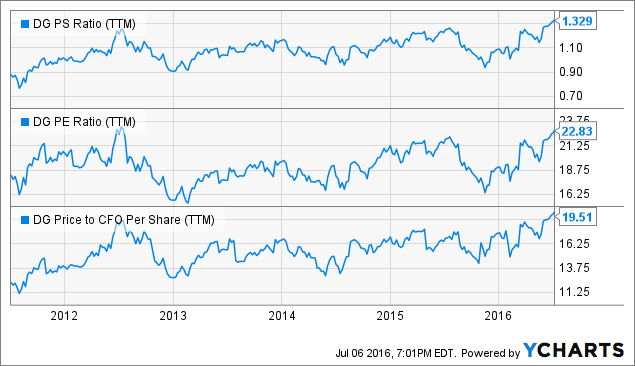 DG PS Ratio (TTM) data by YCharts
The richer valuation is somewhat warranted by the company's recent success and future growth prospects, but we do not see much upside for investors. We have modeled out DG over the next 10 years according to management growth expectations, and no matter which way we look at it, we cannot convince ourselves to buy shares at these levels.
Our model calls for an 8% sales CAGR over the next 5 years and a 7% sales CAGR over the next 10 years, both in line with management expectations. We see operating profits growing at a 10% CAGR over the next 5 years and a 8% CAGR over the next 10 years, again in line with management expectations. On the bottom line, we see earnings growing at a 12% CAGR over the next 5 years and 10% over the next 10 years.
Our full model can be seen below.

Click to enlarge
If we plug our unlevered FCF projections into a DCF with a 2% perpetuity growth rate and a 9.2% WACC discount rate, we arrive at a fair value per share of around $90 (~5% lower than current market value).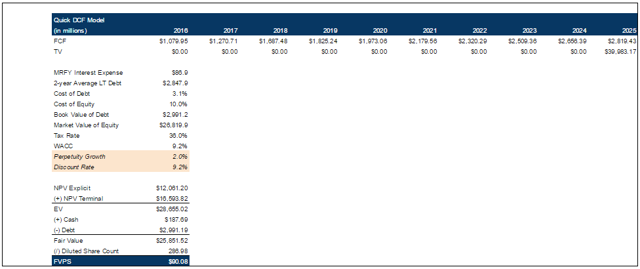 Click to enlarge
If we apply the 20x trailing P/E multiple (slightly above 5-yr average) to our FY16E EPS estimate of $4.69 (above consensus estimate of $4.65), we get to a stock price in 1 year of $94 (lower than current market value). If we apply that 20x trailing P/E multiple to 2020E EPS of $7.02, we get a stock price in 5 years of $140. If we discount that back by our 9.2% discount rate, we arrive at a fair value of $90 per share. This fair value agrees with our DCF.
While we would love to buy into this growth story, we think it is simply too late. The current stock price does not represent a favorable risk-reward profile for investors. We will wait for a pullback before considering a long position in DG.
Disclosure: I/we have no positions in any stocks mentioned, and no plans to initiate any positions within the next 72 hours.
I wrote this article myself, and it expresses my own opinions. I am not receiving compensation for it (other than from Seeking Alpha). I have no business relationship with any company whose stock is mentioned in this article.