Unlike most investors, I am excited when stocks go down and I am a little disappointed when they go up. That is because I have a long term view (decades, not years) and I want to buy quality, but I hate to overpay. The solution is waiting. There is always an opportunity somewhere in the market.
I always have some money in my war chest to deploy when the market gives me the opportunity I longed for. One object of desire is a pure 'growth stock'. I have been watching it closely for some time, especially in the last half year (why that is, will be explained further in the article.)
The stock I am so excited about is Illumina (NASDAQ:ILMN), a genome sequencing company.

In the last year its price has come down by 34%.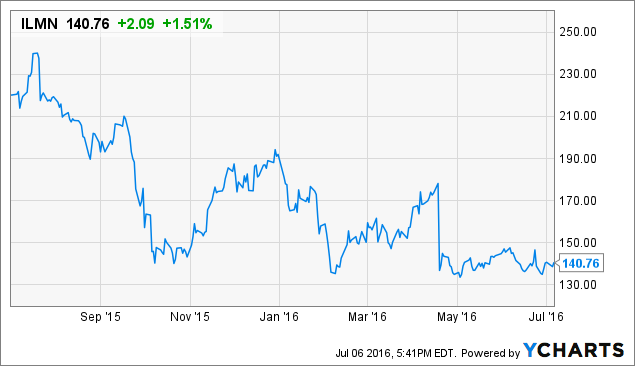 The reason for this drop is quite simple: the company has had two quarters that were not as good as expected. Further in the article more thoughts about that, but first I let the company introduce itself:
Illumina is a leading developer, manufacturer, and marketer of life science tools and integrated systems for large-scale analysis of genetic variation and function. These systems are enabling studies that were not even imaginable just a few years ago, and moving us closer to the realization of personalized medicine. (...)

Our customers include a broad range of academic, government, pharmaceutical, biotechnology and other leading institutions around the globe.
(Source: the company's website)
Often companies brag about themselves on their websites, but without a shred of doubt Illumina really is the leading company in genetic analysis. Over 90% of sequencing data in the world is produced on Illumina systems. Do I smell moat here?
What it makes so exciting is that genome sequencing is considered by most specialists as the future of health care.
The human genome was for the first time completely sequenced in 2003. Twenty universities and research centers in six countries (the USA, UK, France, Germany, Australia and China) worked together to achieve this goal. The project took 13 years and it had cost more than $3B. Today we are again 13 years later and Illumina succeeded in bringing the cost down to $1000. This shows how fast science and technology can advance. Where will it be in 2029, 13 years from now?
Maybe $1000 still seems expensive for genome sequencing, but it is not if you look at the possibilities it offers. The analysis of genome data is still in a very early phase, but when it gets more mature, it will completely change the way we look at health care. Health care will be much more personalized in the future. Doctors will tell you things like: 'Oh, I see that you have this and that disposition in your genome, so I will already prescribe you this and that medicine.' And that would be years before you would feel anything.
At this very moment, this may seem some sort of Star Trek-like fantasy, but this new reality is closer than you would think. Illumina had set itself a goal to become the first company that could sequence the complete human genome for only $1000 and it succeeded in January 2014, when the HiSeq Ten system was announced publicly.
This success was also very visible on the stock market. This is the Illumina chart from September 2013 to February 2014.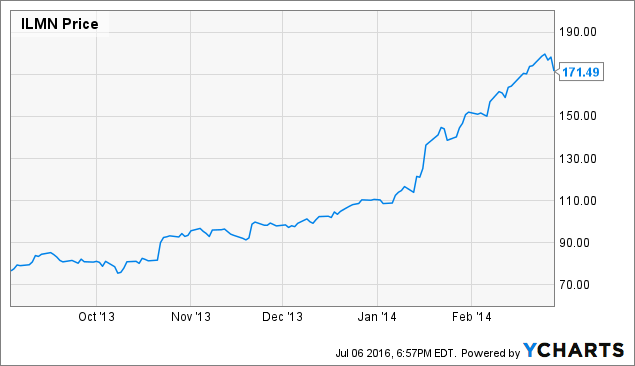 In July 2015, ILMN reached its all time high of more than $240. But the manic depressive Mr. Market has brought this stock back to where it hadn't been since January 2014: at $140. The reason is simple: as I already mentioned, the company missed two quarterly earnings estimates. If you look at the earnings record of Illumina though, it would be very cynical not trust this company anymore after one big and one minor miss. As you can see: out of the 23 earnings, Illumina only missed 3.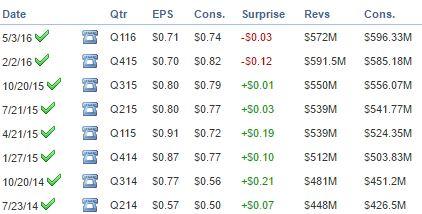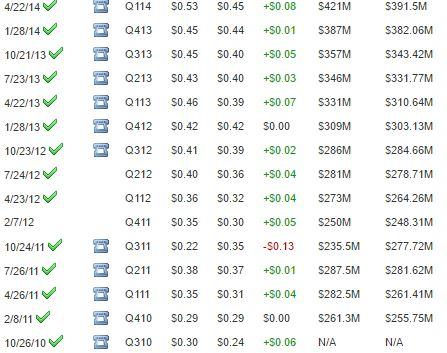 (Source: Streetinsider.com)
But what may even be more important: Illumina has set a new goal again, just as it did with the $1000 genome sequencing. And it has set a date of deliverance too: 2019. On January 10, 2016 Illumina announced GRAIL, a new company to enable cancer screening from one simple blood test. That is why I said in the introduction that I was following Illumina especially close since the last six months. This company tries to find the holy grail of oncology (hence the name). And again Illumina has set a price target: $500.
Just imagine that this test would become common practice in 2020 and beyond. I think almost everyone who could pay, would take the test, because it would not just detect cancer now, but it would also search for cancer in the years to come. That would also mean that you can take your precautions years before the cancer can attack your body. I think most health insurance companies or governments would be very interested in this test too, because it would probably save them billions. There could of course be ethical problems (think about mortgages, or job applications, for example) but that is a whole other discussion.
Not convinced yet? Google Ventures, part of Alphabet (NASDAQ:GOOG) (NASDAQ:GOOGL), Jeff Bezos, the Amazon (NASDAQ:AMZN) visionary CEO and Bill Gates, founder of Microsoft (NASDAQ:MSFT) are, because they are investors in GRAIL. But Illumina has a majority in GRAIL, so also the lion's share of the possible profits. GRAIL is led by Jeff Huber, a former Google pioneer, who helped launching Maps and Ads. He joined GRAIL after the tragic loss of his wife to cancer. He had already been in the board of Illumina for two years before he became CEO of GRAIL in February 2016.
But how about your investment?
My followers (and other readers of my articles) know that I normally look for bargains and that I have a very long investment horizon. But how does Illumina fit in? It has a ttm P/E ratio of almost 50 and no dividend. Does it sound risky? It is risky... and then again not. Let me explain.
When a company is lauded as the future in a certain sector, this is always visible in the valuation. Amazon has a P/E of 300 and Netflix (NASDAQ:NFLX) has a P/E of 337. If you look at Illumina's P/E of 50 it almost looks cheap. But there is more. This is the P/E chart for Illumina of the last five years.
ILMN PE Ratio (NYSE:TTM) data by YCharts
As you can see from the chart, ILMN's P/E is very low now compared to the last five years, even though it is still 50. You can see the same in this FAST Graph, although you can also see here that earnings are going up steadily as well.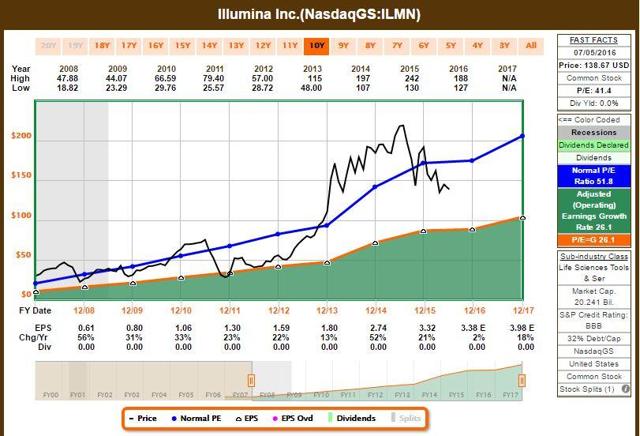 Click to enlarge
Risks
The fact that Illumina's P/E is still 50, means that the stock has plenty of room to fall. In the short term it could. If Illumina misses its next earnings again (which will be in a week or two), it will definitely fall further and Morgan Stanley could be right with its call for $110. But if you think in decades, as I do, this company could be a home run, in my opinion. But because of the short term risk, I will gradually build up a position in this stock. I have a buying order at $140, but only for 1/3 of my desired position.
Another risk is that the iconic CEO Jay Flatley quits this very month. But his successor Francis deSouza was chosen by Flatley himself. DeSouza has been working for Illumina since 2013 and he has led several important projects. So I think deSouza will be a competent CEO for Illumina.
The biggest risk of all is probably the failure of the GRAIL project. This could possibly crater ILMN's price, but even then I wouldn't be too worried. If not in 2019, then a year later or the year after that. Only if Illumina would be overtaken left and right at the same time, by several companies, it could be a signal to reconsider my position.
As I have said, I have an order on this stock. If it would hit my price, ILMN would be by far my most risky stock. My readers already know I like to use the Nasdaq risk tool and I prefer stocks under 200. ILMN is at 245, just under that other risky stock, Netflix.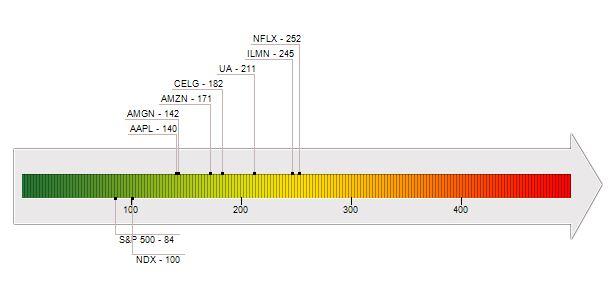 But sometimes with great risk comes great reward. If Illumina could hit its target with GRAIL, it would be another stupefying milestone by this future oriented company.
Conclusion
If you have a very long investing horizon and you are willing to take some risk, Illumina could be a very profitable stock for the decades to come.
If you enjoyed this article, please hit the "Follow" button for more articles with a long-term investment horizon
Disclosure: I/we have no positions in any stocks mentioned, but may initiate a long position in ILMN over the next 72 hours.
I wrote this article myself, and it expresses my own opinions. I am not receiving compensation for it (other than from Seeking Alpha). I have no business relationship with any company whose stock is mentioned in this article.