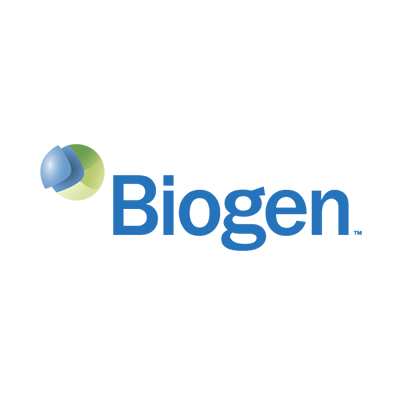 Biogen (NASDAQ:BIIB) has been on quite the downfall, as the stock plummeted -40% over the past year. There's no question that Biogen was the most beat up in the health care sell-off, but I believe the selling is way overdone and this could present a long-term buying opportunity for contrarian investors, as the growth prospects still appear sound. Biogen is seeing huge growth in revenue over the last five years with a very impressive CAGR of 17.8%. Biogen's efforts to improve operational efficiency over the long-term has enabled Biogen to consistently command a high margin, the operating margin was at a fantastic 47.1% over the last twelve months and this number is expected to increase, as Biogen continues to invest in cost saving measures going forward.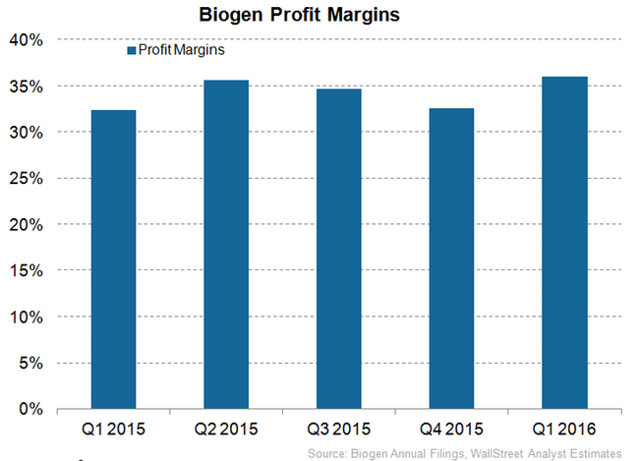 Click to enlarge
Biogen reported very strong growth in its profit margins in Q1 2016 along with impressive revenue growth. These margin increases are thanks to Biogen's operation efficiency efforts, where management has implemented a strategy to optimize costs, without sacrificing Biogen's growth potential. Biogen saw a 11.1% year-over-year rise of net profit margins to 36%. These margins can be expected to rise in the latter part of 2016, as investment in efficiency is just getting started. A corporate restructuring program was announced late last year and is expected to reduce Biogen's operating expenses by over $250 million by the conclusion of 2016. These cost controls will drive profit margins to new highs and the stock will inevitably rebound once the pessimism has been faded out of the biotechnology sector as a whole.
Growth is still firing on all cylinders with a very strong pipeline of promising drugs that will undergo clinical trials in the next few quarters. If these trials show to be promising, then we may see Biogen's margins and total revenues surge to even greater highs.
Biogen may capture a huge chunk of market share in the hemophilia industry this year, as its drugs Alprolix and Eloctate are seeing huge revenue growth each quarter. Alprolix treats hemophilia B and Eloctate treats hemophilia A. Aprolix saw an incredible 74% YoY increase in sales last quarter and Eloctate saw sales rise a fantastic 101% YoY. This huge growth trend is expected to continue, as both Alprolix and Eloctate are among the best drugs for the treatment of hemophilia, so both drugs are being used to treat many new patients worldwide. Both of these drugs have shown to be very promising in clinical trials and are considered to be a huge advancement over its competition's drugs, like Pfizer's Xyntha and Baxter drugs. I believe Biogen's hemophilia drugs will continue to steal market share in the hemophilia industry, as new research continues to suggest that both Alprolix and Eloctate are the best treatment options for patients suffering from hemophilia.
There's no question that Biogen is set up for huge growth this year, as the hemophilia segment is firing on all cylinders and the operational cost cuts will continue to drive profit margins. For both of these reasons we may see Biogen soar in the latter part of 2016. The current sell-off is completely unjustified and the long-term fundamentals are as strong as ever. Biogen has a terrific track record of delivering huge value from its investments. The return on invested capital is 31.1% and its return on equity is at a very impressive 33.9%. With a healthy free cash flow margin of 30.7%, I believe Biogen is a cash generating machine that has potential to rebound very quickly. The stock currently trades at a ridiculously cheap 14.9 P/E, a 5.1 P/B and a 5.0 P/S, all of which are lower than their five year historical average values of 28.7, 6.2 and 7.6 respectively. Biogen is the most undervalued its been in many years, and based on the fundamentals of the business, there is no reason for the stock to be this cheap, as both sales and margin growth are firing on all cylinders. Buy Biogen on the way down, as the stock will eventually rally once biotech pessimism fades.
Disclosure: I/we have no positions in any stocks mentioned, and no plans to initiate any positions within the next 72 hours.
I wrote this article myself, and it expresses my own opinions. I am not receiving compensation for it (other than from Seeking Alpha). I have no business relationship with any company whose stock is mentioned in this article.