When it comes to inducing riotous laughter, there's nothing quite like a circular issued by Chinese authorities.
You will never, ever catch the Politburo admitting that something might be off-kilter.
If there are problems too apparent to sweep under the rug, they'll blame nefarious outside parties, foreign bad actors hell-bent on destroying value for their own gain. Earlier this year for instance, Chinese media (read: Beijing) branded George Soros a financial "crocodile" after the billionaire said he was betting against Asian currencies.
But let me give you a more recent example. The following is from a rambling missive the PBoC posted to its website on Wednesday (pardon the lengthy block quote, but you really need to read the whole thing to appreciate how funny it is; all emphasis mine):
On June 30th, 2016, the CFETS RMB exchange rate index closed at 95.02, losing 2.19 percent from the end of May; the RMB exchange rate indices referenced to the BIS basket and the SDR basket closed at 96.09 and 95.76 respectively, losing 2.39% and losing 0.47% from the end of May. In the context of post-Brexit global FX market turbulence, although all three RMB indices went through different extent of depreciation, RMB fluctuated in a much narrower band than other currencies, and remained generally stable against the currency basket. The market expectation has also been rather stable.

In the first half of 2016, the RMB exchange rate depreciated moderately while maintaining an overall stability. On June 30th, the CFETS RMB exchange rate index depreciated 5.86% from the end of 2015; the RMB exchange rate index referenced to the BIS basket and the SDR basket depreciated 5.53% and losing 3.12%. The market force was the main driver of the depreciation. On the one hand, Chinese corporations are still deleveraging with foreign debt, along with stronger will of overseas acquisition. On the other hand, there is still uncertainty regarding the Fed rate-hike. Because of lack of effective supervision, some offshore speculators short Asian currencies (including RMB) with leverage, which also brings depreciation pressure to RMB. Supply of FX is generally lower than the demand in the FX market. Base effect also contributed to the recent depreciation. The base period of CFETS RMB exchange rate index is the end of December 2014, with an index reading of 100. By that time, since the reform of RMB exchange rate formation regime in 2005, RMB central parity has appreciated 35.2% against USD, and RMB REER (real effective exchange rate) calculated by BIS has appreciated 47.6%. RMB exchange rate was at a high level, which might not represent the equilibrium level and thus rendered adjustments reasonable.
Let me translate that for you: the market doesn't think the yuan is going to collapse; the Fed is creating uncertainty; evil foreigners are shorting the currency; the yuan isn't actually falling that much and if it is, it's fine because it was too high to begin with.
Now first of all, the market does think the yuan is going to collapse, and that would be even more apparent in the offshore market than it already is were it not for PBoC intervention and whatever the hell it is they're doing that caused the relationship between CNH strength and the direction of flows to completely reverse itself (in an entirely counterintuitive way) to the tune of a few hundred billion since the devaluation: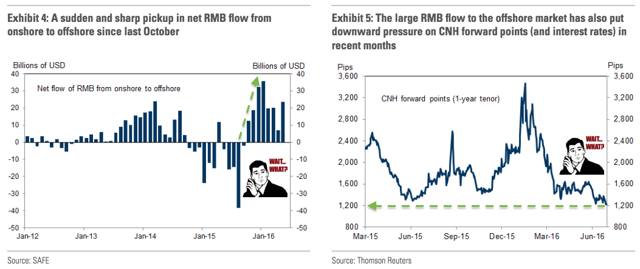 Click to enlarge
(Charts: Goldman; my additions)
Also, there's near daily evidence of official efforts to keep the currency supported. On Wednesday for instance, the CFETS said China will be imposing a 20% reserve requirement on foreign bank sales of FX forwards to clients starting in August.
This is the exact same thing they did to domestic banks last year in the wake of the devaluation. "The timing is quite interesting as both CNY and CNH are testing a new high of 6.70," Commerzbank's Zhou Hao wrote in a note following the announcement.
Well yes, it is "interesting" timing, isn't it?
Getting back to the PBoC's commentary, it's worth noting that the yuan (NYSEARCA:CYB) hasn't "depreciated moderately." It has depreciated materially. 6% isn't "moderate." SocGen agrees: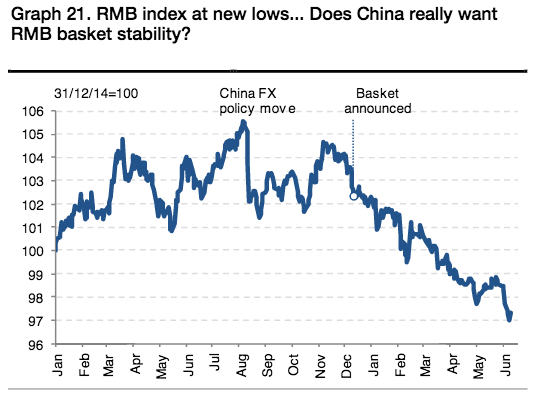 (Chart: SocGen)
But see, here's the thing: as the broad dollar strengthens, the PBoC has to devalue the yuan by even more. Recall what Deutsche Bank said earlier this year:
Taking the hypothetical case of a uniform drop of 5% in all world currencies against the dollar, this implies USD/CNY has to rise by around 15% to keep the yuan stable at current levels. This of course implies that the currency is indeed kept stable rather than actively weakened, with the markets likely to closely watch whether we breach the key 100 level.

Click to enlarge

(Charts: Deutsche Bank)
Well we breached it alright. Here's SocGen describing the same dynamic:
More importantly still, the panic capital outflows in China early this year have made it clear that global policy makers want to avoid extreme USD strength. The G20 meeting in Shanghai made that patently clear in February. Broad dollar strength tends to force USD/CNY higher as China wants to avoid a rise in the RMB index. USD/CNY gains tend to fan capital outflows, threatening to disrupt global financial conditions.

(Chart: SocGen)
So yeah, China really is a "basket case." Both figuratively and literally.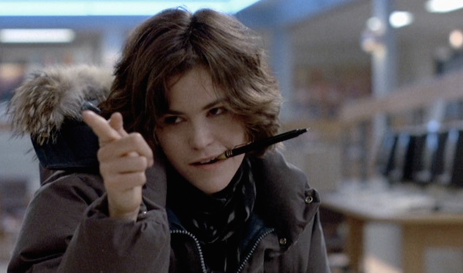 (Heisenberg American film reference challenge; name that movie)
As the broad dollar rises against the RMB basket - and the thing is, it probably will because even a Fed that's on hold is technically tightening if everyone else is easing - then CNY will have to fall that much further to keep the CFETS index "stable."
And we all know what happens (NYSEARCA:SPY) when CNY plunges...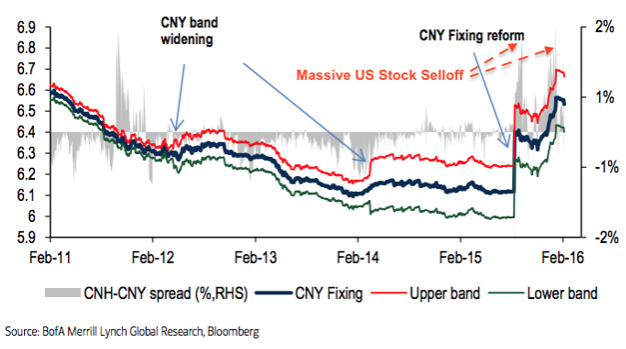 (Chart: BofAML; my additions)
By the way, remember when I talked about forced liquidity injections around interventions (see here)? This is what I meant: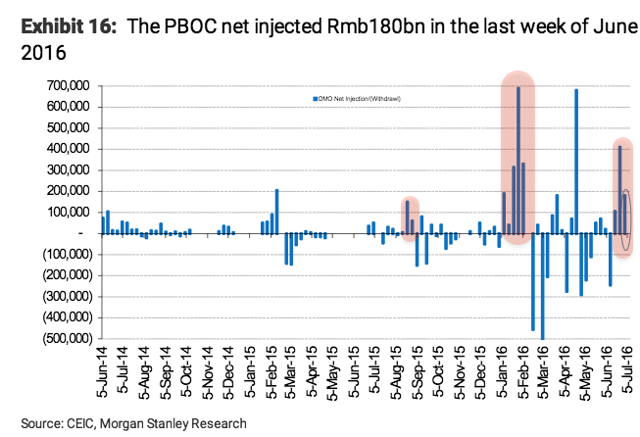 Click to enlarge
(Chart: Morgan Stanley; my emphasis)
Disclosure: I/we have no positions in any stocks mentioned, and no plans to initiate any positions within the next 72 hours.
I wrote this article myself, and it expresses my own opinions. I am not receiving compensation for it (other than from Seeking Alpha). I have no business relationship with any company whose stock is mentioned in this article.