As many readers are aware, we recently began a series entitled " Thirsty For REIT Yield", in which we opined:
REITs are both equities and yield vehicles and although investors enjoy the benefits of their combined hybrid structure, they are winning out today for their income attributes.
One of the problems faced by income investors in a low yield world, is balancing the need for yield with the desire for safety. Too often, we hear from investors that have decided to chase higher yielding REITs. Unfortunately, we also see the chase for yield ending like: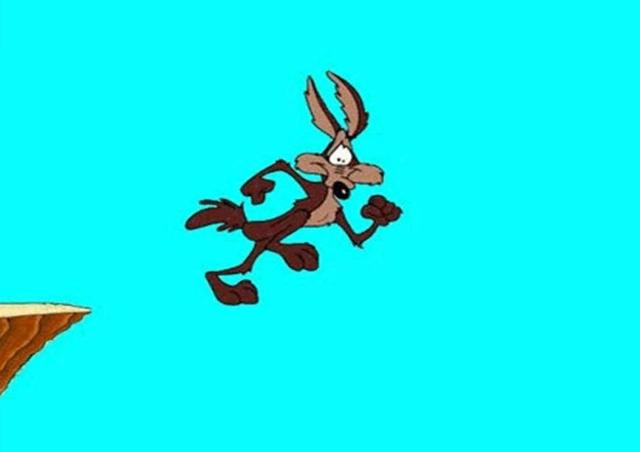 Click to enlarge
One of the ways that investors have decided to pick up much needed yield is in mortgage REITs, as they have some fat dividends and tasty yields (you remember deep fried bombs). We also recently wrote on why we don't like mortgage REITs (here), trying to caution investors that this is not a good time to reach for yield in the mortgage REIT sector. There is, however, a safer way to get yield from the mortgage REIT sector, namely, the preferred stock.
We look at the mortgage REIT universe and lump the REITs into three broad categories:
Agency mortgage REITs - those mortgage REITs which are singularly focused on buying agency mortgage securities.2
Residential mortgage REITs - those mortgage REITs that focus on mortgage securities secured by residential housing. These mortgages generally are "private label" or non-agency mortgages which may not conform to agency underwriting standards or amounts.
Commercial Real Estate mortgage REITs - those mortgage REITs that buy investments securitized by commercial mortgages or directly lend to commercial real-estate owners (balance sheet lenders).
There are differences between the three in terms of leverage (agency has higher leverage than the other two), prepayments (CRE has lower prepayments) and yield available (residential and CRE have higher yields which is why less leverage is required), resulting in investors being able to select their risk exposure.
There are also differences in liquidity of the underlying mortgages where agency mortgages are more liquid and the repo (financing) market is deeper. Liquidity in the other two assets is lower and dries up rather rapidly when markets lock up or come under stress.
As a result of the deeper market in agency securities, the more favorable repo/financing market and the technical demand for agency mortgages, we consider the agency mREIT sector to be the sector of choice should the market encounter a disruptive event.
Despite the Brexit and the issues confronting European banks (Deutsche's share price as well as all Italian banks, ouch), we do not believe we are on the cusp of a market failure, we just chose to examine the agency mREIT market in this installment and believe that the differentiated risks are not often expressed enough.
The following table lists the mREIT preferreds within the agency mREIT sector:

Click to enlarge
The bold and italicized are our choices for each of the issuers within the agency sector, balancing price, stripped yield and yield-to-call.
Below, we show graphically, the stripped price of the various preferreds as many investors are price sensitive (as we have stated multiple times, we are price agnostic and look at yield-to-call rather than price):
Below, the stripped yield of the listed preferreds: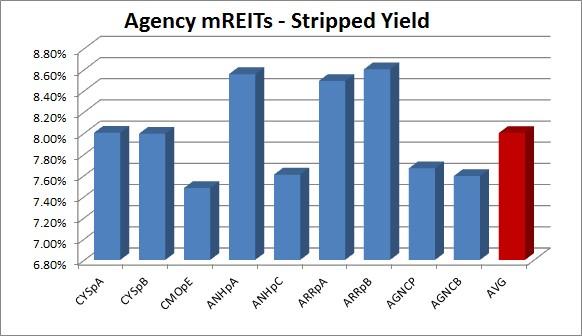 As we have done previously, we use the maintenance of book value as an indicator of management's ability to keep the value of the business stable. As the chart below shows American Capital Agency Corp (NASDAQ:AGNC) and Anworth (NYSE:ANH) have maintained the value of their businesses since the financial crisis: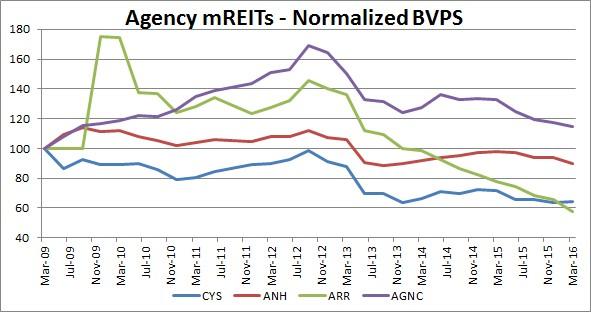 As the chart below shows, when looking at the market's faith in management's ability to maintain book value, AGNC and CYS Investments (NYSE:CYS) have been given the most value (per book value per share):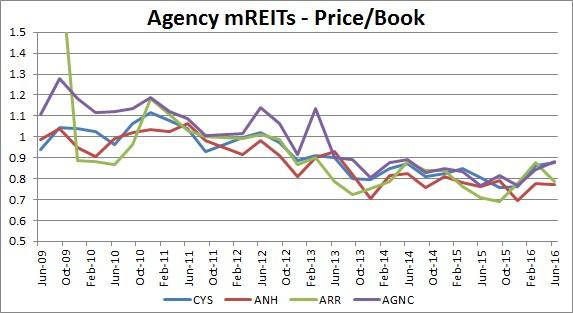 Finally, a look at the "cost of stability" of each preferred, in other words, how much yield do you give up in order to have a more stable - and known - cash flow stream. As the table below shows, the average cost of stability is 4.10%. From this standpoint, Anworth has the highest cost of stability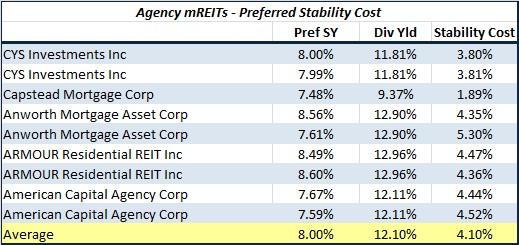 Bottom line: All of the above preferred stocks have been issued by viable mortgage REITs where their solvency and viability isn't in question. If we had to pick one, however, we would choose the American Capital Agency 7.75% AGNCB given the size, depth and skilled (newly internalized) management.
Author's Note: Brad Thomas is a Wall Street writer and that means that he is not always right with his predictions or recommendations. That also applies to his grammar. Please excuse any typos, and I assure you that he will do his best to correct any errors if they are overlooked.
Disclaimer: This article is intended to provide information to interested parties. As I have no knowledge of individual investor circumstances, goals, and/or portfolio concentration or diversification, readers are expected to complete their own due diligence before purchasing any stocks mentioned or recommended.
Disclosure: I am/we are long O, DLR, VTR, HTA , STAG, GPT, ROIC, HCN, OHI, LXP, KIM, WPC, DOC, EXR, MYCC, TCO, SKT, UBA, STWD, CONE, BRX, CLDT, HST, APTS, FPI, CORR, NHI, CCP, CTRE, WPG, KRG, SNR, LADR, PEB, BXMT, IRM, CIO.
I wrote this article myself, and it expresses my own opinions. I am not receiving compensation for it (other than from Seeking Alpha). I have no business relationship with any company whose stock is mentioned in this article.