Thor Industries (NYSE: THO) is a well-managed company firing on all cylinders, including their upcoming Jayco acquisition. However, things are going so well that I think investors should wait for some weakness to buy in.

Jayco Acquisition:
Thor just announced their acquisition of Jayco, another maker of RV's and trailers. These are the types of acquisitions I like to see, since it should basically bolt-on to their existing framework and management is staying on to help the transition. Thor is able to grab market share, fund it with cash on hand and debt that they expect to pay off within three years, and come out on the other side stronger. This should increase earnings and cash flows, but may lower margins somewhat. The details can be found here.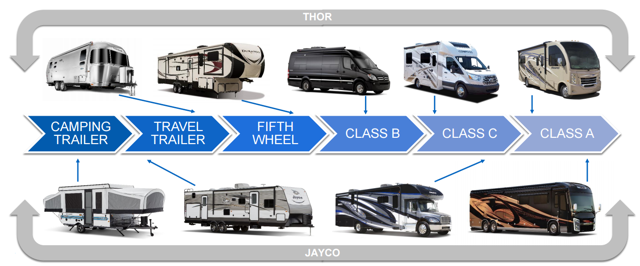 Click to enlarge
This acquisition should only improve the bull case for Thor. Is now the right time to buy?
Macro Trends:
Most any investor who has been paying attention has heard about the tailwinds expected in the healthcare industry in coming years. The baby boomers are retiring in record numbers, and as they age, they will need more healthcare. Well, that same generation entering retirement age is driving RV sales, as well. Thor is going to be able to capitalize on these tailwinds for years to come, but this is unlikely to change the fact that RV's are discretionary purchases, less likely to be made in a poor economic climate. Because of the effects that recessions have on companies like Thor, their capital allocation and moat becomes vitally important. I will discuss more on that later in the article. In addition to the baby boomer trend, a Yahoo! Finance article discussed that the fastest growing segment is actually in the 35-44 age group. The median age is now around 48. This is something to watch going forward, but I don't think that it overrides economic factors involved with RV purchases.
Low fuel costs drive RV sales, as well. RV's get anywhere from 6-12 mpg, on average, and in an environment of $4+ gallons of gas, this would detract from people's likelihood of making the purchase, regardless of the economic climate. However, at the moment, and for who knows how much longer, gas is cheap, and the RV industry is cashing in.
The Great Recession Performance:
Buying into a consumer discretionary company like this one, I think it's important to see how they did during the last economic downturn. Their EPS decreased from $2.41 in 2007 to bottoming out at $0.31 in 2009 before recovering to new highs all the way in 2013. Revenues followed a similar track.
The fact that they maintained their dividend and maintained profitability leads me to think that it could have been worse. RV's are the last thing on people's minds when they are losing their jobs, watching their nest eggs go down the drain, and facing an uncertain future. They also kept their debt load down, and so with their positive FCF through the whole recession didn't have to worry about a liquidity crunch. This shows strong and conservative capital management.
Valuation:
Thor Industries is trading at EV/EBIDTA of 7.71X and a ttm P/E ratio of 14.64. Their forward P/E is 12.86 based on ~13% EPS growth YOY. This gives them a PEG ratio of 1.68, which is healthy. Their FCF yield based off an EV of 3.12B is about 8%, which signals fair to under valuation as well. Let's take a look at FAST Graphs: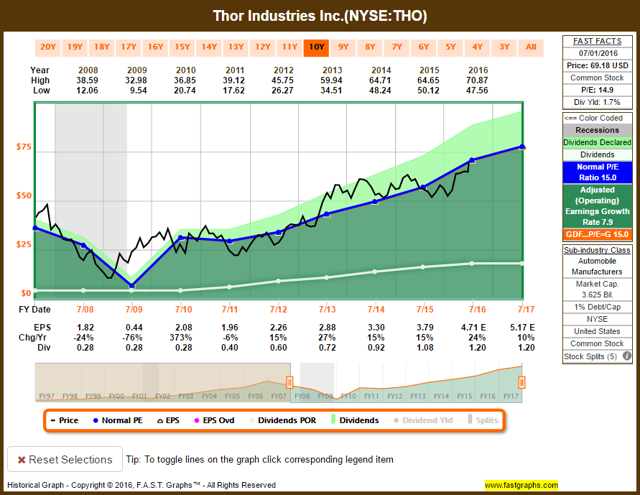 Click to enlarge
So here's my issue with the valuation. I definitely see Thor Industries as fairly, if not under, valued if they meet their earnings growth rate projections. They are a great company, and I would love to be invested in them, at the right time and for the right price. The problem is that I believe right now is the time to be looking at somewhat defensive sectors for values right now. Healthcare, and to a lesser extent consumer staples, are great places to place capital, if you find the right company (consumer staples less so due to overheated valuations). In an aging bull market, knowing that this company is going to get hammered in a recession, why not put it on your list to grab it on weakness? They are firing on all cylinders right now, with RV sales hitting all time highs: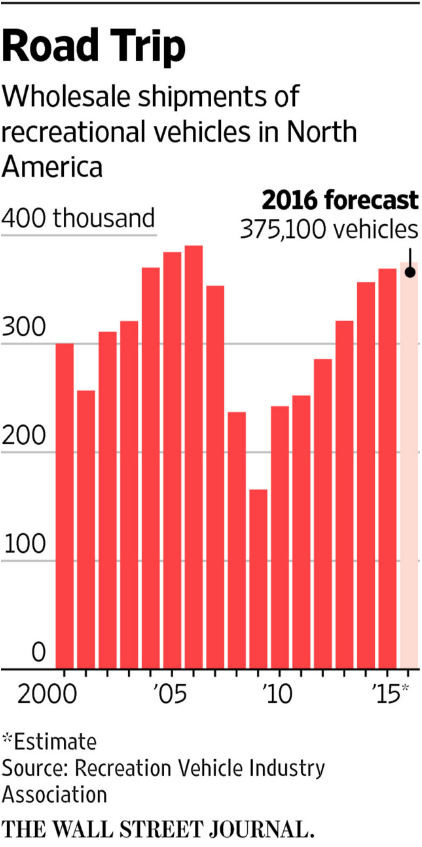 Source: Wall Street Journal
Notice the peak before the Great Recession, and how hard sales got hit across the industry. I don't think investors should wait to deploy capital until a recession all the time. In fact, I don't think it's going to work out too poorly if one were to open half a position now, and wait to fill it out once the next bear market rears its ugly head. However, there is a good reason that they look to be a bargain, and that is the risk involved with an economic downturn. It's not a matter of if sales decline, it's when. Margins and profitability follow, and Thor has proven through the Great Recession that they aren't likely to go under but they will get beat up with the rest of their industry during a brutal bear market. And it could take years to recover earnings to what they are today, and with their dividend yield of only 1.77%, falling back on the dividend (which will likely be maintained and not grown again) isn't going to make the losses feel much better. How much better is business going to get? That's a great question, and I don't have the answer to that. There are tons of articles every day discussing macroeconomic conditions, and there have been people predicting a recession any day now ever since the market started rebounding. However, one thing that we can control is when to invest. Right now, everything seems to be going right for Thor, and any one thing going wrong could send them lower, so I think it would be better to sit on the sidelines and put them on the watchlist for the next bear.
If you enjoyed this article, and would like to read more like it, please click the follow button next to my picture at the top of the page. Instead of Thor, consider these 2 ideas:
Flowers Foods: Finding Value in the Consumer Defensive Sector
Fears Over Cardinal Health Are Overblown
Financial statistics were sourced from FinViz, unless otherwise stated. This article is for informational purposes only and is not a formal recommendation to buy or sell any stock. Please do your own due diligence and/or consult a financial professional prior to making investment decisions.
Disclosure: I/we have no positions in any stocks mentioned, and no plans to initiate any positions within the next 72 hours.
I wrote this article myself, and it expresses my own opinions. I am not receiving compensation for it (other than from Seeking Alpha). I have no business relationship with any company whose stock is mentioned in this article.