Affiliated Managers Group (NYSE:AMG) is a global holding company with majority and minority equity investments in active equity and alternative investment managers ("affiliates") with superior long-term performance records. The company's hands-off multi-boutique structure, systematic and unique approach to building long-term relationships with hundreds of potential acquisition targets across the world, and geographically diversified high-fee generating assets under management ("AUM") strategically positions it as a well-oiled organic and inorganic growth machine that will benefit from the long-term uptrend in global asset markets.
However, I'd like to first address the elephant in the room.
Unfavorable asset flows for active managers
As Jack Bogle will remind you every waking hour, most investment teams do not perform better than their benchmarks even though they charge clients higher fees than index funds. This is especially true in the Large Cap space where markets are liquid and securities are covered by numerous professional sell-side and buy-side analysts across the world.
Some teams in less liquid markets, however, do outperform the indices over the longer term defined as five to ten years. These investment teams typically employ repeatable processes that have previously proven successful and stick to their knitting through short-term volatility. Their performances may falter from one year to another, but they create positive alpha over a full business cycle. Most boutique investment teams at AMG fit this bill, and they have the inflows to prove it.
The company's significant inflows (i.e. organic growth) is unmatched among active management firms. Defying unfavorable industry trends, the company has experienced net organic inflows of $110 billion in the last five years. As management noted during the last earnings call:
The highest quality boutiques are able to generate outperformance across return-oriented product categories. Institutions and their intermediaries are continuing to barbell their portfolios between passive exposures on the one side and active exposures on the other, where they were seeking their excess return. Because of their ability to outperform, high quality boutiques such as our Affiliates are very well positioned to gather these return seeking assets.
I agree.
Unique growth strategy
Since its first acquisition in 1994, the company has built a portfolio of nearly 40 active-return oriented boutique firms. The combination of organic and focused inorganic growth sets the firm apart from its many competitors that primarily focus on organic growth and occasionally dabble in "sexy" M&A.
When used with care, M&A is a productive tool; but it can also cameo as a weapon of mass self-destruction when used for growing top-line at all costs. It is generally wise to steer clear of firms that employ a roll-up strategy, especially if the serial-acquirer is consistently paying a higher multiple for its targets than the market multiple placed on its own earnings.
Diverse asset base
The company's diverse set of affiliates protects the holding company investors from any significant affiliate-specific investment performance and operational risks. For instance, when one of AMG's affiliates, Third Avenue Management, made waves in the industry by blocking investors from withdrawing their money from its junk bond fund in December 2015, the holding company was able to weather the turbulence caused by this isolated incidence. Although the affiliate's remaining products experienced elevated outflows due to collateral damage to the affiliate's brand, the rest of AMG's affiliates remained unscathed. At any other investment management firm, such an incidence could have caused significant firmwide outflows at best, and bankruptcy at worst.
Most other players in the active management industry do not provide investors with this protection. Just ask Waddell & Reed (NYSE:WDR) investors, who suffered a ~80% decline in shares, driven by massive outflows following a period of underperformance in its flagship products. Other casualties of this kind include Artisan Partners (NYSE:APAM), Virtus Investment Partners (NASDAQ:VRTS), Calamos Asset Management (NASDAQ:CLMS), Pzena Investment Management (NYSE:PZN), and AllianceBernstein (NYSE:AB).
Focus
Although its set of boutiques are diversified from an investment strategy and geographical perspective (more on this later), the company is primarily focused on two asset classes: equities and alternatives. Note in the picture below (source) that fixed income affiliates account for ~3% of the company's estimated annual EBITDA.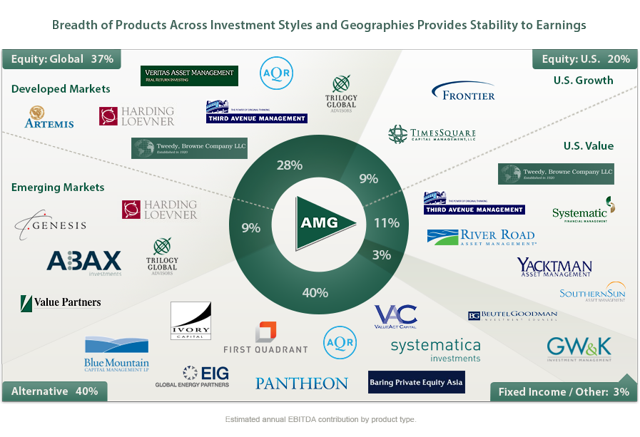 Click to enlarge
It is important to also note that alternative products comprise 40%, and an increasing portion, of the estimated annual EBITDA contribution to the holding company. This is unmatched among the industry's major players, and is very important from a valuation perspective for two reasons: (1) alternative products generally command higher fee rates due to their perceived favorable risk-adjusted potential returns, and (2) the flowmageddon (i.e. clients moving assets from active to passive management) has not affected the alternatives space, yet. It's debatable that it ever will.
Experienced management
The company is led by Sean Healey who is an M&A veteran from Goldman with a two-decade tenure at AMG. Sean Healey's right-hand person, Nathaniel Dalton, also has an M&A/law background and a long tenure at the company. The duo is the perfect match to run an acquisitive company.
Historically low valuation
The company is currently trading at a forward PE ratio of 9.8x, a trailing-twelve-month PE ratio of 14.5x, and a price-to-book ratio of 2.4x, all of which are near the bottom ends of their respective ranges over the last two decades (source). This is especially attractive when global equity markets, which greatly impact the company's AUM through market impact, are trading near record high levels even in the face of recent turbulence caused by political events in Europe.
#Brexit
In the days following United Kingdom's vote to pull a British Exit, or the opposite of an Irish Goodbye, out of the European Union, the company's stock price has dropped ~20%, pushing the already low valuation multiples into the Screaming Buy territory. Citigroup analyst Bill Katz promptly issued a note to investors indicating that Brexit would negatively impact Invesco (NYSE:IVZ) and AMG "with sizeable UK platforms," although he added that "recent underperformance in both names should help soften the fall slightly."
I disagree with this assessment for the following reasons.
The potential impact from Brexit on an asset management firm could be three-fold:
1. Translation impact: If a firm collects a portion of its fees in GBP, there will be some translation impact when these revenues are converted into USD for reporting purposes, as GBP has declined by ~13% in value against USD since the vote. This impact, however, is negligible as AMG noted in its latest annual SEC filing, when compared to the company's $2.5B annual revenue and $7.0B market capitalization:
To illustrate the effect of possible changes in currency exchange rates, as of December 31, 2015, a 1% change in the Canadian dollar and pound sterling to U.S. dollar exchange rates would have resulted in an approximate $7.0 million change to stockholders' equity and a $1.1 million change to income before income taxes.
2. Lower AUM: As previously noted, changes in global asset markets greatly impact asset management firms' AUM (i.e. revenue-generating asset base) through market impact. In other words, if a manager has $100 billion in AUM, and the markets decline by 10%, the firm's revenues, all else equal, would drop by 10% through no fault of its own (don't feel too bad for them as they benefit greatly when the opposite happens). As indicated before, global equity markets (which is the general asset market that most affects AMG's AUM) are still trading at record high levels. Furthermore, the average AUM of AMG most likely increased substantially in 2Q16 vs. 1Q16 as estimated using the global equity market levels throughout the first six months in 2016, assuming relatively stable flow trends pre and post-Brexit.
3. Elevated outflows: At times of great volatility and uncertainty, some investors (primarily retail investors) panic and move money into asset classes perceived to be less risky than equities. Although this may be the case for Invesco, for which retail client comprised 66% of AUM as of March 31, 2016, I do not expect it to be the case for AMG, for which institutional clients comprised 58% of AUM. It is not appropriate to paint the two firms with the same brush.
Furthermore, Invesco management has come out strong against Bill Katz's negative note shortly after the Brexit vote and issued a press release, in which it pointed out (1) net flow activity [in the days following the vote] has been consistent with what [the company has] seen in other volatile markets, but not exceptional, (2) the largest impact to asset managers will be felt in NAV/FX declines from markets, and (3) "reflecting confidence in the fundamentals of its business over the long term, the company intends to take advantage of the current price of Invesco shares by executing an accelerated share repurchase program". This press release was in line with my expectations.
Bottom Line: AMG's unique business model implemented by its experienced management combined with a historically low valuation sets it up for strong long-term returns as the markets recover from short-term volatility.
Please note that this article presents a brief overview of my analysis, which in full, extends deeper into regulatory filings, earnings calls, company presentations, and where appropriate and feasible, discussions with customers, sell-side analysts, and management. I intend to soon start a Seeking Alpha PRO subscription service through which I will share my full analysis on companies.
Disclosure: I am/we are long AMG.
I wrote this article myself, and it expresses my own opinions. I am not receiving compensation for it (other than from Seeking Alpha). I have no business relationship with any company whose stock is mentioned in this article.