Even more so than the oil industry, the natural gas industry has undergone a brutal shakeout but Gulfport Energy (NASDAQ:GPOR) is a survivor. Prices have been off their peaks for longer and prime gas season winters have been warm, leaving plenty of gas in storage. Gas is so plentiful that in April 2016, the United States' imbalance was representative: 73.7 billion cubic feet per day of production overmatched the 70.4 billion cubic feet per day of demand continuing the historically-high storage levels. More recently a number of events, including reduced drilling, have cut production to as low as 70.7 billion cubic feet per day at the end of June. There is still a big storage surplus relative to last year of 600 billion cubic feet although it is smaller than the surplus of nearly 1000 billion cubic feet three months ago.
A few strong companies have made it through this sieve. By keeping its costs under control and its balance sheet strong, Gulfport Energy is well-positioned not only for the next upturn, but even to continue to make money at low natural gas prices. Its operations are primarily in the Utica shale, a reserve in Ohio, Pennsylvania, and West Virginia that lies three miles beneath the surface, much of it below the large, prolific Marcellus gas play.
In this report, heat and volume units are used interchangeably: a thousand cubic feet of dry natural gas has a heat value of one million British Thermal Units. Thus, $2.50 per thousand cubic feet is the equivalent to $2.50 per million British Thermal Units. The basis for the interchange is the frequent pipeline shipping requirement that a standard cubic foot of natural gas contains one thousand British Thermal Units of heat.
In the field, natural gas is often co-produced with higher-heat-content liquids (ethane, propane, even butane) that are then frequently extracted to yield dry gas with a pipeline-standard thousand British Thermal Units per cubic foot.
U.S. Natural Gas Supply, Storage, and Prices
Low Utica natural gas prices are Gulfport's biggest revenue exposure. The July 5, 2016 close for August futures for natural gas at Henry Hub, Louisiana was $2.76 per million British Thermal Units. The current maximum futures price is $3.34 for the January 2017 contract.
The Potential Gas Committee estimates that as of December 31, 2014, the country's technically recoverable natural gas reserves were 2.5 quadrillion cubic feet. This was the highest resource evaluation in the 50-year history of the group and represents a 150% increase from the committee's assessed level twenty-five years ago of 1.0 quadrillion cubic feet. The more conservative measure of proved gas reserve supply is still enormous: 389 trillion cubic feet. U.S. consumption has increased to about 28 trillion cubic feet/year, so the proved level alone is a 14-year supply and the technically recoverable level is a 90-year supply.
When the Marcellus, Utica, and Rogersville shales are put together, they contain 35% of the total United States natural gas resource. The Energy Information Administration estimates that the Marcellus (Pennsylvania, West Virginia) holds 141 trillion cubic feet of technically recoverable gas and the Utica (Ohio, Pennsylvania, West Virginia) holds 39 trillion cubic feet. Some estimates of the Utica run up to twenty times higher.
So the Marcellus shale formation is the whale in the bathtub. Every natural gas producer is evaluated by how well it navigates either its direct Marcellus competitors or the impact Marcellus production has on its other gas production.
In light of these reserves, it is no surprise the Appalachian region--Marcellus, Utica, and Rogersville plays--has shown enormous production growth, from 2 billion cubic feet per day to 22 billion cubic feet per day in the last several years. Current Utica natural gas production is 3.6 billion cubic feet per day.
Outsized 24-hour initial production rates are a norm in the Utica: Consol Energy tested a 62 million cubic foot/day Utica well in Greene County, Pennsylvania; EQT had a Scotts Run Utica well in Pennsylvania that spiked to an astonishing 110 million cubic feet per day before being choked back to its operations level of 20-30 million cubic feet per day.
More-productive wells and lower prices have led to a reduction in the Utica rig count from 47 at the beginning of last year to less than 12 this year.
The 500 million cubic foot/day decline projected for U.S. gas production between June and July by the Energy Information Administration can be readily reversed, and represents less than one percent of current U.S. production. Companies additionally have thousands of locations in inventory, available for drilling if prices rise. Moreover, if oil production increases, associated gas production will also increase.
Thus, it is no surprise that per the Energy Information Administration's most recent Natural Gas Weekly Update, natural gas in underground storage at the end of June was 3.1 trillion cubic feet, 23% higher than a year ago.
The charts below show the price history for natural gas at Henry Hub.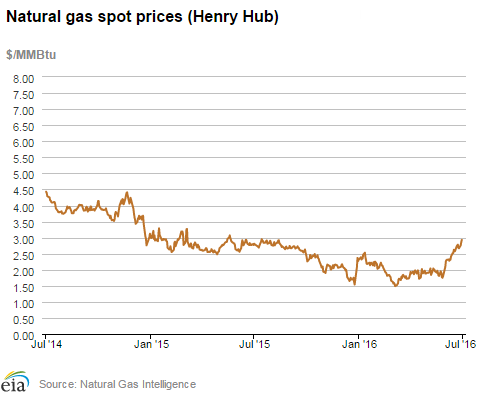 Gas Demand Growth
Natural gas is lower-carbon raw energy than coal and so has benefited from the regulatory push toward low-carbon sources. Gas-fired electric generation has been routinely surpassing coal-fired since last year; however, coal prices still act as a sometime cap on natural gas prices. In Ohio, six new gas-fired power plants were proposed or under construction, due to the Utica shale. According to Grimes, natural gas demand for power plants is expected to increase by 3.1 billion cubic feet per day within the next year or two.
The big increase in natural gas supply has led in better economics for petrochemical plants and many have expanded or announced plans to expand. At the end of last year, chemical companies had announced 223 shale-related projects with a cumulative investment of $137 billion, according to the American Chemistry Council.
Overall demand for US gas could increase by as much as 22 billion cubic feet per day, or 28%, between now and 2020.
This year, natural gas demand is up 3.8 billion cubic feet per day over last year or about 6 percent. Again, natural gas prices are highly dependent on the weather: more gas is used when summers are very hot (to make electricity) and obviously, when winters are very cold.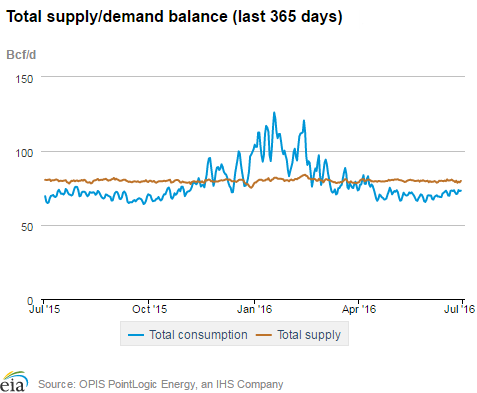 Export: Liquefied Natural Gas and Pipeline to Mexico
The first cargo of liquefied natural gas left the Cheniere facility in Louisiana at the beginning of the year. Current liquefied natural gas exports are 0.5 billion cubic feet per day. Several more plants have been approved and under construction. With online dates from late 2017 to 2020, the new LNG export plants could add up to 7-8 billion cubic feet/day of demand for United States natural gas.
Of course, liquefied natural gas from the United States doesn't enter a vacuum: it competes with similar projects around the world, particularly in the Qatar and Australia. As a consequence liquefied natural gas, whose price was formerly tied to the price of oil, is now untethered and competes at a lower price. Nonetheless, as countries such as India and China look to transform the majority of their primary energy source from coal to inexpensive but less-polluting sources, natural gas use will continue to surge.
Another big source for demand is export to Mexico, currently 3.5 billion cubic feet per day. Mexican officials would like to expand this to 9 billion cubic feet per day by 2019.
Basis Differentials Due to Limited Takeaway Capacity
Another complication for even the savviest operators in the Utica and Marcellus fields is the negative basis differential relative to standard Henry Hub, Louisiana pricing. For example, while the Henry Hub price may be $2.75 per million British Thermal Units, the field price for Utica gas could be $1.20 to $1.50 less. The reason for the difference is that pipeline takeaway capacity has not grown as fast as production, so the rent goes to the pipeline rather than the producer. This is hardly a surprise, given the above-mentioned growth in regional production from 2 billion cubic feet per day to 22 billion cubic feet per day in just a few short years.
It is also the reason that companies such as EQT, Rice Energy, and Cabot Oil and Gas have done well: they have their own pipeline divisions. Although Gulfport does not, in 2015 it is phasing in the acquisition of 287 billion cubic feet of firm (non-interruptible) transportation capacity. It also has firm transportation agreements with Rockies Express Pipeline (equivalent of 50 million cubic feet per day) and Texas Gas Transmission (equivalent of 54 million cubic feet per day.) It has total firm transportation commitments for 900 million cubic feet per day, more than sufficient to cover its existing production.
In addition, many billions of cubic feet per day of new Appalachian takeaway capacity is expected to be online by 2018.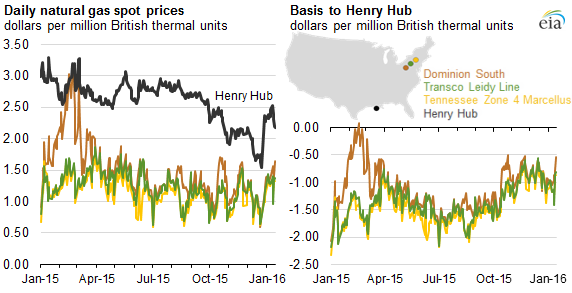 Gulfport's Locations and Reserves
Gulfport's primary location is the eastern Ohio Utica Shale where it has 231,000 acres. It has with much smaller volumes in the Louisiana Gulf Coast West Cote Blanche Bay and Hackberry fields. It also has small interests in the Colorado Niobrara formation, the North Dakota Bakken, the Alberta oil sands, and the Phu Horn gas field in Thailand. The company is headquartered in Oklahoma City, Oklahoma.
As of December 31, 2015, Gulfport had 1.7 trillion cubic feet equivalent of proved reserves. It also had proved undeveloped reserves of 338,000 barrels of oil, 907 billion cubic feet of natural gas, and 4.8 million barrels of natural gas liquids. It is often the second-largest Utica producer, after Chesapeake.
Gulfport's Operations and Demand
The company's first quarter production was 692 million cubic feet per day equivalent. Of this 85% was natural gas, 9% natural gas liquids, and 6% oil. Its production guidance for the second quarter is 664-692 million cubic feet per day equivalent. All but about 20 million cubic feet per day equivalent are produced from the Utica.
The company reports it reduced lease operating expense 41% in the first quarter of 2016 relative to the first quarter of 2015 from $0.44/thousand cubic feet equivalent to $0.26/thousand cubic feet equivalent. It also reduced expected well costs by $300,000 per well and reduced its midstream gathering and processing cost by 10% to $0.60/thousand cubic feet equivalent from $0.66/thousand cubic feet equivalent.
Hedging
Gulfport's hedging helped its results enormously in the first quarter of 2016. Realized natural gas price before derivatives but including transportation was $1.39 per thousand cubic feet, $0.70 less than the average futures settle gas price. Yet due to its hedging, the company's realized gas price after derivatives was $2.46 per thousand cubic feet, a 77% increase. Although the volumes are far smaller, the company also realized uplift from hedging its crude oil but lost slightly on its natural gas liquids hedges.
Gulfport's first quarter report notes the company's 2016 swaps cover 518 million cubic feet per day at an average price of $3.20 per thousand cubic feet. Its 2017 swaps cover 355 million cubic feet per day at an average price or $3.08 per thousand cubic feet.
Market Position, Competition, and Margins
In an overall U.S. natural gas supply of 70 billion cubic feet per day, Gulfport's share is about one percent.
Gulfport's list of former Utica competitors includes companies that are now either bankrupt (Halcón, Magnum Hunter) or have pulled back entirely (Chesapeake and Rex). Nonetheless, many competitors in the Utica continue: Range Resources, Ascent Resources, LLC (a spinoff of Aubrey McClendon's American Energy Partners), Rice Energy, Chevron, Antero Resources, XTO/Exxon, and Hess-Consol.
Break-even gas prices in the Appalachian region average around $2.50 per thousand cubic feet. According to Neal Dingmann, managing director of equity research for SunTrust Robinson Humphrey, operators like Rice and Gulfport have well breakeven costs of around $1.75 per thousand cubic feet.
In general, Utica wells are deeper than Marcellus wells and so are much more expensive to complete.
Strategy and Capital Expenditures
The company's first quarter 2016 capital expenditure budget was $94.2 million: $74.5 million for drilling and completion and $19.7 million for leasehold capital expenditures.
Stock and Financial Highlights
Gulfport's enterprise value is $4.3 billion and its market capitalization is $3.8 billion. The company's July 5, 2016 stock closing price was $30.43 per share and trailing twelve months' earnings per share of -$14.05. Gulfport's 52-week price range is $20.21-$39.92 per share so its July 5 closing price is 87% of its one-year high. The company does not pay a dividend.
In the first quarter of 2016, Gulfport took several charges and impairments: 1) a non-cash derivative loss of $7.7 million, 2) an oil and gas property impairment loss of $219.0 million, 3) an impairment loss for the company's interest in the Grizzly Oil Sands of $23.1 million, 4) a loss of $7.7 million due to the company's equity interests and 5) and adjusted taxable benefit of $0.2 million.
Without these losses and one-time impairments, Gulfport's first quarter revenue was $164.6 million; its adjusted earnings before interest, taxes, depreciation, and amortization for the first quarter was $96.7 million; and its first quarter adjusted net income was $15.1 million. The company's 2016 earnings per share is projected positive at $0.33 per share. This results in a steep forward price-to-earnings ratio of 95.
Per its financial statements, Gulfport's liability-to-asset ratio is considerably lower than its peers at 37%. Its ratio of current assets divided by current liabilities is 2.3. The short position in the company's stock is 6.1% of shares outstanding. It does not have a measurable percentage of shares held by 5% owners and insiders.
Gulfport's one-year target price is $35.11. Energy analysis and banking company Tudor Pickering is among those who rate it a buy. Overall, the company's mean analyst rating is 2.1--basically a "buy"--from the thirty analysts who follow it. Six analysts rate Gulfport a "strong buy," 16 analysts rate it a "buy" and eight analysts rate it a "hold." Its most recent downgrade was from KLR Group, from "buy" to "accumulate."
At the end of March 2016, the company had $454 million in cash and a net of $472 million in its revolving credit facility, derived as $700 million total with $228 million of outstanding letters of credit.
Less than one percent of Gulfport's shares are held by insiders, with the largest number, 226,000 shares, held by Chief Executive Officer Michael G. Moore . The top five institutional holders are Viking Global (9.1%), Vanguard (7.0%), Putnam (6.8%), Goldman Sachs (4.7%), and BlackRock Fund Advisors (3.5%).
Potential investors should consider their natural gas price expectations with an eye on current high storage levels and Gulfport's continued ability to hedge as factors most likely to affect Gulfport's stock price.
Disclosure: I am/we are long GPOR.
I wrote this article myself, and it expresses my own opinions. I am not receiving compensation for it (other than from Seeking Alpha). I have no business relationship with any company whose stock is mentioned in this article.