The closed-end fund market has seen discounts close materially in the last six months as the lower-for-longer thesis gains traction. In fact, the chances of a Fed Funds rate cut now outweigh a rate increase over the next six months. There remains pockets of opportunity in the closed-end fund market that investors should consider as an alternative to dividend investing, which we have made no secret we think is forming a bubble.
Via Bloomberg:

As we noted, the flock to safety stocks (low-beta) appears to be garnering substantial assets, especially since the start of the year. This has pushed up the assets of many of these ETFs and thus, the underlying stocks, to what we think are outrageous prices. The risk of safety stocks is that investors are all rushing in, paradoxically creating higher risks.
Take Clorox (NYSE:CLX) for example. The stock is seemingly hitting a new 52-week high every day. The shares now trade at a ridiculous 26x forward earnings with a PEG up near 4 (if you really expect them to grow earnings by 6.5% annually). In the last year, the shares have risen nearly 30% for a company that grew earnings around 3.3% in 2015, -1.6% in 2014, 5.0% in 2013, and 1.7% in 2012. The tobacco stocks (Altria Group (NYSE:MO) and Phillip Morris International (NYSE:PM)) are also trading at sky-high valuations with forward P/Es in the 20s. All in an effort to get the 2.5%-4% dividend yields.
The overvaluation is not a relegated to the consumer staples space. Duke Energy (NYSE:DUK), a favorite of dividend investors, now trades at a ttm P/E of 22.7x, for a company growing earnings at a mere 4.5% resulting in a PEG ratio of nearly 5. Exelon Corporation (NYSE:EXC), trades at a PEG of 4.40 and Southern Company (NYSE:SO) trades at a PEG of 5.90. Again, for 3%-4% yielding stocks.
Mortgage REITs are another area that is seemingly on fire and likely to cause investors pain when the trade reverses. Realty Income (NYSE:O), a highly-levered triple-net lease REIT trading at a 23.4x forward earnings, has risen by 55% in the last year. This is a business that is highly susceptible to the flattening of the yield curve and yet investors are almost exclusively focused on one fundamental figure, dividend yield.
Taxable Bond Closed-End Funds
In no other space are closed-end funds more valuable than in the bond world, especially non-sovereign credits. The dealer market and the daily flows into and out-of open-end bond mutual funds is a significant handicap for open-end fund portfolio managers. Daily redemptions mean those managers must have cash and other highly-liquid bonds in order to anticipate flows out of the fund.
The permanency of capital within a closed-end fund wrapper allows the portfolio manager the advantage to never have to sell a bond if they do not want. The bond markets lack of liquidity can mean open-end bond funds must sell credits at fire sale prices in order to meet redemption requests. The Third Avenue Focused Credit Fund (MUTF:TFCVX) ran into this issue last year when a run on the fund led Third Avenue to impose limits on redemptions.
In addition, the ability to add leverage can give the closed-end portfolio manager much more flexibility to add new positions when these "fire sale" opportunities from the open-end world are present. Today's ultra-low interest rates also mean CEFs can borrow at essentially nothing and invest in more bonds generating a 3% or more yield. That spread is a large part of why many of these funds can offer distribution yields above 6%.
Best Opportunities Today
One of the most interesting plays we like today is the Stone Harbor Emerging Markets Total Income (NYSE:EDI). The current discount is 11.5% which is below the three-year average- always a good entry point. The yield is 13.63% with approximately 30% effective leverage to the portfolio. After three terrible years of performance, the fund has staged a remarkable turnaround rising 26% YTD. It is a volatile CEF with standard deviation on price of 19% and 13% on NAV. More importantly, we like the trends in UNII, earnings coverage, and earnings trend. It is the only emerging markets income fund that is showing both of those trends rising, and has the kicker of 139% earnings coverage. To us, there is a strong possibility of a distribution increase near-term.
The emerging markets space has been crushed and in the midst of a turnaround. It is still relatively early but we think it is one of the few value areas of the market. Adding some exposure to the asset class is likely to gain steam as investors seek yield. The fixed income side of emerging markets has nearly double the return the equity side with one-third the volatility.
The second fund we like is the Nuveen Credit Strategies Income Fund (NYSE:JQC). The fund is a rarity in that it still trades at a double-digit discount to NAV (-10.7%) which is close to its three-year average. Most bond CEF funds today trade well under there three-year average given the spread tightening that has taken place in the last six months. The fund has a distribution rate of 7.7% with effective leverage of 36.3%. The fund is also experiencing both a higher UNII trend as well as earnings trend. Coverage is close to 100%.
The fund is also a rarity in that it is at a double-discount, meaning the fund trades at a discount to NAV and the underlying bonds within the portfolio also trade at a discount to par value. Not all sponsors release this information though one could calculate it manually when a semi-annual or annual report is released detailing market value and pricing data. The fund does hold higher-quality, high-yield bonds with most of the BB and B flavor.
Our last pick is the Blackrock Multi-Sector Income Fund (NYSE:BIT) which distributes at an 8.5% rate and trades at a 10.5% discount to NAV. The fund does have leverage of 41% which is something that bears some (minimal) watching. The fund is a mix of corporate bonds (29.4% of total assets), mortgage-backed securities (24.8%), asset-backed (20.8%), and preferred shares (13.8%). Credit quality spans the entire spectrum giving investors wider exposure.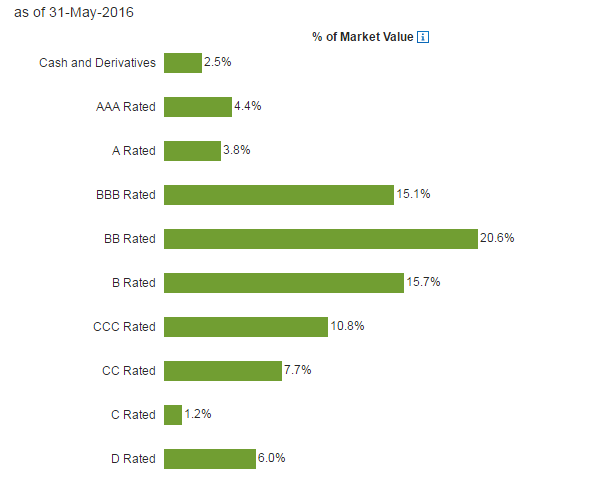 (Source: Blackrock)
Risks
The table below shows the risk statistics of the three CEFs we discuss above along with comparisons to the dividend-paying 'safety' stocks. If you had an equal-weighted portfolio of the stocks we mentioned above and the three CEF picks, there would be more volatility from the supposedly safe dividend paying stocks. The three-year numbers shows where the risks are derived. While the maximum drawdown in EDI is the greatest among the group, annualized volatility is roughly the same as Realty Income, but with more than three-times the yield- and we would argue a safer more sustainable yield.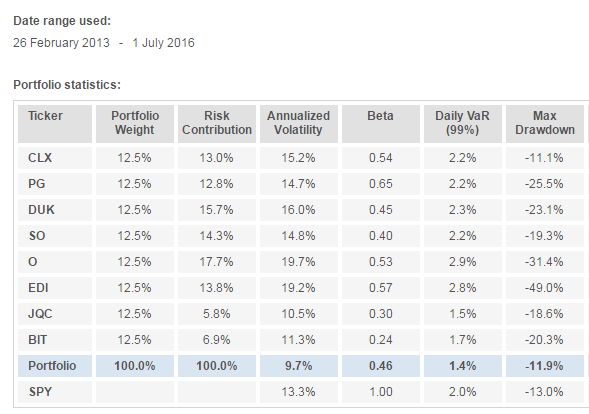 (Source: InvestSpy)
The yield of the three CEFs, using an equal-weighting, is also roughly three times that of the "safe" dividend stocks. This is not to say that one should own only closed-end funds. These taxable bond funds can be used as a good complement to dividend-paying stocks (hopefully at cheaper valuations) all in an effort to diversify a portfolio and generate "acceptable" yield levels in a low-yield world. The table below shows the correlations of the individual securities to each other and to the S&P 500.

Click to enlarge
(Source: InvestSpy)
The three closed-end funds have very low correlations to the dividend paying equities as well as to the S&P 500. The yields are much higher providing the opportunity to generate stronger income during retirement while de-risking the overall portfolio. We find many investors pick individual equity names (common, preferred shares, REITs, etc.) but either ignore or 'outsource' their fixed income strategy to ETFs and open-end funds. Our contention is that investors, especially retirees, should be doing the opposite.
Conclusion
The above three funds are a short list of a few opportunities that we see in the current space. For a longer list and our model portfolios in the closed-end and business development company space, check out our marketplace service. Our taxable model portfolio is up over 8% YTD generating a yield of 9.5% with a steady monthly payout. The muni CEF portfolio is up nearly 14% YTD generating a tax-free yield of 5.1%.
While discounts have closed significantly in many areas of the closed-end fund market, there are still pockets of opportunity. We think the space is much more suited for investors seeking yield and "a monthly paycheck" than dividend paying stocks. The low correlations to the S&P while buying at a discount to NAV is much more appealing to us compared to extremely overvalued dividend-paying "safety stocks."
Disclosure: I am/we are long JQC, BIT.
I wrote this article myself, and it expresses my own opinions. I am not receiving compensation for it (other than from Seeking Alpha). I have no business relationship with any company whose stock is mentioned in this article.
Additional disclosure: This is should not be considered a recommendation for purchase. Please perform your own due diligence. The specific securities identified and described does not represent all of the securities purchased, sold, or recommended, and the reader should not assume that investment in the security identified and discussed was or will be profitable.