Fifty dollar crude oil is tough for some, but not for all. While many levered shale plays continue to buckle under the weight of their debt, some others are able to coast by and even make some headway.
Pacific Coast Oil Trust (NYSE:ROYT) is making progress, financially at least. In May, the trust made significant strides in paying off its remaining debt and in getting back on track to paying enough in distributions to continue on (according to its own bylaws).
Back when crude oil was just $25-$30 per barrel, this little California-based trust was losing money and running deficits on an emergency credit line. At one point that debt ran to about $2 million.
Pacific Coast Oil Trust operates in developed oil fields in Santa Barbara County and Los Angeles County. The trust realizes its production at Buena Vista crude and Midway-Sunset crude. These both trade at a big discount to Brent Crude. Judging from previous months, the trust needs roughly $38-$40 WTI to breakeven. Fortunately, in May prices have been a little above that. Have a look.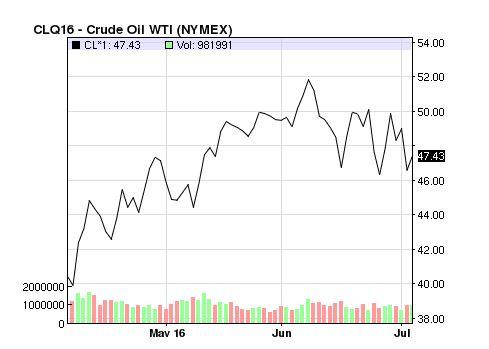 Courtesy of NASDAQ.
In May the trust averaged about $1 per barrel (from BV and MWS), and generated $640,000 in excess cash. In doing so, the debt was reduced to $1.1 million. The trust needs to pay off that $1.1 million before it can make any distributions to unit-holders. Also, the trust must pay at least $2 million in distributions.
Taking another look at the price chart, WTI was at roughly the same price level in June as it was in May, maybe a bit higher. Therefore, I expect the trust to declare another $600,000 or so in excess cash for June. That should bring the debt down to $500,000. At this rate, investors should start getting cash distributions again by October (which will be for August production).
The above scenario, of course, assumes $50 Brent crude will stay around for the next few months. While it's impossible to know which direction crude oil will go, the $50 range does appear to be where crude oil wants to stay. If that's the case, investors will start getting payouts again, and the trust will have fulfilled its minimal obligations by December of this year or January of next year.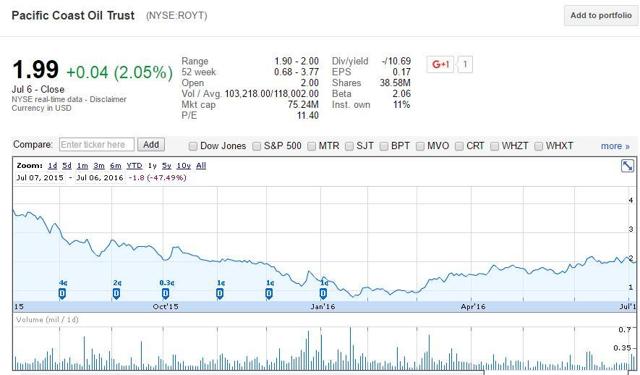 Click to enlarge
Courtesy of Google Finance.
Is the trust a buy right here? Well, it's certainly looking more attractive. Dissolution appears less and less likely, but I wouldn't take that possibility off the table just yet. Still, I am increasingly confident that this trust will see itself through this downturn.
At just $2 per share, the trust has a lot of upside if oil prices go higher. However, the bulk of the trust's waterflood operations will only last another 10-12 years. While those acres can transition over to steamflood recovery, the trust will only get a smaller royalty from that, and the majority of revenue will go to the parent driller. I continue to favor the longer-lived resource bas of Permian Basin Trust (NYSE:PBT), although I like Pacific Coast Oil Trust as well.
If you're interested in Pacific Coast Oil Trust, feel free to follow me on Seeking Alpha. I am personally long the stock and will continue to provide update articles when they are material and relevant.
Disclosure: I am/we are long ROYT.
I wrote this article myself, and it expresses my own opinions. I am not receiving compensation for it (other than from Seeking Alpha). I have no business relationship with any company whose stock is mentioned in this article.
Editor's Note: This article covers one or more stocks trading at less than $1 per share and/or with less than a $100 million market cap. Please be aware of the risks associated with these stocks.