This article discusses the volatility and yields for two leading high-yield bond exchange-traded funds, the iShares iBoxx High Yield Corporate Bond ETF (NYSEARCA:HYG) and the SPDR Barclays Capital High Yield Bond ETF (NYSEARCA:JNK), compared to "Baby Bonds" and common stocks offered by business development companies ("BDCs").
Some of my portfolio investment objectives that I will be focusing on in this article are:
Dependable and consistent yields
Short-term ability to sell without worrying about upcoming price volatility
Long-term capital preservation
Previous articles in this series:
Pricing and Distribution Volatility
The following three charts show the pricing and distribution volatility for HYG, JNK and BDC baby bonds: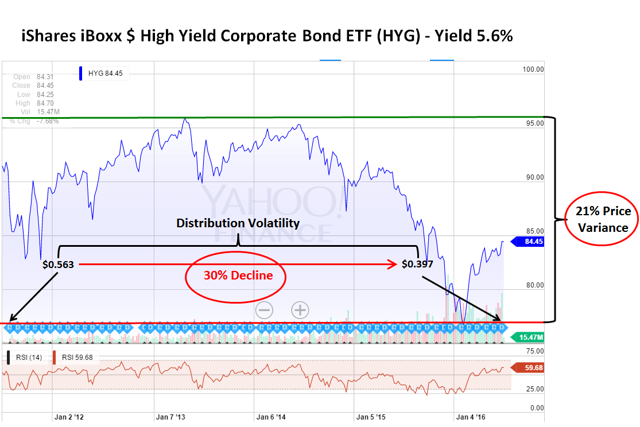 Click to enlarge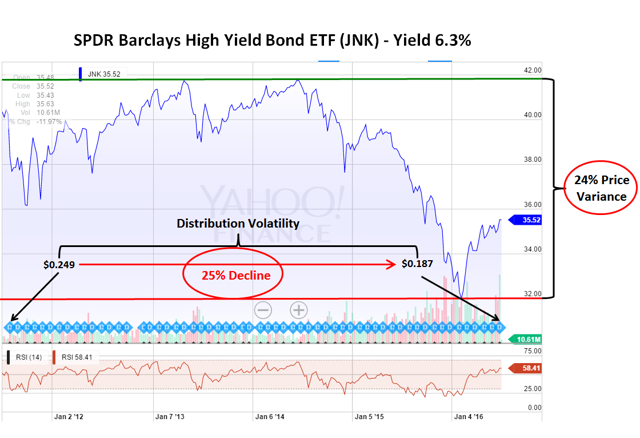 Click to enlarge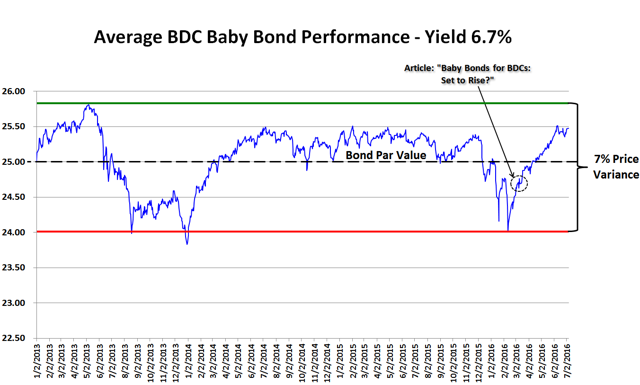 Click to enlarge
Please check the table at the end of this article for individual bond yields that currently range from around 6% to 8%.
Clearly, the average BDC baby bond has much less pricing and distribution volatility compared to HYG and JNK as well as higher yields. The following chart shows the average BDC common stock volatility using the UBS ETRACS Wells Fargo Business Development Company ETN (NYSEARCA:BDCS):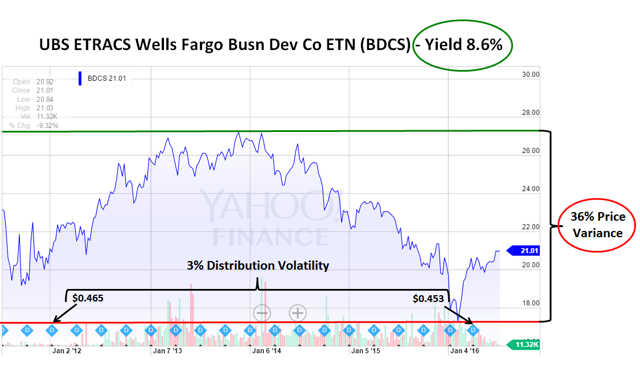 Click to enlarge
However, the average yield for the BDC common stock is currently around 11.5%, with a wide range of pricing volatility, compared to BDCS at 8.6%. The following table includes the information from the previous charts: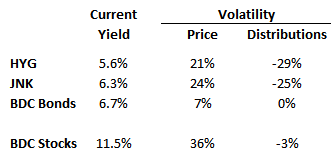 The following total return tables are from Part 5 linked above, but I have included HYG and JNK: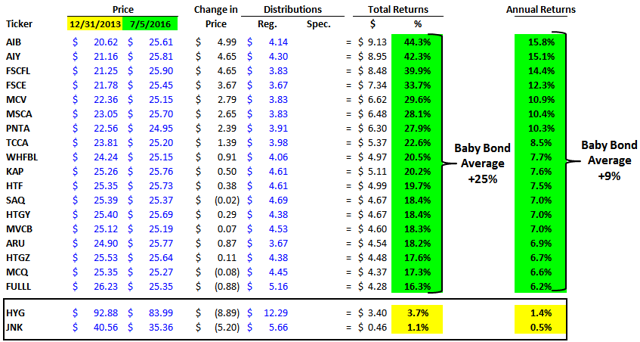 Click to enlarge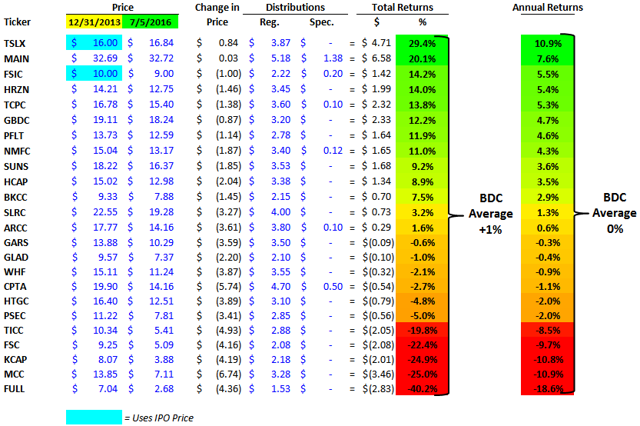 Click to enlarge
What about relative risk?
Obviously, BDC common stocks are higher risk with higher yields to compensate, and there is a large difference between investing in an ETF as compared to an individual bond. I have been closely following the potential risks related to BDC common stocks, especially the quality of the underlying assets and management. I have not found adequate research sources that clearly and concisely rank BDCs (there are over 50 of them now) based on multiple factors such as risk, dividend/interest coverage potential, expected returns and pricing/valuation. Also, not all BDC bonds are rated by S&P, Moody's or Fitch, and the ones that are do not have much variance with either BBB or BBB-.
I will be coming up with my own ratings for each bond that will include the typical measures used by the rating agencies, but including many other indicators related to portfolio/asset credit quality (as displayed/discussed in Part 3), leverage and asset coverage ratios, interest expense coverage (as displayed/discussed in Part 1), etc. I will also be taking into account qualitative measures of management especially related to managing the capital structure, potential bond retirement/calls and historical/potential net asset value declines (as displayed/discussed in Part 4 and Part 5). Many of the BDCs with larger NAV declines have bonds trading closer to or below par. This is not a coincidence. For a list of all my articles including interest rate discussion, BDC rankings (risk, return, pricing, dividend potential), target pricing charts and valuations, individual dividend coverage potential, my historical purchases and current positions, and suggested BDC portfolios, please see my "BDC Research Page".
Why do I like BDCs and their baby bonds?
Required to maintain 2-to-1 asset coverage ratios (determines a company's ability to cover debt obligations with its assets after all liabilities have been satisfied)
Permanent equity capital (no runs on the bank to force the liquidation of assets)
No BDC has previously defaulted on a bond obligation
"Conduit theory" of avoiding double taxation
I have an intimate understanding of the sector and closely watch the actions of management
Personal note: I consider BDCs to be more than typical financial sector investments as they invest in many sectors with various portfolio diversification requirements. Also, I like the idea of supporting companies that invest in smaller to mid-size companies that would likely not be able to get the flexible capital they need from typical banks.
Links to additional information on Baby Bonds/ETD:
Current "Clean" Yields for Baby Bonds
BDC bonds trade "dirty," which means that the market price includes accrued interest. Investors need to closely watch record and ex-dividend dates to calculate the amount of accrued interest in the current market price. The following table strips out accrued interest and calculates the yield using the adjusted price. Currently, the average adjusted price is $25.25, which is very close to par and where I believe prices will stay as they approach maturity. Many of these bonds are currently callable and one of the reasons that they gravitate toward par of $25. It is important to note that the bonds offered by Apollo Investment (NASDAQ:AINV) and Solar Capital (NASDAQ:SLRC) (AIB, AIY and SLRA) are outliers related to longer maturities. Some or all of the bonds for Ares Capital (NASDAQ:ARCC), Hercules Technology Growth Capital (NASDAQ:HTGC), Horizon Technology Finance (NASDAQ:HRZN), KCAP Financial (NASDAQ:KCAP), PennantPark Investment (NASDAQ:PNNT), Medley Capital (NYSE:MCC), Saratoga Investment (NYSE:SAR), Stellus Capital Investment (NYSE:SCM), WhiteHorse Finance (NASDAQ:WHF), and Triangle Capital (NYSE:TCAP) are currently callable within 30 days. Apollo Investment, Solar Capital, Medley Capital, Triangle Capital, Prospect Capital (NASDAQ:PSEC), Newtek Business Services (NASDAQ:NEWT), Fifth Street Finance (NYSE:FSC), Main Street Capital (NYSE:MAIN), and THL Credit (NASDAQ:TCRD) have bonds that are not callable until late 2017 or 2018.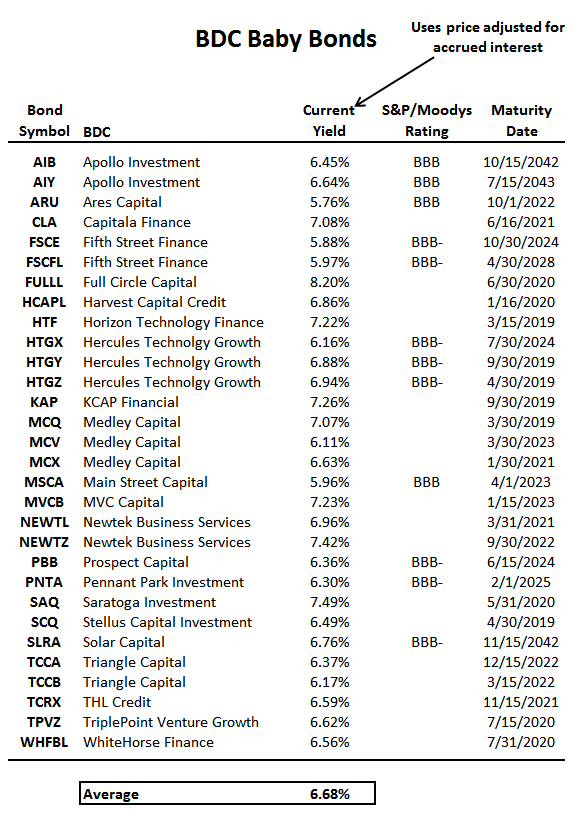 Personal note: I have updated my positions to reflect changes in my holdings, but please keep in mind that some of the positions are very small and mostly for research purposes.
Disclosure: I am/we are long ABDC, AINV, ARCC, BKCC, FDUS, FSC, FSFR, FSIC, GAIN, GARS, GBDC, GLAD, GSBD, HTGC, MAIN, MCC, MRCC, NMFC, PFLT, PNNT, PSEC, TCAP, TCPC, TICC, TPVG, TSLX.
I wrote this article myself, and it expresses my own opinions. I am not receiving compensation for it (other than from Seeking Alpha). I have no business relationship with any company whose stock is mentioned in this article.